TEHRAN — Iran may be known for its controversial nuclear program and demonstrations featuring chants of "Death to Israel," but the country also is home to the largest Jewish community in the Middle East.
For the first time in years, that ancient group now has reason to hope for a brighter future after many years of pressure under the Islamic Republic.
The Jewish community has protected legal status — guaranteed a seat in Parliament — but Jews are barred from holding high office. During the Iranian Revolution, Jewish leaders were executed. More recently, anti-Semitism has colored Iranian politics: Ex-president Mahmoud Ahmadinejad famously questioned whether the Holocaust happened and Iran has challenged Israel's right to exist.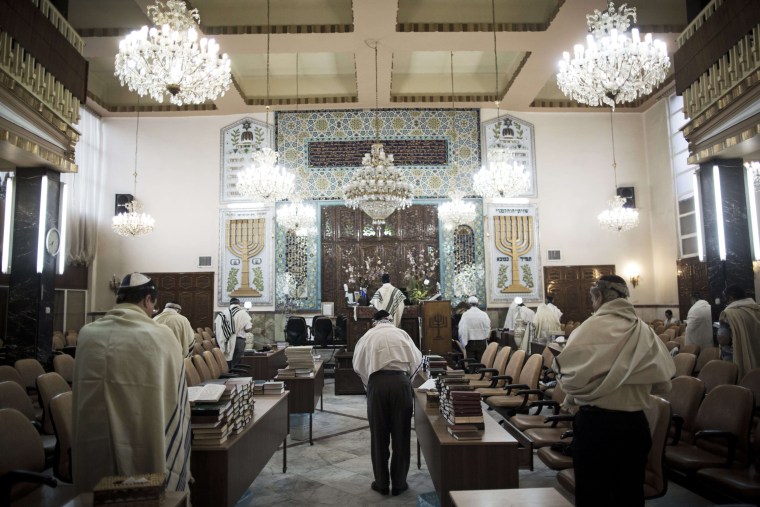 Now, though, there's signs of a shift. Iran's reformist President Hassan Rouhani offers New Year's greetings to Jews on Rosh Hashanah — and the Jewish community in Iran is hopeful that a July nuclear deal signed by Iran, U.S. and five other world powers could bring an end to international isolation and improve their place in society.
Small business owner Ramin Masjedi trusts that political changes internally and the nuclear deal will help him and other Jews in Iran.
"We hope that maybe we can get better relations with the West so we can visit the families, have better relations," the 51-year-old told NBC News in a suburban Tehran synagogue after a recent service.
NBC News interviewed more than a dozen practicing Jews in Tehran and while most would not speak on the record out of concern it would draw attention to themselves or their community, all said they said they were optimistic about the nuclear deal.
"The more Iran engages with the global community, the better it will be for everyone in Iran, including our community," one businessman said on condition of anonymity, expressing hope that an end to Iran's international isolation and more cordial relations with the West would help revive the economy.
In the meantime, Masjedi, who left Iran after the the Islamic Revolution but returned after a decade in the U.S., said he is staying put.
"We are nationalists. We have been living here, we've been prospering here. It's not just about 30 or 40 years — it's many centuries of coexisting," he said.
Homayoun Sameyah Najafabadi, head of Tehran's Jewish community, said it goes beyond simply coexisting — his community is deeply rooted in what is now called Iran.
"Iranian Jews are even more Iranian than Muslims — we've been here for 2,700 years," he said.
Najafabadi said his community endured great suffering in the revolution that deposed Shah Mohammad Reza Pahlavi in 1979 and the subsequent war with Iraq. Some of its leaders were executed and the Islamic revolution also triggered a mass exodus of Jews — reducing the population from over 100,000 to about 9,000 today.
Now, he said, things have improved.
"We can practice our religion freely," Najafabadi said. "No one is pressured to convert and we don't have security monitoring us."