We've seen creepy Facebook apps designed to help you automatically track someone's relationship status so that you'll be the first to know when he or she is single, but an app called WaitingRoom is taking things further: It's actually helping you encourage a breakup.
Mashable reports that WaitingRoom was released shortly after the — in comparison — far less creepy Breakup Notifier app was banned from Facebook and it's already gaining popularity.
The way the app works is that you install it and enter the name and e-mail address of the person you're interested in. That person will receive an e-mail notice announcing that one of his or her friends "wishes [he or she] were single."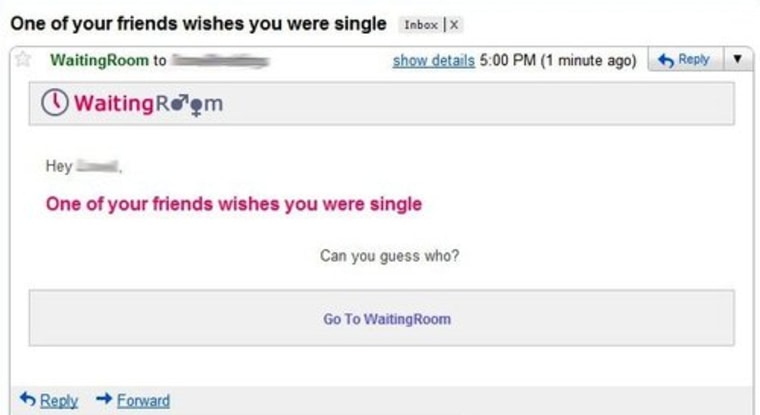 Notice that the e-mail doesn't reveal the identity of the interested individual.
That's because the object of your affections is supposed to install the WaitingRoom app in order to find out which single friend is interested in him or her — except that information won't be revealed until he or she is single as well!
So it boils down to this: The app creates a little bit of mystery and encourages people to end relationships — at least as far as Facebook statuses are concerned — in order to discover their secret admirers.
You could fake the relationship status change in order to solve the mystery, but not all significant others would be entirely understanding if you were to say "Hey baby, I'm gonna break up with you for 10 minutes so that I can check out this Facebook app and see who has a crush on me. Hope you don't mind!" So, in theory, this app could certainly lead to an actual breakup.
Related stories:
Rosa Golijan writes about tech here and there. She may be obsessed with Twitter, but still loves to be liked on Facebook.