The House of Representatives authorized a suspension of the nation's debt limit through mid-May, delaying a default on the government's obligations that would have taken effect in February.
The GOP-controlled House voted 285 to 144 to comfortably pass a three-month extension in the government's borrowing authority just as Senate Democratic leaders suggested they would take up and pass the legislation as soon as they could.
The vote early Wednesday afternoon by the House would forestall a default on the national debt. The Treasury Department had warned that the government would exhaust its authority to borrow to finance its existing obligations by the middle of February.
The bill, which Republican leaders unveiled last week, would suspend the debt limit through May 18 and require both the House and the Senate to produce and pass a budget resolution in the meanwhile, with a deadline of April 15. If either chamber fails to pass a budget, its pay would be put into escrow – "No Budget, No Pay" goes the newly-minted Republican slogan to describe this strategy.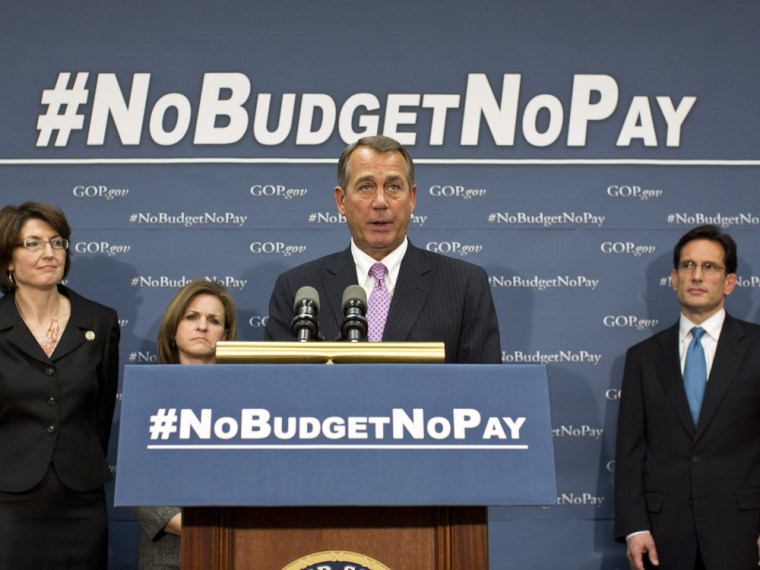 "It's time for Congress to get serious about this," Boehner said of the mounting national debt during a speech on the House floor ahead of the vote, "and this is the first step in an effort to bring real fiscal responsibility to Washington."
Republicans settled upon the strategy in the face of criticism from President Barack Obama that another round of brinksmanship over the debt limit would threaten catastrophe for the economy.
"To spare the middle class another knock-down, drag-out fight, we're going to proceed on this legislation and get it out of here as soon as we can," Senate Majority Leader Harry Reid, D-Nev., said in a press conference on Wednesday.
The GOP's new tack has the added benefit of forcing Senate Democrats to produce a formal budget, something the upper chamber has avoided for several years now. Democratic budget chief, Sen. Patty Murray, D-Wash., said Wednesday that Senate leaders had intended to produce a budget anyway, and would do so regardless of what the House bill requires.
Budgets are often political documents as much as a governing roadmap; Wisconsin Rep. Paul Ryan's two budgets as Republican chairman of the House Budget Committee proposed a series of spending cuts and major changes to entitlement programs. But Democrats also managed to seize upon the most controversial elements of the Ryan budgets to use it to campaign against Republicans. If Senate Democrats author a budget, Republicans will doubtless seek to turn it against their opponents.
In the meanwhile, Republican leaders in the House have vowed to produce a budget document that would balance the U.S. budget within a decade. Ryan, the erstwhile GOP vice presidential nominee, said at a Wall Street Journal breakfast this morning that he expects this new strategy to yield "a big down payment on the debt crisis."