DUBAI, United Arab Emirates — Iran-aligned rebels in Yemen fired a barrage of ballistic missiles targeting Saudi Arabia late Sunday, with fragments of one weapon over Riyadh killing one person and wounding two.
The casualties were the first in Saudi Arabia's capital since the Saudi-led war in Yemen began in March 2015. The U.S. provides logistical support and weaponry to the Saudi-led coalition.
The rebels known as Houthis said they launched a missile attack targeting Riyadh's King Khalid International Airport and other sites, again showing their ability to strike deep into the neighboring kingdom amid the stalemated war in Yemen, the Arab world's poorest country.
The attack likely will spark new criticism of Iran's role in the conflict as well, as the Houthis identified some of the missiles fired as a type that the United Nations and the West say comes from Tehran.
The Saudi military said it intercepted seven ballistic missiles fired by the Houthis at the kingdom, including three that targeted Riyadh.
The Saudi-owned satellite news channel Al Arabiya aired footage that it said showed Patriot missile batteries firing at the incoming Houthi missiles. Online videos showed what appeared to be a missile fuselage lying on a street in Riyadh.
One Egyptian national was killed and two other Egyptians suffered wounds when a fragment of a missile over Riyadh fell on a residential neighborhood, the state-run Saudi Press Agency said.
Houthi ballistic missiles have increased in range over time, with the first one targeting Riyadh fired on May 19, 2017, according to the United Nations. A Nov. 4 launch previously targeted King Khalid International Airport, showing the missiles had a range of over 620 miles.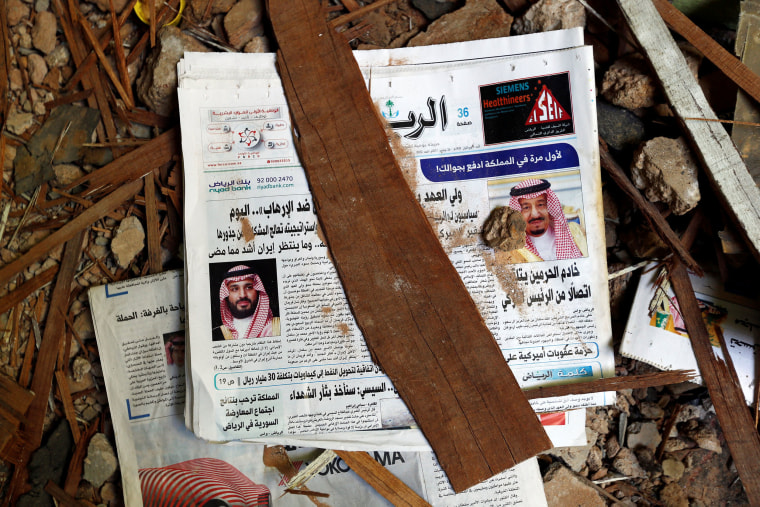 The Nov. 4 attack saw the Saudi-led coalition escalate its attacks. It wasn't immediately clear how the coalition would react to Sunday's attack.
Al Masirah, a Houthi-run satellite news channel, identified some of the missiles fired as the Burkan, or Volcano, missile. The United Nations, Western countries and the Saudi-led military coalition fighting in Yemen all say the Burkan mirrors characteristics of an Iranian Qiam ballistic missile. They say that suggests Tehran either shared the technology or smuggled disassembled missiles to the Houthis who then rebuilt them.
Iran long has denied supplying arms to the Houthis, though a growing body of evidence contradicts their claim.
More than 10,000 people have been killed in the conflict, which began after the Houthis and their allies seized Yemen's capital, Sanaa, in September 2014 and forced President Abd Rabbu Mansour al-Hadi to flee.
The fighting has displaced more than 2 million people. Nearly 1 million people have been infected with cholera.
Riyadh saw the ouster as a regional power grab by arch-foe Iran, although the Houthis deny any help from Tehran.