Far-right populist Marine Le Pen is behind in the polls and an outsider to win France's presidential elections Sunday.
But she still has a slim path to victory, according to experts, one that shares similarities with the more ardent left-wing supporters of Sen. Bernie Sanders in the U.S. election last year.
Polls predict Le Pen will get around 40 percent of the vote, a huge increase on her party's previous performances, but not enough defeat centrist front-runner Emmanuel Macron, who is tipped to score around 60 percent and win the presidency.
Although unlikely, a victory for Le Pen would represent a political earthquake not just in France, but across Europe and beyond. As a populist, she sees herself as a continuation of the movement that elected President Donald Trump, whose victory she hailed as "an additional stone in the building of a new world."
One way Le Pen could win is if enough French voters stay home — apathy and voter abstinence are her friends.
Le Pen and her Front National party already received a boost in this regard, when Jean-Luc Mélenchon, the far-left candidate defeated in the first round of voting, refused to tell his supporters to back Macron.
This broke with a French tradition known as the "Republican Front," where voters from the left, center and center-right club together to keep the far-right from power — a lesser-of-two-evils voting tactic.
Mélenchon's silence appears to have had an effect. On Tuesday, a poll revealed two-thirds of his supporters planned to spoil their ballots or abstain entirely.
"Many left-wing voters have difficulty in endorsing a Macron program they see as too right-leaning," according to James Shields, professor of French politics and modern history at Britain's Aston University.
This left-wing mistrust of a centrist candidate has echoes of the U.S. presidential election last year. Some Sanders supporters publicly refused to back Hillary Clinton, once their social-democrat was no longer in the race against now-President Donald Trump.
"Even when confronted with the prospect of a Trump or a Le Pen win, parts of the American and French left have shown themselves too irreconcilable to come together," Shields said.
For Clinton, these divisions arguably proved costly.
Although she beat Trump in the popular vote, the turnout last November was lower than in 2008 and 2004, notably among the young and African American voters who swept President Barack Obama to power.
"Black and young voters who stayed home included, we think, Sanders voters," said Robert Shapiro, a professor in political science at New York's Columbia University. "Had they, plus Sanders voters who voted for third parties, voted for Clinton, she would probably have won in Michigan and Wisconsin, maybe also other states that were close."
Shapiro added that if this set of circumstances played-out in just a few swing states, "Hillary could have won the electoral college vote."
This situation left many Clinton supporters angry that backers of Sanders and Green Party candidate Jill Stein did not vote tactically to keep Trump out.
France's voting system is designed to avoid these types of head-versus-heart conundrums.
There are usually two rounds. If no candidate wins 50 percent in the first round, the top two go head-to-head. It's a straight fight between two people — this year, that's Macron and Le Pen.
France's system is "rigged to prevent an extremist from winning," according to Anand Menon, professor of European politics and foreign affairs at King's College London. It "prevents the anti-Le Pen vote being split, as third-party candidates split the anti-Trump vote in some places," Menon said.
But for this to work, people have to actually come out and vote.
According to Catherine Fieschi, director of Counterpoint, a London political consultancy, "the parallel is quite apt" between Sanders fans refusing to back Clinton and the French left doing the same to Macron.
There are major differences, of course. Fieschi describes Sanders as "a rather reasonable man" and "a middle-of-the-road social democrat," but calls Mélenchon "quite a rigid, far-left ideologue."
Macron is no Clinton, either. The Democrat was a known quantity: a former first lady, senator, secretary of state, and presidential candidate. By contrast, Macron is a 39-year-old independent candidate not affiliated with any of France's mainstream parties.
Some French left-wingers "genuinely think that Macron is a Trojan horse for neo-liberalism," Fieschi said. Like Clinton, Macron is also accused by some of being a stooge for global capitalism.
His leftie critics might point to Macron's pledge to slash corporation tax and cut public-sector jobs, as well as the millions he made working at investment bank Rothschild. But he was also an adviser in France's Socialist Party, and has promised to cut welfare fees for low earners while embarking on a 50-billion-euro public investment program.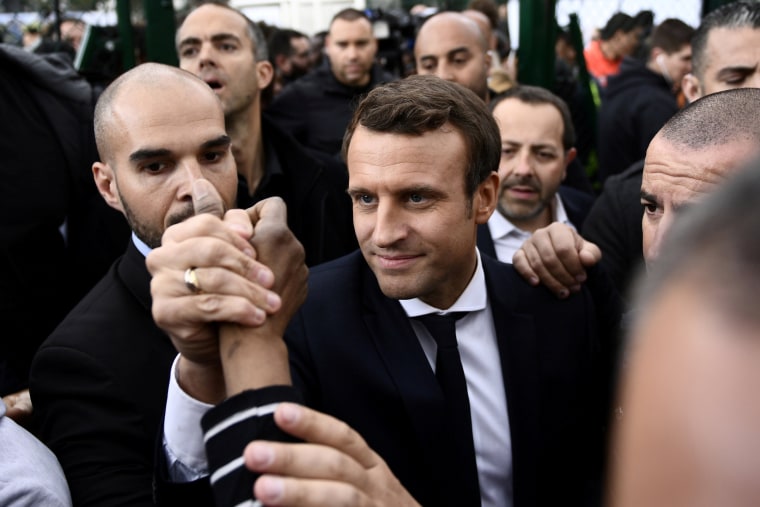 In addition to those planning to abstain, some traditional left-leaning voters may actually be drawn toward Le Pen's populist economic message.
This would be a sharp contrast to the 2002 election, when the so-called "Republican Front" came out in full force. French people from across the political spectrum flocked to the polls to reject the Front National and elect conservative Jacques Chirac with a resounding 78 percent of the vote.
They handed a resounding defeat to Front National founder and candidate Jean Marie Le Pen, who is Marine Le Pen's father. He has been convicted of racism multiple times, including for repeating the anti-Semitic slur that the Nazi gas chambers were merely "a detail of history."
In an attempt to detoxify the party, his daughter expelled him for his comments in 2015. Instead, she has attempted to reimagine the party as a champion of the working class who are weary of globalization — a stance not dissimilar to Trump's.
Many left-wing supporters will have "more affinity economically" with Le Pen, according to Shields at Aston University.
In addition to her economic populism, she has taken a hard line on immigrants and Muslims, threatened to take France out of the European Union and even suggested it could depart NATO, the U.S.-led military alliance.
And it's not only the left that could hand power to Le Pen.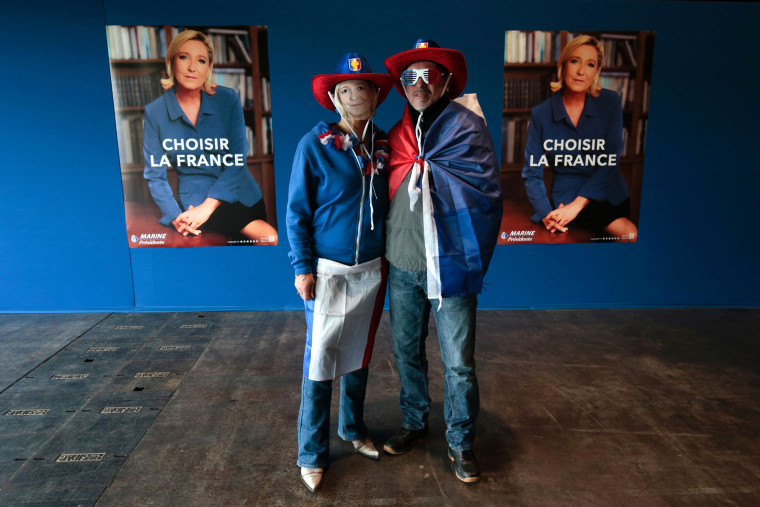 Some 35 percent of people who supported scandal-plagued conservative François Fillon in the first round are also planning to stay at home, according to Antonio Barroso, managing director at Teneo Intelligence, a New York-based think tank.
"A high level of abstention is still the biggest threat that Macron faces," he said. "But the threat does not come from Mélenchon's voters only."
All eyes are on this Sunday for now. But the actions of both left and right may be explained by looking months and even years ahead.
Mélenchon may want to maintain his integrity ahead of France's legislative elections in June "in order to try and keep his electoral momentum alive," Barroso said.
For Le Pen, victory in this year's presidential election remains unlikely and the vote will be "considered simply a stepping stone," according to Menon at King's College London. He said that many in her party are already "planning for a serious tilt at power" in the next presidential elections in 2022.