Kabul, Afghanistan — "Once I heard Taliban enter the house, I realized I needed to go into hiding," Scott Arche said as he recalled Friday's insurgent attack on a charity's guesthouse in Kabul.
And so he spent four hours in a closet hiding from Taliban attackers until a member of an Afghan special-forces unit pulled him out.
By then, the guesthouse looked like a "disaster area," Arche told NBC News. "All windows are gone, the doors off the hinges and all the pipes broken."
A week before Afghanistan's presidential election on April 5, Taliban fighters have stepped up their attempts to rock the fragile country with more violence. There has been a rise in coordinated attacks targeting government institutions, including the country's election commission on Saturday, as well as on foreign organizations such as Roots for Peace, where Arche is a lead program manager. The organization supports the country's agriculture.
"We are a grass-roots organization benefiting the people," Arche said. "I've been working here since 2008, I was not expecting us to be attacked."
The Taliban has pledged to threaten voters and destabilize Afghanistan's political process. On Friday evening, a car bomb exploded in front of the guesthouse used by Roots for Peace, killing an Afghan child.
"I was in my room, working on my computer," Arche said. "My desk is facing a big window toward the street, so as soon as the bomb went off, the window completely blew out."
He said glass was everywhere, and he was protected only because he was able to cover under his desk in time. Expecting a second blast, he lay down in the bathtub, but finally hid in the closet covering under clothes when he heard Taliban militants enter the house.
Arche said the Taliban fighters were likely targeting a neighboring Christian organization but then stormed his building looking for foreigners.
There he spent the next four hours crouching down in pain.
"It was comfortable for about 10 minutes, but then my legs and back started to hurt," he said. "I was in so much pain, I was even considering getting out of the closet and risking my life."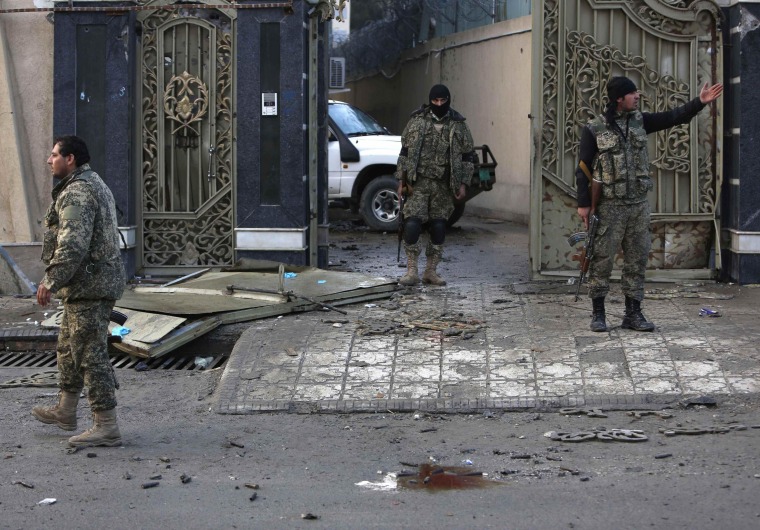 But he stayed inside even as Afghan special-forces soldiers entered the room throwing flash grenades. A hand grenade exploded in the bathroom.
Arche said he only revealed himself to the fourth person opening the closet, and he became the last of the organization's employees — all of whom survived the attack — to exit the building.
He said the recent attack and increase in violence against restaurants and hotels, often frequented by foreigners, was a game changer not only for his organization but also other Western aid groups. Arche said Western staff of Roots for Peace, which has been working in Afghanistan since 2003, will leave the country in the next few days and are unlikely to return.
"Before the attack I had thought about continuing to work in Afghanistan, but now my family will not let me come back anymore," Arche said, adding that he was happier than normal about seeing his wife and three daughters upon returning to his home in Washington, D.C.