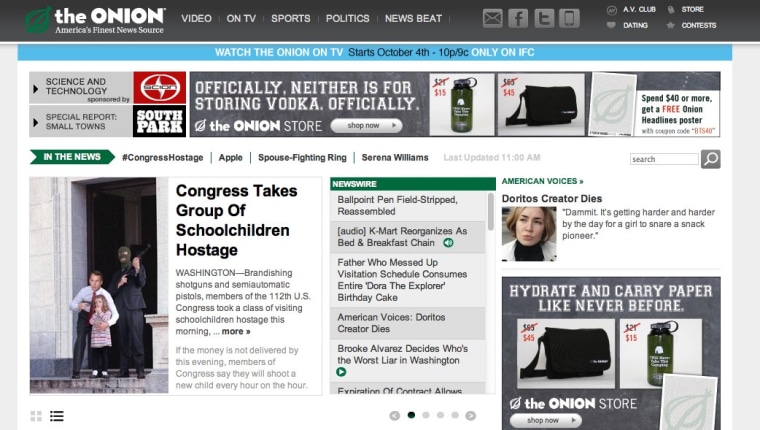 Updated at 11:54 a.m. ET
If the Onion — a news organization dedicated to satire — had its website or Twitter account hacked, how would we know? Would there be even more fake news reports? Or would there suddenly be links to real news?

Those are the questions plaguing me since I started seeing a handful of out-of-character tweets appear on the Onion's official Twitter account. Instead of the usual tweets containing a headline and a link, there were suddenly two dramatic ones — with suggestions that there is a hostage situation in the Capitol building.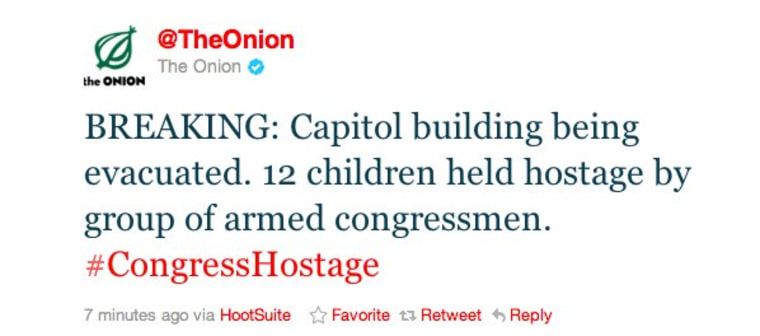 Were these genuine news alerts? A sick joke made by hackers?
I quickly scanned my usual news sources for similar reports after seeing the tweets. Nothing.
Then I checked the Onion website and spotted a story corresponding to the tweets. A story that is clearly satirical (though it doesn't contain any jokes and is instead presented as a straight report of an absurd situation):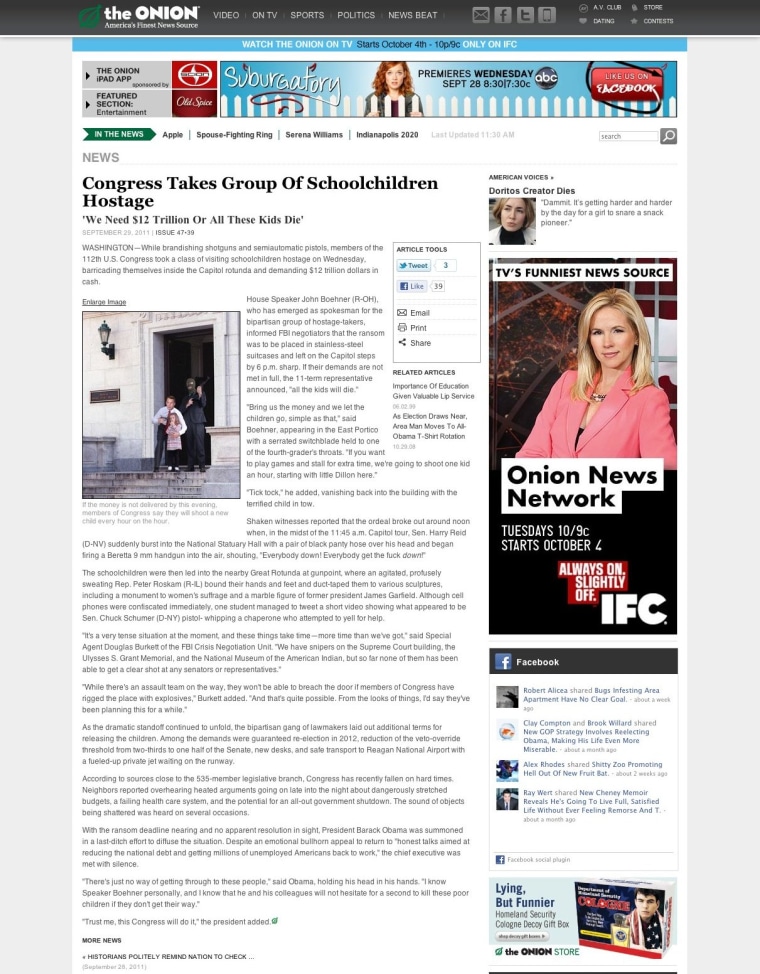 And then I saw that the Onion tweeted again:

There. Life is back to normal.
But for a moment, I still felt a pang of irritation. While searching for other reports of this alleged hostage situation, I noticed that a lot of Twitter users were confused and frightened. Without a link to an Onion article, the first two tweets felt too real.
I know that it's everyone's personal responsibility to confirm whether a tweet — especially one from a publication which specializes in satire — offers any truth before panicking, but the Onion's attention-getting Twitter stunt still seems like it was just a bit irresponsible.
Then again, maybe it wasn't a stunt. Maybe the Onion really had its website and Twitter account hacked. It's not like we could ever really tell.
Update: Looks like I'm not the only one annoyed by this silliness. According to the Washington Post, the U.S. Capitol Police actually issued a statement regarding the Onion's tweets:
"It has come to our attention that recents twitter feeds are reporting false information concerning current conditions at the U.S. Capitol. Conditions at the U.S. Capitol are currently normal," read a press release from Sergeant Kimberly Schneider.
"There is no credibility to these stories or the twitter feeds," Schneider's release read. "The U.S. Capitol Police are currently investigating the reporting."
Related stories:
Want more tech news, silly puns, or amusing links? You'll get plenty of all three if you keep up with Rosa Golijan, the writer of this post, by following her on Twitter, subscribing to her Facebook posts, or circling her on Google+.