PYONGYANG, North Korea - North Korea is showing the world the war that never ended.
Government officials proudly took NBC News to see weapons captured from the U.S. Army and American planes shot down during the Korean War.
The fighting ended 62 years ago, but for this fearful and sometimes paranoid country, it's a war that rages on. It still regards the United States as the enemy threatening its survival.
"This was a Navy plane of the American imperialist aggressors", a uniformed woman soldier told us, pointing at a partly mangled warplane shot down over the Korean peninsula.
It is a conflict that ended with a ceasefire, not a peace treaty, so technically the U.S. and North Korea are still at war, and army here is fighting it every day.
View Gallery: North Korea Cracks Open Door to Outsiders
They are going to show their military muscle again Saturday with one of their biggest ever shows of force.
Officially, It's a parade to celebrate the 70th anniversary of the founding of the ruling Communist Party.
But it's a chance for this militaristic, proud country to show off its weapons and tens of thousands of the troops that make up its army – the fourth biggest in the world.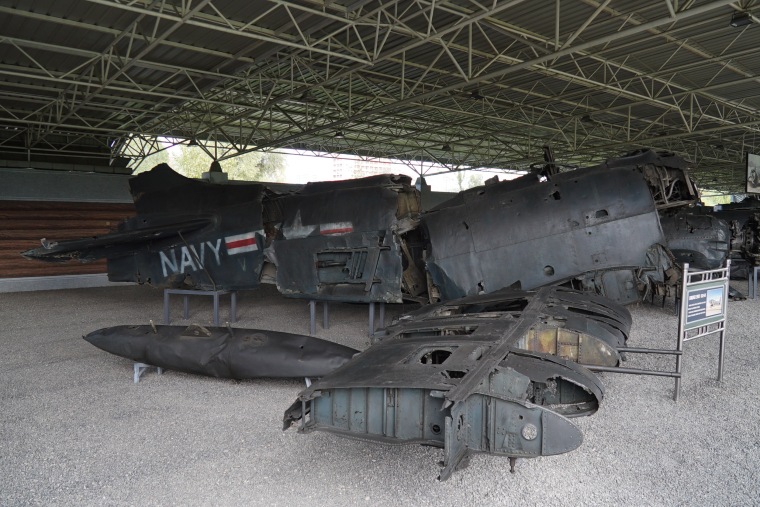 It is a ceremony likely to be presided over by Kim Jong Un, the world's youngest head of state - and the only one to be a hereditary Communist leader.
They will show us their marching skills, but there's plenty they won't show us.
We are not being taken to any nuclear weapons sites, especially not to the nuclear bomb fuel plants they said they reopened in recent weeks.
North Korea is determined to possess a weapon that can hit the United States. The White House is determined to stop it.
We're not being shown around any of the gulags that form part of a prison network the U.N. says has "no parallel in the world," or the torture chambers or execution yards where the U.N. believes North Korea has committed crimes against humanity.
We're not going to the launch pad where the country is likely soon to launch its second satellite into orbit. Perhaps because the first one, that circles the earth every 95 minutes, hasn't transmitted a single signal since its launch.
This is a country where image — of the leader, his armed forces and weapons — is paramount.
So they polish their image, taking us to see the Pride of Pyongyang; the capital's subway.
In many ways, the stations look like any other in the world: deep escalators with commuters rushing to work, trains noisily clattering onto packed platforms; carriages filled people engrossed in work or in their own thoughts. But that's where the similarity ends.
The stations are very deep because they double as nuclear bomb shelters. They're filled with the sound of patriotic music. Everyone seems to be wearing a Communist Party badge, most of them showing a picture of the state founder, Kim Il Sung.
Government officials ask foreign journalists to wear blue armbands, claiming it is for safety because – they say - many people here are angry over the Sony Pictures movie, "The Interview," in which American reporters are co-opted by the CIA to interview and kill Kim Jong Un.
"Since that movie, relations between our two countries have gotten worse", a senior government official said, "and ordinary people are not happy with American journalists. Be careful. It's very sensitive."
It's a bizarre claim – almost as strange as this year's order that male university students should cut their hair exactly in the style of the country's leader.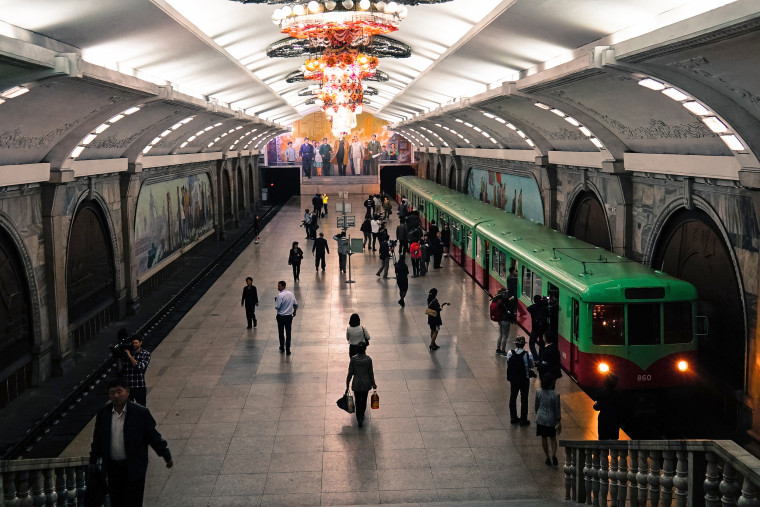 This is a terrified, desperately poor, isolated, almost friendless country, trapped in a time warp. It can't forget the time of the Cold War, and this year changed its time zone by a half hour to distance itself from its other great enemy, Japan.
It is also a country steeped in tragedy; brutal occupation by the Japanese for four decades; a war with the U.S. that all but destroyed it and a famine in the 1990s that killed up to a million people.
Its citizens are on perpetual guard for more misfortune, clinging to the leaders they are drilled to follow and brainwashed into believing the Kim family will forever keep them safe.
"As long as Marshall Kim is leader our future is bright," said a young woman on the subway going to work with her four year old daughter.
Another worker expressed "solidarity" with every country in the world – except the United States. "Not until the U.S. ends its hostile policy towards our country," he explained.
It echoes the 'five minute hate' from George Orwell's "1984," a novel that bears an uncanny resemblance to life in the drilled and regimented nation of North Korea. Except that it's hate has never really ended.