TRIPOLI, Lebanon – An armored personnel-carrier rolls through the city center, its 50-caliber machine gun at the ready as sniper fire cracks in the distance.
"I had to move out of my home last night because of the fighting," says resident Mida Mohammad, her 3-year-old daughter Youmma clutching a teddy bear by her side. "Young guys with guns told me to leave my home so they could use it as a firing position."
It could be a scene from war-ravaged Syria. But this is actually in Lebanon, whose second-largest city, Tripoli, has become a simmering reflection of the ethnic and religious divisions in the neighboring civil war.
On one side are the Alawites (an offshoot of Shiite Islam) of Jebel Mohsen, a hill on the northern edge of the city, filled with supporters of Syrian President Bashar Assad, and thus allied with Hezbollah.
Just a few hundred yards down the hill is the Sunni neighborhood of Beb al-Tabaneh, where people support the Syrian opposition and are against Hezbollah. 
The aptly-named Syria Street divides the two neighborhoods, and serves as a frontline during fighting.
"We can't tell from where the snipers are shooting from," said a Sunni fighter who came out of Bab al-Tabbaneh to meet two reporters on the edge of the neighborhood.  He did not want to be identified.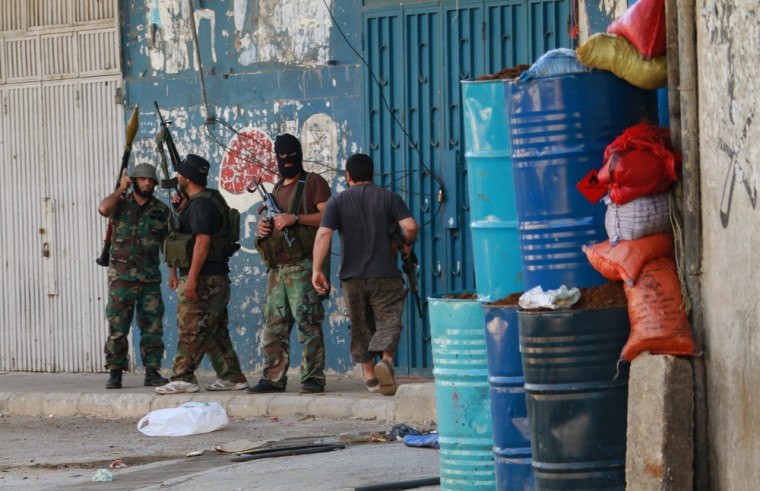 The 41-year-old fighter runs a bakery on Syria Street in calmer times, but says he is now commanding 40 local fighters. 
He wore camouflage pants and a black shirt with the Muslim "shahadah" on it – the Islamic creed that declares belief in a single God. He arrived on a motorbike with another young man, both openly carrying Kalashnikov automatic rifles. 
The fighter says he's a Salafi, and that he first started fighting in 2008, after Hezbollah steamrolled the Sunni community in Lebanon.  Now, he says he fights because someone has to defend his neighborhood against Syria's allies, Hezbollah and the Alawites. He says today's clashes have a root in the past, and also in the current situation in Syria.   
"The clashes date back 30 years ago, when the Syrian army, with the help of Alawites in Jebel Mohsen, committed massacres against the people of Bab al-Tabaneh," he said. "But, of course, the situation in northern Tripoli is an extension of what's going on in northern Syria, because the Alawites are fighting in Syria, and people from Bab al-Tabbaneh are also fighting in Syria."
"Tonight we will fight here," he added, as sniper fire cracked in the distance. 
On his iPhone, he scrolled through dozens of photos of Sunni fighters killed in Syria. He says he knows of around 90 Lebanese Sunnis fighting in Syria now.  He says he knows of 12 who have been killed there, including three Tripoli natives killed in the recent battle for Qusair. 
The Syria-aligned Alawites, meanwhile, scoff at Sunni allegations that they start every fight. They are vastly outnumbered by the Sunnis in Tripoli and are encircled.
"The people of Jebel Mohsen are in danger from the people around them – there's an attack on the Alawite sect," said Ali Faddah, spokesman for the Alawite political party in Lebanon, the Arab Democratic Party. Sunni extremists started this latest round of fighting in Tripoli, he said.
Just down the street, Mayez al-Dahmee, a Sunni, runs a newspaper called Al-Inshaa.
He argues that the Sunnis have no leadership in Lebanon – and that extremist conservative Islamist groups and preachers are filling the void.
"These young men are being misled and pushed into jihad," Dahmee said. "So that any religious person can convince them it is their duty to do that."
Tripoli's violence has erupted with a previously unseen intensity. And although the Lebanese Army has tried to crack down, fighting has spread to other parts of the city, in part because weapons and ammunition are available, residents and officials say. 
Earlier this month, fighting erupted in Tripoli's old market – a neighborhood that hasn't seen such violence since 2008 – while in Beb al-Tabaneh six people died in sniper fire that the Lebanese army was helpless to contain.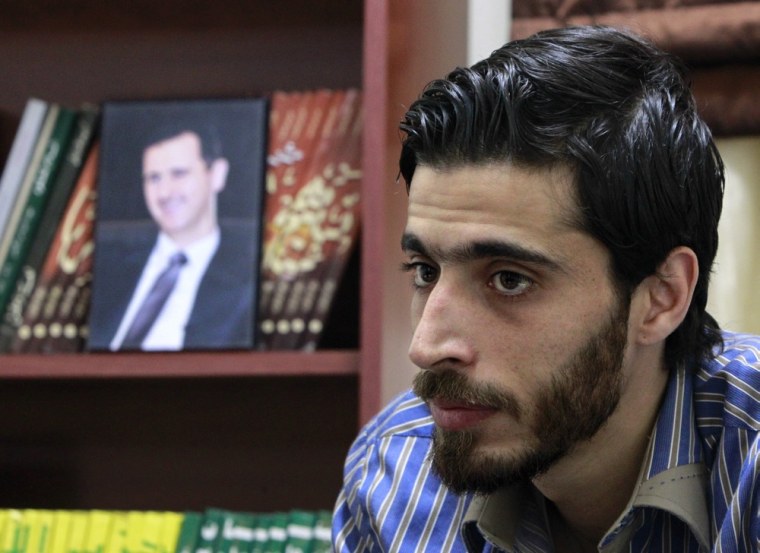 In May, two dozen people were killed and more than 200 injured during a week of fighting that Lebanese security forces said saw more than 1,000 rocket propelled grenades and mortars explode in the city.
Even downtown Tripoli has felt the effects of the tensions and fighting.
At an Alawite-owned café on Tripoli's main street, employee Hannan Tarraf, 35, said she wasn't afraid. But she said the café was closing earlier than usual because young men riding by on motorcycles – assumed to be involved in the fighting - were intimidating her.
"We usually stay open until 1 a.m., but tonight we'll close at 9 p.m. or 9:30 p.m., because of the guys on motorcycles," she said.  
Many are sick of the fighting and the tension that comes along with it. 
 "The government isn't doing anything to stop it, the state is totally absent.  We are fed up with the fighting," said a Tripoli-based lawyer, Khaled Merheb.   
The Lebanese Army last week moved into both Beb al-Tabanay and Jebel Mohsen to remove makeshift barricades and establish checkpoints in order to stop the fighting.
Many residents hope it will, but the army is spread thinly across the country and lacks the resources to impose a ceasefire.
"They should live in peace together," said Mida Mohammad, the young mother who ventured out onto the nearly deserted main street near Beb al-Tabaneh. "They're not going to get rid of the other side. No one is going to win."
Related
Syria spillover violence threatens cease-fire with Israel
Obama announces extra $300 million in aid for Syrians, refugees