TEL AVIV, Israel - An endangered sea turtle called Freedom has been saved thanks to a student project inspired by the advanced U.S. F-22 Raptor fighter jet.
The young green sea turtle was found on a beach in northern Israel with his two left flippers almost completely severed by fishing nets.
Veterinarians had no choice but to amputate them, leaving him unable to swim properly.
"When he gets stressed, panicking for some reason, he gets into a spin as he can only use one side to paddle, his head tilts down to one side and he starts taking in water," said Yaniv Levy, director of the Israel Turtle Rescue Center, north of Tel Aviv.
"He stopped breathing once and we were lucky to resuscitate him."
Freedom – whose name in Hebrew is Hofesh – was forced to spend his time in a tank with barely any water in it so that he could breathe.
A solution had to be sought in some kind of prosthetic design, but attaching false limbs proved problematic. Staff tried to fix a diving flipper to him, but it made little difference.
Levy asked: "When you think about it, if an animal has to fight all the time just to breathe, is it not fairer just to euthanize it?"
But help came in the form of Shlomi Gez, an industrial design student from Jerusalem who was seeking ideas for a final year project.
After some research, including phone calls with a rescue center in Texas which had a similarly disabled turtle, Gez tested a number of designs before settling on one inspired by the tail of the U.S. Air Force's Lockheed Martin F-22 Raptor jet.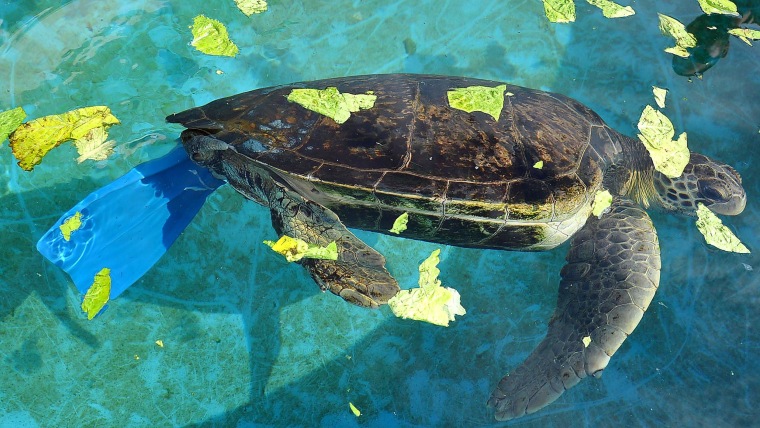 Gez came up with two angled fins, made from advanced plastic, which are strapped to Freedom's body. They keep him stable in the water, making it much easier for him to swim and lift his head out of the water to take in air.
Freedom was soon back in a regular tank, swimming and eating normally, putting on weight.
"When he has the fins on, he is much more comfortable, much calmer and doesn't get into a panic," Levy said.
The green sea turtle, Chelonia Mydas, is listed as endangered and is protected from exploitation in most countries. Massive over fishing in the early 1900s dramatically reduced numbers in the eastern Mediterranean, with as many as 600 caught in nets daily and shipped to Egypt where they were eaten.
"You can say they are critically endangered in the Mediterranean" Levy said. "There are probably only 10 to 20 breeding females left here."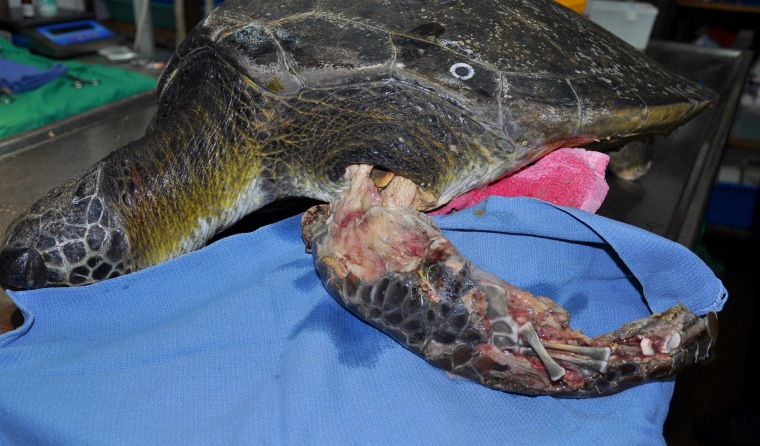 Despite his name, Freedom will never be able to be released back into the wild because he would die if his prosthetic fins fall off.
However, he has been selected for a breeding program and has been paired with Tzurit, a young female who was blinded after being struck on the head by the propeller of a boat.
"He's found his love, or should I say we found his love for him," said Levy. "We joke here that it's 'blind love.'"
Although a few years from sexual maturity, the pair have been spotted petting at the bottom of their shared tank. Staff at the rescue center hope to see the two lovers breeding in a few years.
Their eggs will be placed back in nests on the beaches to hatch and head back into the sea, their offspring unaware of the human hands that saved their parents and brought them into the world.
"Freedom will never be free, but his hatchlings will be," said Levy.