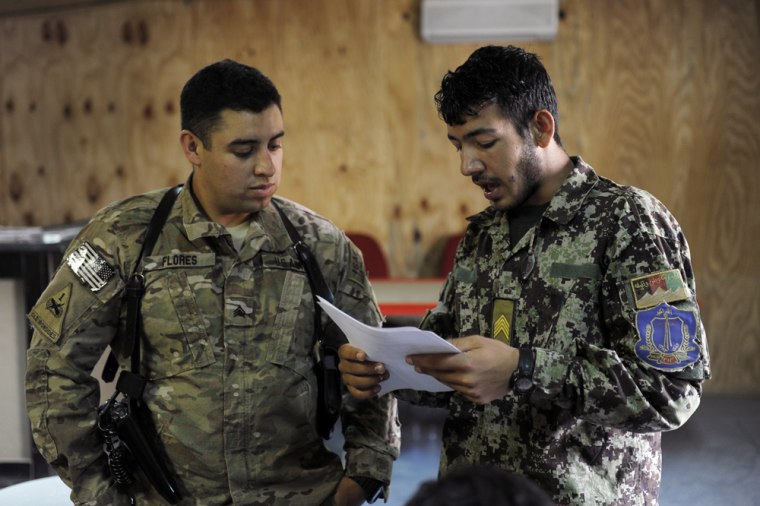 By Richard Engel, Chief Foreign Correspondent, NBC News
News Analysis
FOB FENTY, Nangarhar Province, Afghanistan — You get a sense of what might happen if U.S. troops suddenly left Afghanistan while sitting in a joint U.S.-Afghan military operations room.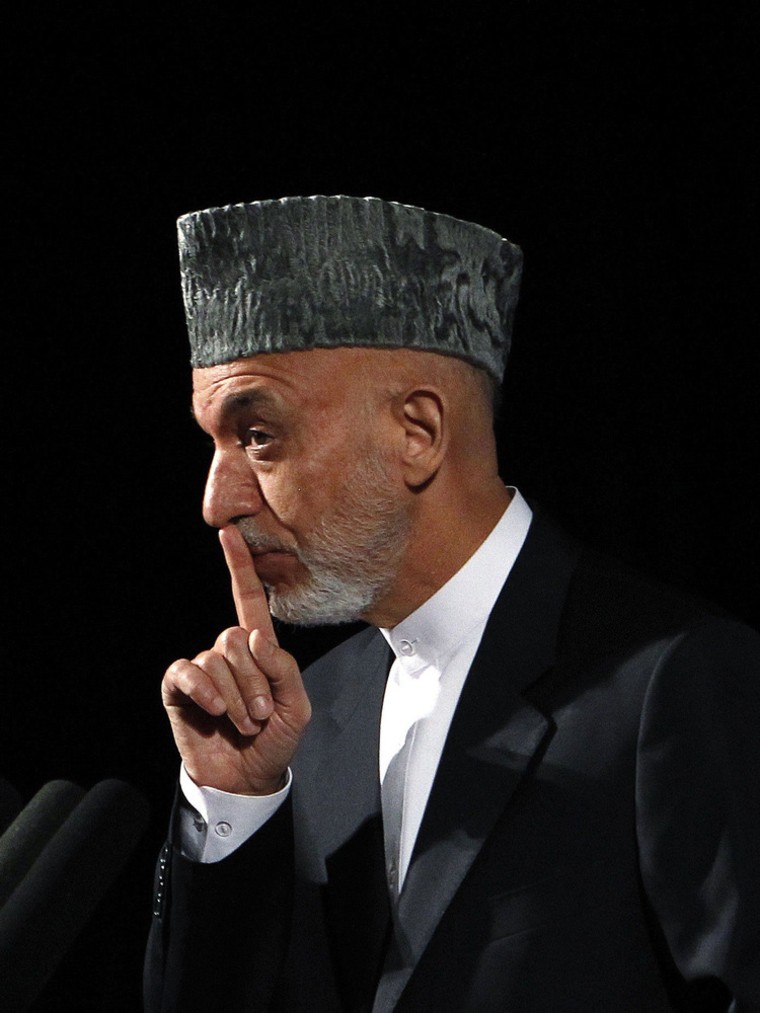 On one side are uniformed American advisers. They sit in front of flat-screen monitors displaying American intelligence gathered from around the world. Their desks are covered with satellite maps, and telephones and computers are encrypted for classified communications.
On the other side of the room, a dozen Afghan soldiers it at desks without computers. They take calls on cellphones and write down what they hear on whiteboards. A television in the middle of the room plays an Indian sitcom.
If the Americans suddenly left for good, would the Afghans be left with little more than cellphone bills and marker-stained fingers?
Afghanistan's President Hamid Karzai is risking the survival of the Afghan government and its security forces by rejecting a U.S. security deal -- or at least that's the way many American military commanders on bases like this one see it. If Karzai keeps up his increasingly demanding demands before he signs the security pact with Washington, he could lose the backing of the U.S. military, and close what has been an open checkbook from the Pentagon, the State Department and the CIA. 
Afghanistan's security forces officially receive about four billion dollars a year in U.S. support.  Without that cash, the Afghan army and police could not pay salaries and benefits.  The real value of the US contribution, however, is many times higher.
U.S. commanders, using those screens and communications systems, give Afghan troops "intelligence packets." They provide maps marked with x's, the x's are targets, and the Afghan forces go find them.  No army in the world can do this as effectively and quickly as the United States, processing signals intelligence, human intelligence, behavioral patterns and satellite imagery, and juicing it all into a specific and timely objective — a house where a terrorist is living, or a bomb factory.
The U.S. military also provides Afghanistan with air capacity, "lift," which Afghans don't have.  
Afghanistan does have an air force: It has two C-130s. I saw one of them. It was nice, a gift from the United States. But two planes don't even make a Caribbean charter airline, let alone an air force for a country at war.
Deal, no deal
Washington is willing to sign a joint security deal with Afghanistan now, keeping the dollars, intelligence, equipment and training flowing, but Karzai doesn't seem to want it.  He insists on introducing new conditions for the deal, including the release of Afghan prisoners from Guantanamo Bay, U.S. support for a peace deal with the Taliban, and an end of American raids on suspected terrorist targets.
Americans military leaders I've spoken to are baffled. "Karzai acts like we need this deal more than he does," one senior officer said.
U.S. military officials are highly reluctant to speak on the record about this. Their mission in Afghanistan is to support the Afghan government.  A U.S. commander would likely be reprimanded for insulting President Karzai if it turned up in a news report.
But the bewilderment on their faces is obvious and is growing by the day.  For Americans, this seems like the deal of a lifetime for Afghanistan, never to be offered again.
But this is the American perspective, the view from American outposts like FOB Fenty and FOB Gamberi, strange concrete universes of T-walls and gravel, populated with sporty American men and women in uniform who do chin ups outside the dining facility — the DFAC — and American men in khaki cargo pants and flannel shirts, armed with automatic weapons and pistols. Drones take off and land.  Choppers buzz like bugs in the spring. Lunch choices at the DFAC were today Chinese-style beef with broccoli, Shepherd's pie, chicken tenders, vanilla cake and cookies-and-cream ice cream with six choices of toppings.
This isn't Afghanistan. It just happens to be near Tora Bora.
Maybe the Americans are right. Maybe Karzai is digging in his heels at the risk of destroying the country's security services. Certainly many Afghans also see it this way. The recent Loya Jirga of around 2,500 tribal elders voted in favor of the US alliance. Members of Karzai's own government are furious with their president: They want him to sign now.
There's very little confidence in Afghanistan's future in Kabul these days.  Eight bedroom mansions that rented a year ago for $30,000 a month to American engineering and consulting companies can now be had for $4000, or less.  In fact, most of the Kabul McMansions that foreign companies previously rented are empty. Afghans worry without a US deal, the Taliban will surge and a civil war could begin.
But Karzai, who has been in power since 2001, appears to have a different perspective. He's the only president Afghans have known since the Taliban were driven out.  He is supposed to step down in April.  This is an emotional time for the president, known to be an emotional man. He must decide what his legacy and future will be.
Karzai knows the Americans will eventually leave; if it's a year or two, or five or ten, Americans won't stay in large numbers in Afghanistan forever.  But the Taliban will.  So who does Karziai make a deal with, the United States or the Taliban?
If Karzai signs up with the Americans, he's committing Afghanistan to a long-term war against the Taliban and its al-Qaeda allies.  If instead, however, he tries to reintegrate the Taliban, he must chose a different course. He would try to look strong and appear to be kicking the Americans out, or at least making demands they can't accept.
There are indications this is what Karzai is inclined to do; the preconditions Karzai is setting are the Taliban's terms. Karzai seems to be putting his chips behind a deal with the Taliban, betting an accord with them can bring more peace to Afghanistan than a deal with the U.S. military.
But his gamble is even bigger than that. He appears to be betting that his government and security forces are strong enough to survive without U.S. help, and that the Taliban is willing to compromise.  If he's wrong the consequences are enormous.  If he's right, US troops will be coming home.