WEDRZYN, Poland — Red tape marked the explosive charge U.S. soldiers set on the plywood to breach the door to a brick house. Ready to ignite it, they hunkered down along the wall their weapons at the ready.
Repeated shouts of "fire in the hole" rang out, and after a loud boom, the six-man unit dashed into the building. Nearby, British soldiers carefully cleared a brick house room by room as Polish helicopters whirred above.
The furious activity at military base near Wedrzyn in western Poland was part of one of the largest NATO exercises since the end of the Cold War. Some 30,000 troops, and numerous vehicles, aircraft and ships from more than 20 countries were involved in the show of force aimed at reassuring the U.S. allies unnerved by Russia's actions in nearby Ukraine.
Ten-day Anakonda 2016 came amid a sharp deterioration in the relationship between Russia and NATO, with tensions growing after the annexation of Crimea, the ongoing conflict in eastern Ukraine and regular fly-overs of Russian jets over U.S. warships in the Baltic Sea.
The Kremlin was quick to criticize the exercises, which culminated with a live-fire drill on Thursday.
"In any case, the war games … do not contribute to the atmosphere of trust and safety on the continent," Russian President Vladimir Putin's press secretary Dmitry Peskov told reporters on the day Anakonda 2016 kicked off, according to Russian state media.
Western officials say the exercises were an opportunity to test systems and processes, and build relationships ahead of this year's NATO summit to be held in July in Warsaw. Russia was front-and-center in the planning, they said.
"We have 30,000 soldiers in Europe. We used to have 300,000 and we still have the same mission — to deter Russia," the commanding general of U.S. Army Europe, Lt. Gen. Ben Hodges, said during his visit to the exercise, according to a statement released by NATO.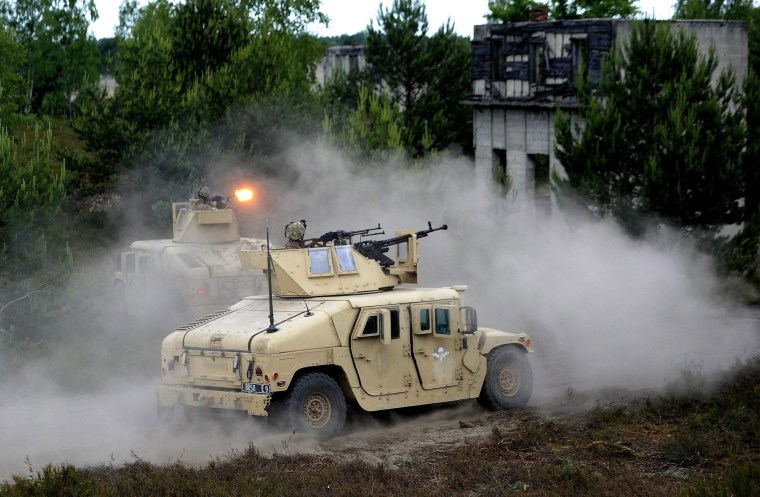 With about 14,000 troops, the U.S. has contributed the largest contingent to the exercises.
Lt. Col. Michael Wagner, a battalion commander with the 173rd Airborne Brigade based in Vicenza, Italy, told NBC News that his unit has been involved in various training directly working with troops from NATO countries.
"Over the course of this time that we've been here in Poland, for the last week and a half, we've worked with Italians, we've worked with Polish, including flying on Polish aircraft," he said. "What we're really trying to do is to develop an understanding and ability to work together before we actually have to in real life."
On Wednesday at the military base near Wedrzyn, Wagner watched as members of his unit made their way through the dense forest and fought up a hillside to a bunker.
Wagner said the past years have been full of change, especially for the officers in his unit, what with going from fighting insurgents in Iraq and Afghanistan to preparing for possible more high-level warfare in Europe.
"For us it is a big shift," he said.