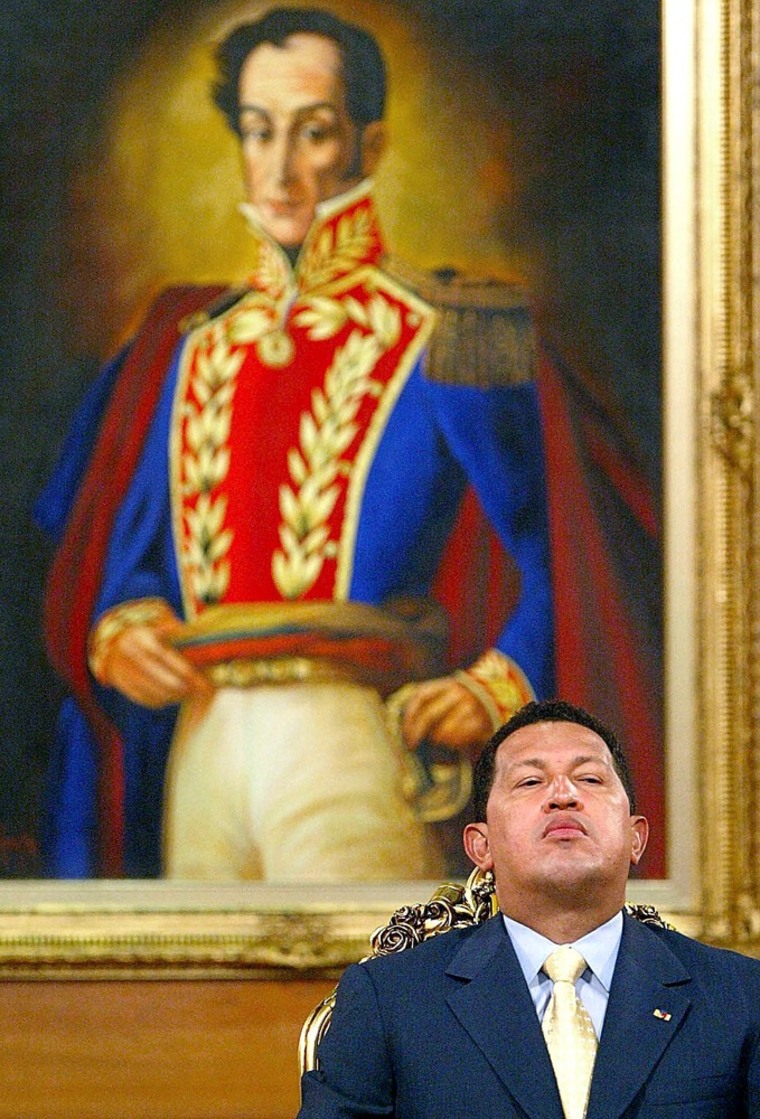 CARACAS, Venezuela — Hugo Chavez did something a bit strange last summer. 
He secretly sent a team of forensic scientists to open the coffin of independence hero Simon Bolivar and exhume his remains.
The Venezuelan president wanted to investigate exactly how Bolivar, who was instrumental in driving the Spanish out of Latin America, died almost two centuries ago.
While most historians say tuberculosis killed Bolivar when he was 47, Chavez had another theory. He suspected that Bolivar was poisoned.
At the time, Chavez was campaigning to win another term as president of Venezuela.
Just weeks earlier, the Venezuelan president had declared himself "free, free, totally free," of the cancer that killed him on Tuesday. It was the second time Chavez would claim he was cured.
Throughout his 14-year rule, Chavez often evoked Bolivar's image, claiming his socialist state was just the next stage in Bolivar's campaign to liberate the continent from outside domination.
Chavez made a big show of the investigation on national TV, even showing footage of Bolivar's skeleton while playing the national anthem. "Viva Bolivar," said Chavez. "The great Bolivar has returned!"
Chavez then decided to build a $150 million grandiose monument at the National Pantheon in Caracas to house Bolivar's remains. At the time, Chavez said the aim was to "glorify Bolivar."
Perhaps he had his own final resting place in mind as well.
Under Venezuelan law, only national heroes are bestowed the honor of repose at the National Pantheon, and any candidate must have died at least 25 years earlier.
Already, a national campaign has begun in Venezuela to lay Chavez's remains alongside his beloved Bolivar. There are even loud whispers of initiating a national referendum to vote on changing the Constitution to amend the 25-year rule.
Some of Chavez's supporters allege another thing may unite the two men.
Venezuelan Vice President Nicolas Maduro promised the government would launch a "scientific investigation" into suspicions that Chavez was poisoned. Who would be responsible? Maduro blamed "the country's historical enemies."
Time will tell if the investigation into Chavez's illness reveals anything nefarious behind the cancer that killed him. They couldn't prove much testing Bolivar's remains.
"We could not establish death was by non-natural means or by intentional poisoning," the Chavez government admitted.
For Chavez, that didn't matter. To the day he died, he continued to believe there had been a "great farce" and "cover-up" of Bolivar's death. 
"They killed Simon Bolívar. They murdered him and, even though I don't have proof, the circumstances in which he died point to that," he concluded.
Chavez's supporters are now on the hunt for their own smoking gun.
Related:
Full coverage of Hugo Chavez's death from NBC News
'We'll carry on your fight': Venezuelans mourn Hugo Chavez