A humanitarian crisis is gripping Gaza as hundreds of thousands of displaced Palestinians flee to the south amid the Israeli military's aerial bombardment in retaliation for Hamas' brutal terrorist attack one week ago.
The Israel Defense Forces warned residents to evacuate from Gaza's north — home of its largest population center, Gaza City — on Friday, and the deadline has passed.
After the surprise assault Oct. 7, Israel placed the territory under siege, cutting off basic utilities. Today, Gaza is almost out of clean water, food, fuel and medical supplies. There hasn't been electricity in days, and its largest hospital, Al-Shifa, is now a shelter for about 35,000 people, with men sleeping in the parking lot and women inside.
Follow live updates on the Israel-Hamas conflict
There is little safety even for those fleeing. An airstrike hit a convoy of people trying to head south on a road that was supposed to provide safe passage. Among the dead were children and women, lying in pools of blood near vehicles. Ambulances were also struck.
"We're dying, and everyone is watching. Shame on you, all the Arab countries. We were told to leave, but where? Where to go?" said Heba Al Attar, who is leaving a United Nations-operated school, which is supposed to be a safe place. "They're shelling people on the roads, too. Where are we to go?" 
More than 1,900 people have been killed in Gaza, and more than 7,600 have been injured.
"It has become a matter of life and death," U.N. officials said Saturday. "Fuel needs to be delivered now into Gaza to make water available for 2 million people." The World Health Organization called the mass displacement "a death sentence for the sick and injured."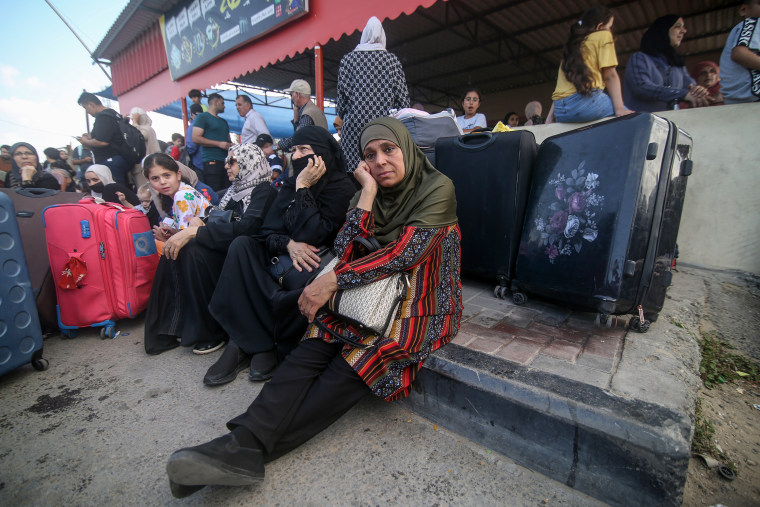 The clock is ticking. The Israeli military has amassed its forces at the Gaza border. It is preparing to implement "a wide range of offensive operative plans," which will include "an integrated and coordinated attack from the air, sea and land." Meanwhile, Hamas, which rules Gaza and is considered a terrorist group by the U.S. and the European Union, has posted propaganda videos showing it training for an invasion by attacking a mock Israeli tank and taking a person acting as a wounded soldier into its vast tunnel system.
The objective of the coming attack, said Israel's national security adviser, Tzachi Hanegbi, is to "eliminate" Hamas and its "military and governmental capabilities" so "there is no way for them to resurrect from it." He added, "Hamas will not rule Gaza."
Speaking of the Israeli hostages held in Gaza, he said, "We won't stop until we know what happened to them and do whatever we can to bring them back." Israeli troops Saturday also recovered the bodies of a number of civilians that were strewn in open areas of Gaza, an Israeli military spokesman said.
Hamas killed at least 1,300 people in Israel — including 258 soldiers — the worst terrorist attack there in decades. The coordinated assault targeted kibbutzim, a music festival and people on the streets. Babies, the elderly and families were shot and butchered, with the prime minister posting photos of burned infants on social media. More than 3,300 people were injured. 
In the darkness of night Saturday into Sunday, the skyline of Gaza City was black, with only a few lights flickering. On the Israeli side of the border, the sounds include the buzz of drones and fighter jets overhead. Tanks on flatbeds drive along the road. 
"It's a difficult place, not safe, as we thought at first," Hasan al Attar, 18, said of living at a school acting as a U.N. refugee camp. "We live here without water, electricity and internet."
"We have a lot of rockets above us, and no place is safe in Gaza right now," he said, adding, "There is a lot of people still here like us, because there is no safe ground. They kill a lot of people."
The medical system in Gaza is on the brink. Two hospitals no longer provide service — one is a children's hospital — and 15 have been damaged, and 28 staffers were killed, Palestinian Health Minister Mai Al-Kaila said.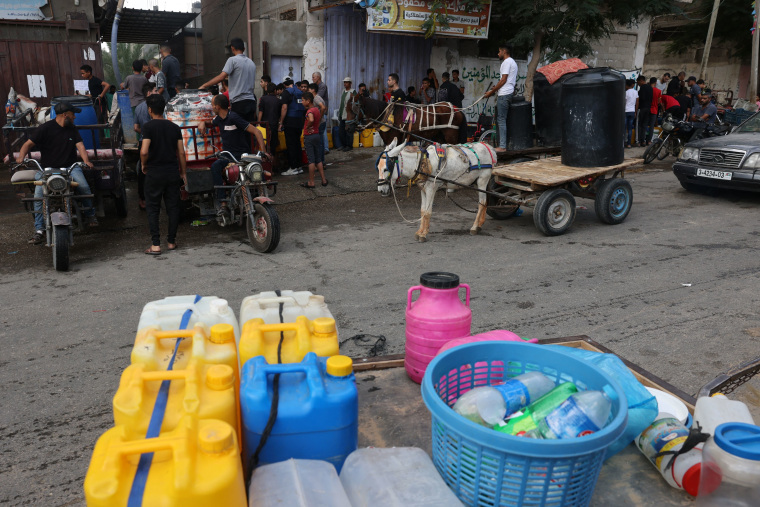 Saturday on the streets of Gaza, people stacked and strapped mattresses atop small white pickup trucks; others used donkey-drawn carriages to leave with their belongings. Some carried them on their heads down busy roads. Children waited in line to fill plastic jugs with water.
"I am a civil man. Civil. I don't have a gun. I don't have an air force. I don't have an F-16," a 48-year-old Palestinian in northern Gaza said. "I want to tell all the people of the world: Rescue Gaza. Help Gaza. Please help Gaza. I don't know where I can go now."