Brazil's biggest protests in two decades intensified on Thursday despite government concessions meant to quell the demonstrations, as 300,000 people took to the streets of Rio de Janeiro and hundreds of thousands more flooded other cities. 
Undeterred by the reversal of transport fare hikes that sparked the protests, and promises of better public services, marchers demonstrated around two international soccer matches and in locales as diverse as the Amazon capital of Manaus and the prosperous southern city of Florianopolis. 
"Twenty cents was just the start," read signs held by many converging along the Avenida Paulista, the broad avenue in central Sao Paulo, referring to the bus fare reductions. 
In the capital, Brasilia, tens of thousands of protesters by early evening marched around the landmark modernist buildings that house Congress, the Supreme Court and presidential offices. 
The first death during the protests was reported Thursday when an 18-year-old man was killed in Sao Paulo. According to Brazilian press sources, police say the protester died when a car drove through a barricade. 
In Rio de Janeiro, riot police fired tear gas at groups of protesters, injuring around 30 people. Local TV reports have shown looting in downtown parts of the city and police sealing off four government buildings protestors tried to target.
The swelling tide of protests prompted President Dilma Rousseff to cancel a trip next week to Japan, her office said. 
The targets of the protests, now in their second week, have broadened to include high taxes, inflation, corruption and poor public services ranging from hospitals and schools to roads and police forces.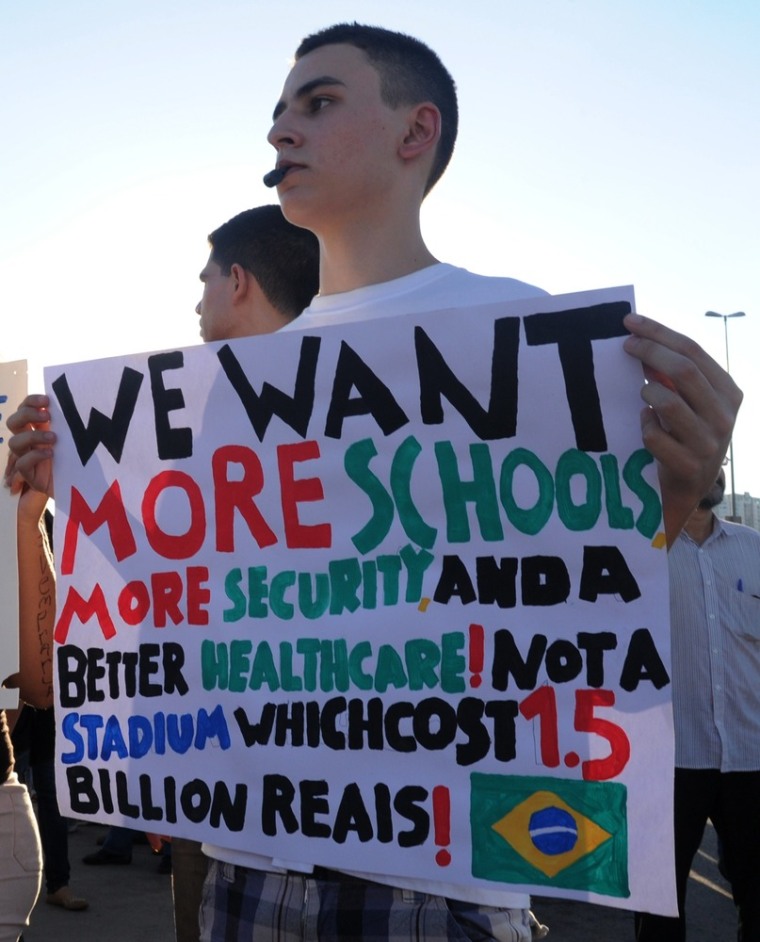 With an international soccer tournament as a backdrop, demonstrators are also denouncing the more than $26 billion of public money that will be spent on the 2014 World Cup and 2016 Olympics, two events meant to showcase a modern, developed Brazil. 
After the concession on transport fares on Wednesday, activist groups differed over what their next priority should be. But the competing demands of demonstrators appeared to add to the intensity of Thursday's protests. 
Inside the Maracanã stadium in Rio de Janeiro, soccer fans sang protest songs and showed support for the throngs of demonstrators gathering in the city. In Salvador, a northeastern city hosting another game of the soccer tournament that serves as a World Cup test run, protesters clashed with police, who fired teargas to disperse crowds. 
The unrest comes six months before an election year and at a time when Brazil, after nearly a decade-long economic boom in which the country's profile soared on the global stage, enters a period of uncertainty. Economic growth of less than 1 percent last year, annual inflation of 6.5 percent and a loss of appetite for Brazilian assets among international investors have clouded what had been a feel-good era for Brazil. 
Brazil's currency, the real, dropped to a four-year low on Thursday, trading as weak as 2.275 per U.S. dollar. The country's benchmark stock market index, the Bovespa, also hit a four-year low. 
Changing political landscape
The protests have shaken the once solid ground under Rousseff and her ruling Workers' Party, a bloc that itself grew out of convulsive demonstrations by Brazil's labor movement 30 years ago. Until inflation and other economic woes began eroding her poll numbers in recent weeks, Rousseff enjoyed some of the highest approval ratings of any elected leader worldwide. 
The demonstrations have been largely non-violent and comprised mostly middle-class, well-educated voters who do not form the bulk of Rousseff's electoral base. 
But she and her party have sought to get ahead of the complaints and embrace them as their own - a shift that contrasts sharply with a playbook that long relied on telling Brazilians that they had never had it so good. 
With little more than a year to go before presidential and gubernatorial elections, the unrest is forcing incumbents and traditional political parties to reconsider their strategies. 
The decision to cut transportation fares illustrates what many analysts consider a reactive and contradictory response by a ruling class caught off guard. 
"Were they wrong before or are they wrong now?" asked Carlos Melo, a political scientist at Insper, a business school in Sao Paulo, noting what had been a steadfast refusal to reverse a fare hike. 
Related: