IROTA, Hungary — A week after Russia's invasion, Hungarian Prime Minister Viktor Orbán traveled to the border town of Beregsurány to meet Ukrainian refugees. 
"Hungary is a good friend of Ukraine and the Ukrainian people. If they need any help, we are here and they can count on us," Orbán said, speaking to reporters at a refugee aid center. 
It was an unusual trip for the conservative nationalist leader. Orbán has earned a reputation for xenophobia and harshness toward refugees due to a wide range of actions he took in response to the 2015 Syrian refugee crisis — including building a 13-foot razor-wire fence along Hungary's southern border with Serbia and deploying armed forces to kick out refugees he said were in the country illegally. And he frequently portrayed refugees as rapists and terrorists.
Now, Orbán has opened up Hungary's borders to Ukrainian refugees and has backed down from his anti-immigrant rhetoric. But his hospitality has largely stopped there.
Aid workers say that since the war broke out, Orbán and his ruling Fidesz party have done little to provide assistance to the roughly 400,000 Ukrainians who have arrived in the country, leaving volunteers, nongovernmental organizations and local governments to piece together a support system for the refugees. 
Everyday Hungarians are posting about spare rooms in their homes on Instagram. Well-connected professionals in Budapest are leveraging their networks to find available retail space to open new schools for Ukrainian students. Restaurant owners, still recovering from the economic impact of the Covid pandemic, are donating meals when they can. And absent clear information from the government, lawyers are traveling to the border to help refugees navigate Hungary's obscure asylum application process. 
"This is absolutely untenable," said András Léderer, the advocacy officer for the refugee program at the Hungarian Helsinki Committee, a human rights NGO. "I don't see how it is sustainable to count on an endless number of average Hungarian citizens to take on unknown people into their homes and let them stay for the unforeseeable future."
Jeroen van Drunen and his husband, Lennard de Klerk, are two residents of the remote countryside town of Irota who have done just that. They run vacation lodges and, when the war started, decided to register their spare rooms in the upstairs of their home on the website "icanhelp.host," which connects people fleeing Ukraine with free accommodations.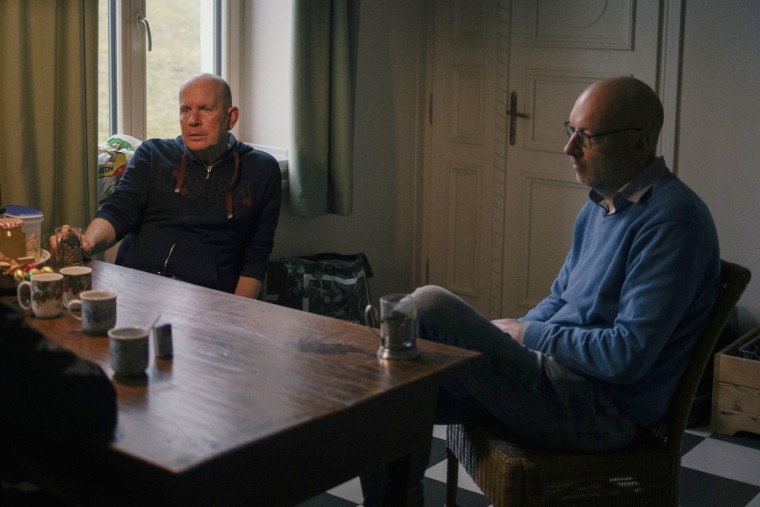 "We were immediately overwhelmed by the amount of requests we got," said van Drunen, a former diplomat in the Netherlands who used to live in Kyiv and moved to Hungary in 2013. 
Within days, others throughout Irota also stepped up. The midwife offered to help pregnant Ukrainians and infants. The town's only dentist volunteered to treat a refugee with toothache free of charge, and the local church converted cottages used for a children's camp into additional sleeping space for refugees.
"Everyone from Hungary has tried to help us. They are amazing people," said Natalia Adamenko, 44, who stayed in one of the church cottages when she first fled Kyiv before moving to a nearby town with her daughter, Kseniia, 17. "I know the Hungarian government is not so loyal, but the actual people are different."
Aid workers say that relying on volunteers to support refugees means that more and more Ukrainians will inevitably slip through the cracks as exhausted volunteers become stretched thin as the war drags on.
"We've seen a lot of European solidarity towards Ukrainians, but the extent to which that solidarity will be maintained in the coming months is a big question," said Emily Venturi, who specializes in refugees and migration at Chatham House, a London-based think tank. "What's going to happen if families hosting refugees reach a certain point where it's not sustainable for them to do so anymore? Then what?"
Léderer shares those concerns. "Unless the government and the state authorities get their act together very soon, we're going to have very serious problems here," he said.
Already, not all refugees arriving in Hungary have been met with the same support as those in Irota.
Yulia Sheikhova, 32, escaped Mariupol with her husband and their children, 3 and 12, right before their apartment building was destroyed. She said that her family found a hostel in Budapest by word of mouth. Finding food has been more challenging.
Waiting in line at a volunteer-run donation tent, she said she had gone to the humanitarian center set up by the government at Budapest's BOK stadium looking for food for her kids. But all she was offered were juice boxes and apples. "Not actual meals," she said. 
"My kids are afraid. They are hungry. They are tired," Sheikhova said.
Finding reliable shelter has also been a challenge for some refugees.
Since leaving Kyiv, Natasha Dobzogozskaya, 39, and her 6-year-old twin daughters had been staying at The Hotel Hungaria in downtown Budapest while they waited for a visa to travel to London, where they planned to live with her cousin until it is safe to return to Ukraine.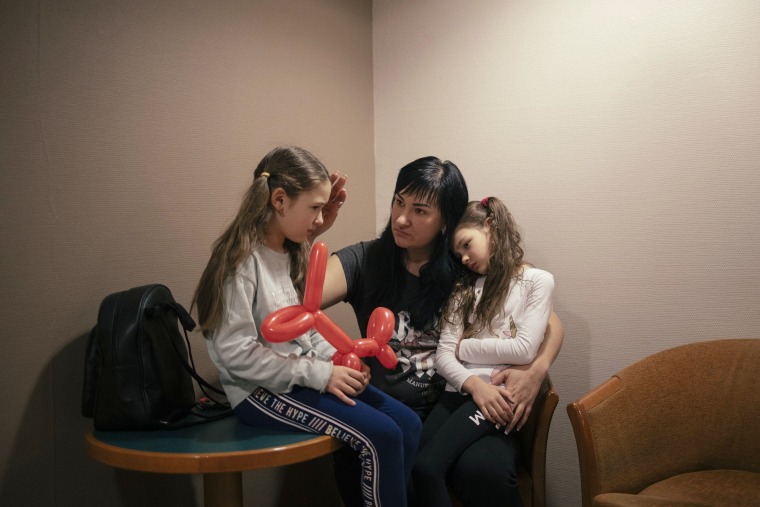 But the visa process was taking a long time, and in early April the hotel told her she had two days to leave. 
"We have to find a new place to stay," Dobzogozskaya said, as she tried to contact volunteers on social media for help. A teacher, she needed accommodations with reliable Wi-Fi so that she could continue teaching her 10- and 11-year-old students online. "I don't know where we will go," she said.
The Hungarian government says it has enrolled roughly 1,500 Ukrainian children in school. And it claims to have provided assistance to nearly 20,000 refugees at the BOK stadium alone.
But members of the political opposition have said that Orbán is not serious about setting up robust support networks to alleviate the humanitarian fallout of what is likely to be a protracted conflict in Ukraine.
Orbán's opponents have argued that the prime minister is using the crisis to get money from the European Union, which has threatened to withhold crucial funds due to his skirting of democratic norms, such as curtailing freedom of the press and targeting LGBTQ rights. Some aid groups have also accused Orbán of inflating the number of refugees in Hungary in an effort to squeeze more money out of Brussels.
"Orbán wants to pressure Europe so that Europe will give its most corrupt government a kind of subsidy because now Orbán can claim that it is for the benefit of the refugees," said Péter Márki-Zay, who lost his campaign for prime minister to Orbán in the country's April 3 election.
"The government has changed its rhetoric very much, 180 degrees. All of a sudden he supports refugees. It totally contradicts what he was doing before," he added.
In a statement to NBC News, the Hungarian government said, "Hungary receives every Ukrainian refugee arriving in Hungary and none of them are left without proper care."
Some Ukrainians say that they do not think Orbán's support for refugees is genuine but that for now, it hasn't tainted the help they've received from the Hungarian people.
"Many Hungarian people have told us that they are not the same as their government, that they are not Orbán," said Kristina Novitska, 39, of Kyiv, who is staying with a Hungarian family in Budapest with her 2-year-old daughter.
"We are not politics, we are real people to them," she said.