BANGKOK — Thailand's military rulers said Tuesday they are monitoring a new form of silent resistance to the coup — a three-fingered salute borrowed from "The Hunger Games" films — and will arrest those in large groups who ignore warnings to lower their arms.
Since staging its bloodless coup, the military has prohibited political gatherings of more than five people and tried to enforce a ban on criticism of the coup by closing politically affiliated television stations and blocking websites.
On Sunday, authorities deployed nearly 6,000 soldiers and police in Bangkok to prevent planned protests against the coup. Amid the heavy security, creative forms of protest emerged. Some people wore masks as they walked through a central shopping district. Others joined small flash mobs, or stood alone, and flashed three fingers in the air.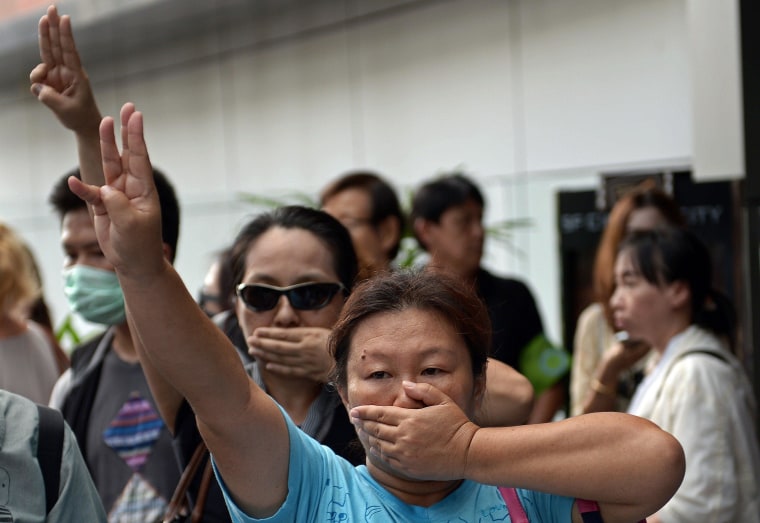 Protesters have varying explanations for what the symbol means. Some say it stands for the French Revolution's trinity of values: liberty, equality, fraternity. Others say it means freedom, election and democracy. A photo montage circulating online paired a picture from the science-fiction blockbuster "The Hunger Games" with a graphic of three fingers labeled, 1. No Coup, 2. Liberty, 3. Democracy.
In the movie series and the book trilogy it is based on, the salute is a symbol of rebellion against totalitarian rule and stands for: Thank you, Admiration and Goodbye to someone you love.
Despite the warning to protesters, the junta offered a reprieve to the country's vital tourism industry. It lifted the military's curfew at three popular beach resorts — Phuket, Koh Samui and Pattaya — to ease the impact of the May 22 coup on tourists.
A midnight-to-4 a.m. curfew remained in effect for the rest of the country, including Bangkok, where the raised arm salute was unveiled over the weekend.
"At this point we are monitoring the movement," Col. Weerachon Sukhondhapatipak, a spokesman for the junta, said. "If it is an obvious form of resistance, then we have to control it so it doesn't cause any disorder in the country."
—The Associated Press