BELFAST, Northern Ireland — A hockey rink might seem like an unlikely space for conflict avoidance. But in deeply fractious Belfast, the all-conquering Giants have emerged as a surprising source of nonsectarian pride.
In a land where ice hockey is a truly foreign game, and with a roster filled largely by Canadians and Americans, the Giants have defied expectations to become a U.K. sporting success. But, more importantly, this foreign game has allowed for the creation of a rare and welcome neutral space — one that could offer a timely template for the future in the wake of a historic election result that could reshape Northern Ireland's politics.
Last week about 2,000 people paid to attend not a game, but an awards night at the team's home arena, where long lines of fans waited patiently for a meet-and-greet with the players.  
The Giants have won five of the last 10 trophies on offer. In the just-completed 2021-22 season, they lifted the Challenge Cup in March, the trophy for winning the Elite Hockey League's regular season in April, and fell just short of " the treble" earlier this month when they lost to the Cardiff Devils in the championship game of the playoffs, with the prize being the league's third and final cup.
"I didn't do sports," said Craig Kane, who went on to explain how he nonetheless became an instant supporter after being "dragged" to a game by his wife, Michele. "It grabbed me because it was just something completely new. It was fast, it was violent, it was entertaining," he said from the packed lobby of the SSE Arena. "It was everything. And it was a family. There was no bitterness."
The political backdrop
In this corner of the United Kingdom, bitterly split for so long between predominantly Catholic nationalists and Protestant pro-British unionists, the nationalist party Sinn Féin — which supports unification with the Republic of Ireland — became the largest party in Northern Ireland's Assembly last weekend for the first time since the partition that officially split Ireland in two in 1921.
But while Sinn Féin's success is significant, Irish reunification isn't going to happen overnight, or even in the near future, thanks in part to Brexit, the province's complex power-sharing rules, and the emergence of a growing number of people who identify as neither unionist nor nationalist.
That is evident in the success of a party called Alliance, which made the biggest gains in the election with a neutral platform that avoids any sectarian identification. The party doubled its 2017 performance to finish third, behind Sinn Féin and the unionist Democratic Ulster Party (DUP), a dominant force for decades that now appears to be in decline.
"I don't think Unionism can go forward," said Peter McLoughlin, a member of the George Mitchell Institute for Global Peace at Queen's University. "It's trying to go backwards and it doesn't know how to go forward."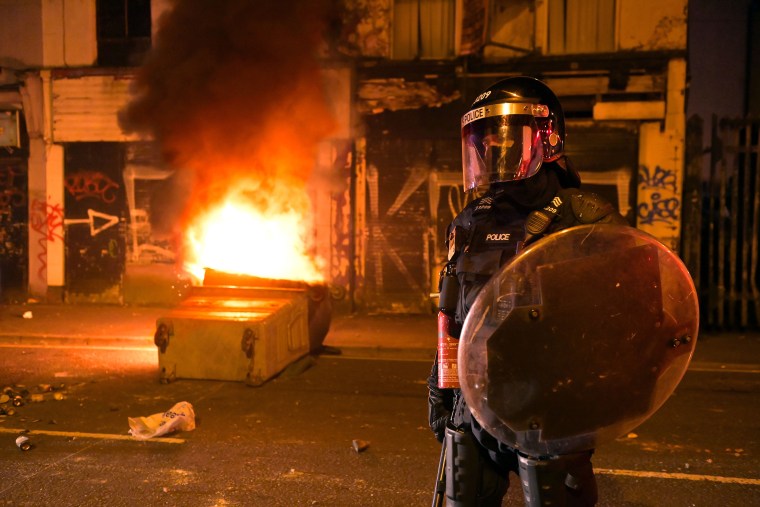 The DUP supported the campaign for Britain to leave the European Union, though a majority of Northern Irish citizens (55.8 percent) voted to remain. This week the DUP said it would not join a government over objections to post-Brexit trading arrangements, which can only be resolved by leaders in London and Brussels. That could prevent a new government from being formed.
McLoughlin also said the election may indicate the increasing power of a growing and younger group exhausted by sectarianism.
"They're not nationalist or unionists, or they're a bit of both," he said. "All of these people will be much more important in the future because there's not going to be a clear nationalist or unionist majority. So, you'll need to win over people who just think, "Well, is it good for the environment or is it good for my cousin who's gay or is it good for me as a feminist or a socialist?'"
How a hockey team comes into play
The Belfast Giants have foreshadowed this more complicated reality since they became the province's first pro hockey team in 2000, just two years after the U.S.-mediated Good Friday Agreement, a complex but often unproductive power-sharing accord  that ended decades of  bloody civil conflict known as "the Troubles."
In a place where color carries huge weight — green signifies Catholic nationalism, orange Protestant unionism — the Giants chose a soothing and apolitical teal for their uniforms. Their mascot is Finn McCool, a mythological god-like titan from a pre-Christian era.
This is far from empty symbolism in a province where many aspects of society have traditionally been segregated by tribalism, including the most-played sports: soccer, rugby and field hockey by Protestant children, and community-based Gaelic football and hurling for Catholic kids. 
"It's great to have something that is completely neutral," said Giants fan Natasha Johnson, "and everyone can feel excited, regardless of your background or your socioeconomic status or your political views or your religious views, and come and get behind a sport that not very many people on the island even know."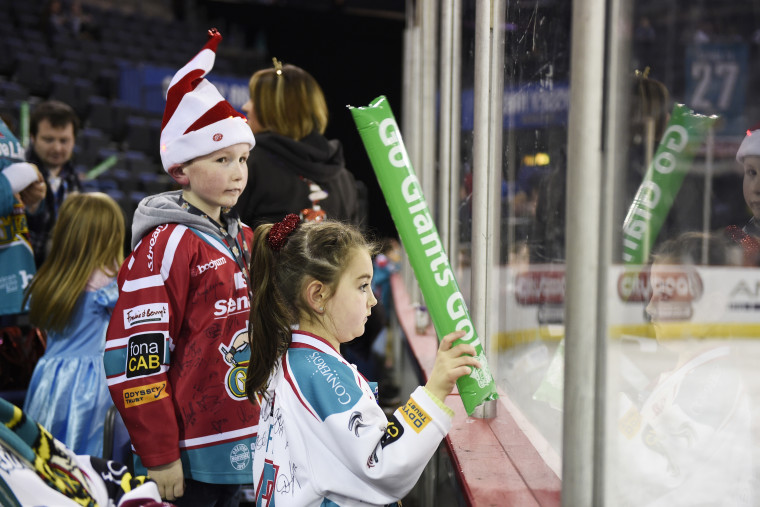 The Giants captain, Dave Goodwin, is a 30-year-old American who played  at Penn State.
Goodwin said  that while signing autographs at the team's awards night, one gentleman told him "that before the Giants, there were a lot of Protestants that had never spoken to a Catholic until they came to a Giants game. And then they meet and they're having a beer together and they're cheering on the Giants." 
"I'm not going to try to act like I know the ins and outs of the political system of Northern Ireland," Goodwin said. "But when I hear stories like that, it makes me recognize and appreciate the positive impact the Giants are having on the community."
The team is the anchor tenant in the all-purpose SSE Arena, part of a vast sports, entertainment and educational complex in the city's redeveloped waterfront neighborhood, the Titanic Quarter, so named because it's where the world's tragically famous cruise ship was launched, in 1911. The complex is owned by a novel entity, a self-funding and profitable charity, the Odyssey Trust, which has a high-energy local son as CEO, Robert Fitzpatrick.
"The Giants don't deliberately wear the badge of neutrality as a statement piece," said Fitzpatrick. "We don't go out to the great and good and say we intend to make a neutral difference. We'd get laughed at. It's our actions and the subtleties around our community interventions."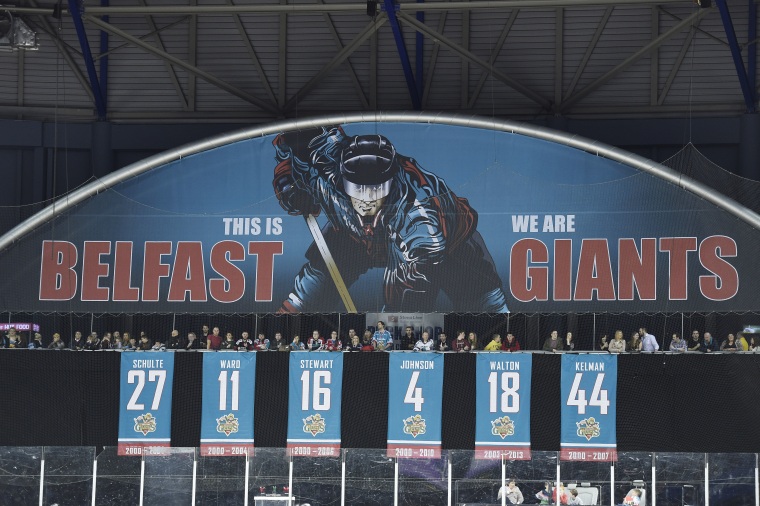 The Giants "adopted" 5-year-old Dáithí' Mac Gabhann, a boy awaiting a heart transplant who inspired legislation  this year stipulating that adults in Northern Ireland be considered potential organ donors unless they choose to opt out or are in an exempt group.
The Odyssey Ice Academy, launched in 2018, seeks to provide at-risk young people with a unique opportunity to learn through recreation, including on-ice sessions with the team.
In 2020, the Giants combined with a range of community groups for a Christmas appeal to help families across the city. And last year, with sports across Britain hit by the coronavirus pandemic, the team's employees turned the SSE Arena into Northern Ireland's largest mass vaccination center, ultimately delivering more than 360,000 vaccines.
The ethos of this socially conscious sports organization is encapsulated in the team's motto: "In the land of Giants, everyone is equal."
With the gains made by the Alliance party, Northern Ireland's election has bolstered a spirit of common cause that, remarkably, a violent game has been trying to nurture since the turn of the millennium.