A ski-equipped U.S. airplane will be called in to extract some 30 people from an Antarctic research station after the icebreaker set to take them home ran aground in a blizzard, officials said Thursday.
The specialist Lockheed LC-130 aircraft will transport the group while attempts to re-float Australian icebreaker Aurora Australis continued to be hampered by bad weather, the Australian government's Antarctic Division said in a statement.
The LC-130 is flown by the U.S. Antarctic Program and has giant skis instead of wheels. It is specially designed to operate on snow and ice and can also use rockets to assist its takeoff on rough terrain.
In the next few days the plane will transport the 30-strong group from Davis to Casey research stations, two facilities run by Australia on the Indian Ocean side of Antarctica. They will then be flown home by the Australian Antarctic Division's A319 Airbus.
The Aurora Australis is owned by P&O Maritime Services but is chartered by the Australian Antarctic Division. It ran aground after a blizzard caused it to break free from its mooring lines at 9:15 a.m. local time Wednesday (11:15 p.m. ET Tuesday).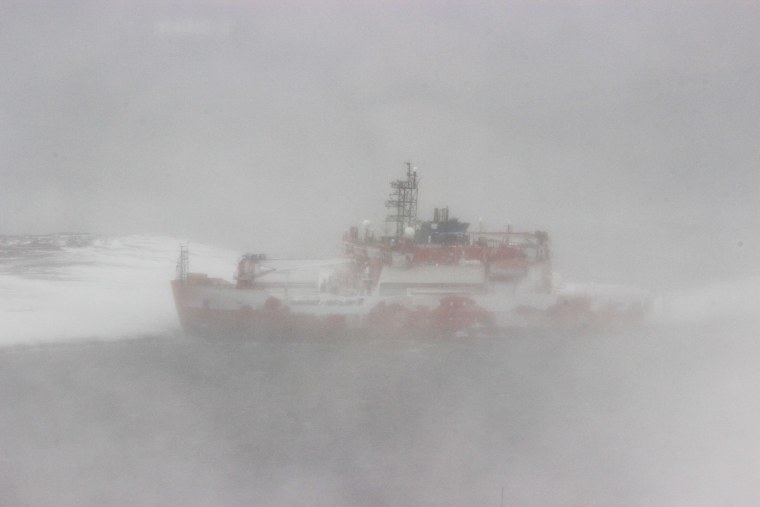 The 68 explorers and crew on board were "safe and well" and were set to be transferred to Mawson, another nearby Australian research station, once a blizzard eased, Australian officials said.
The ship's hull had been breached when it ran aground, they added. However the breach was in a section of the boat usually flooded with ballast water and there was no threat to the vessel's stability.
The Aurora Australis was involved in a dramatic rescue in late 2013 after 52 passengers and crew became stranded in sea ice aboard the Russian Akademik Shokalskiy icrebreaker.