REYKJAVIK, Iceland — Gestur Palmason has spent the past few weeks running down leads and profiling suspects, but those whom the veteran police detective is chasing aren't criminals, they are coronavirus carriers.
The 40-year-old with a shaved head is part of a team of "contact tracers" operating at Iceland's National Crisis Coordination Center, the high-pressure heart of this small country's singular strategy to combat COVID-19, the disease caused by the coronavirus.
"Every second somebody is getting infected, so obviously we want as few people infected as we possibly can," he told NBC News. "As quickly as we can, we have to reach everyone that might have been in contact with someone who's positive, and try to stop them before they get in contact with more people."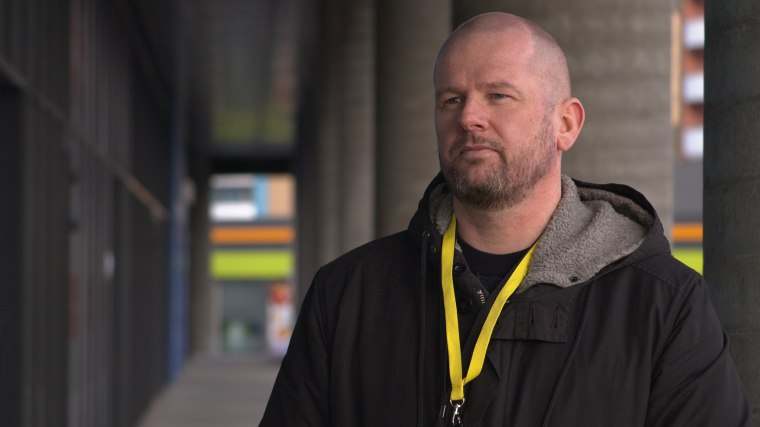 Together with dozens of other top detectives, Palmason has been racing to locate individuals who have been in close physical proximity to known carriers of the virus — often just minutes after the original carriers receive a positive diagnosis. The people he helps identify are almost immediately placed in a two-week quarantine to prevent further transmission.
Across this remote and rugged island nation of a little more than 364,000, as of Friday morning there were almost 10,000 men, women and children — equivalent to 9 million Americans — under this form of state-enforced lock and key.
Full coverage of the coronavirus outbreak
These contact-tracing and quarantine measures are only part of what make Iceland unique in its response to the pandemic. It is also testing widely and proactively in a way that few other countries are able to do, allowing emergency workers to make informed decisions that they hope will minimize the impact of the coronavirus. Plus, its civil servants and scientists are leading the coronavirus response, while the country's politicians take a back seat.
Search and separate
Rapid diagnosis is essential to the efficacy of chief inspector Palmason's work. And earlier this week it was his turn to be tested, on the fourth floor of a glass office building in the Icelandic capital.
Medical staff in full personal protective equipment swabbed the back of his throat and deep inside his nostrils, before he returned to his temporarily assigned workspace, where distinct shift patterns separate his team from other co-workers to avoid cross-contamination. He later said he had tested negative.
Last week, up to 1,800 people were tested in a single day; Iceland has tested a far greater proportion of its population than anywhere else on earth, including South Korea — another country touted for its effective response to the pandemic.
But what makes Iceland unique is that test samples are not only taken from 'high risk' individuals who have exhibited symptoms, came into contact with known carriers, or returned from countries such as China and Italy, they are also offered to thousands of ordinary members of its general population, who are nonsymptomatic.
The data derived from this widespread testing show that while almost a fifth of those from the 'high risk' population prove positive for COVID-19, roughly 1 percent of the general population also carry the virus 'asymptomatically' — without showing or experiencing obvious signs of sickness.
Identifying these invisible and unwitting carriers early has helped to break chains of transmission in Iceland. But it could also provide scientists in many other countries with crucial information about the pathology of the virus.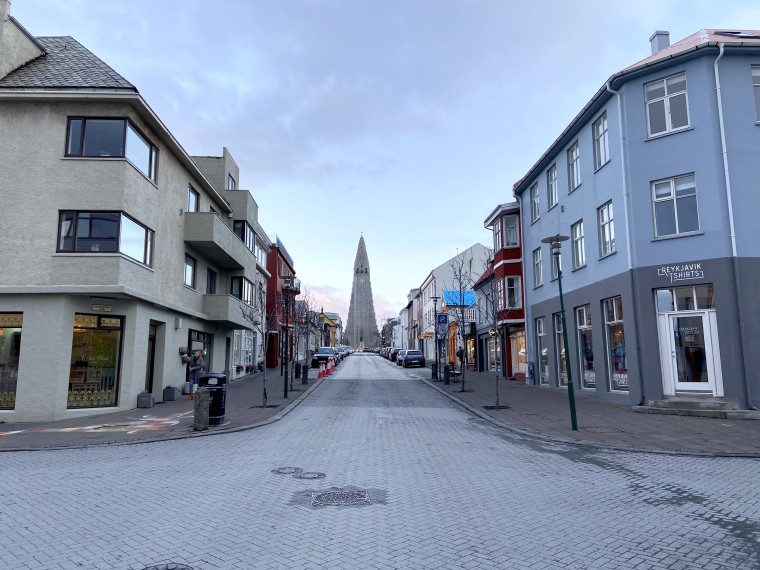 A combination of contact-tracing and genetic sequencing of each individual sample generates data about the virus' transmission path that researchers can then analyze, to better understand the role of asymptomatic carriers, the point at which such carriers are at their most infectious, and the overall transmission rates from this theoretically low-risk population.
Unlikely media star
Ordinary Icelanders praise the actions and demeanor of the man responsible for the testing, Iceland's chief epidemiologist, Thorolfur Gudnason, who has become an unlikely media star thanks to his daily televised updates. A pediatrician who specialises in infectious diseases, he says his country has spent years readying for just such a pandemic.
"We have been writing up response plans anticipating this event coming," he said in an interview. "We have been preparing different partners in the society for this to happen, and so it's relatively easy for us to activate the plan." A recent poll found that more than 90 percent of the residents surveyed overwhelmingly supported the country's current approach.
But the implacable nature of the virus may soon test this support. The country's first positive diagnosis was in late February, when an Icelander brought the virus home with him from a vacation in northern Italy. The island nation's remote geography and low population density may have helped protect its population slightly since then, but this week authorities recorded the first death of an Icelandic resident, a grim milestone.
Officials involved in coordinating efforts to counter the pandemic insist that centuries of physical hardship have cemented a strong esprit de corps in communities here, inuring Icelanders to adversity.
"When the going gets tough, we are used to stick together," says Vidir Reynisson, chief superintendent of the National Commissioner of the Icelandic Police, who is the overall commander of the national response effort. "When we have something that unites us, we stick together, even if it's in a difficult situation."
And even as the aggressive testing uncovers a rising number of confirmed cases, the chief epidemiologist Gudnason says many of those new cases are being identified among those already in quarantine.
"We will probably have more widespread disease because we are testing so many. So that will affect our prediction modeling," he explains, but knowing how the virus might transmit and expand is crucial for health care decision-makers. "That will affect how we anticipate how many patients we will have to admit to the hospitals and how many patients we will have to admit to the intensive care units."
Download the NBC News app for full coverage of the coronavirus outbreak
The country's health director, Dr. Alma Moeller, says the epidemic will likely peak in mid-April, and under the worst-case scenario based on current models it may require up to 20 intensive care beds with ventilators to treat patients at any one time. Right now, the entire country has only "13 or 14" spots, she says, and so her focus is on increasing that capacity and expanding her staffing numbers.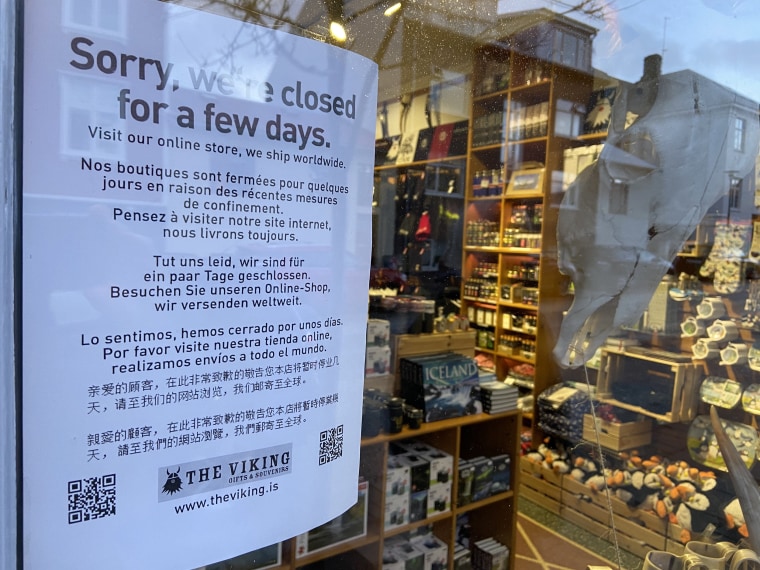 Telling stories through science
And beyond these implications for Iceland's domestic health service, another aspect of the efforts here could prove useful to scientists and policymakers around the world. A Reykjavik-based biotech firm, deCODE, has led the testing drive among the 'nonsymptomatic' population, but has also volunteered use of its advanced laboratories and scientific team to genetically sequence every single sample of the virus.
The company's founder and CEO, Kari Stefansson, says this has expanded the world's knowledge of the virus by highlighting differences between the various strains that arrived in Iceland, from separate case clusters in Italy, Austria, the United Kingdom and the United States.
"I am blessed enough to be able to participate in the response to this crisis, and not to have to sit on the sidelines feeling useless," Stefansson said. A sharp-tongued scientist with a dry sense of humor, his company has been at the forefront of genetic sequencing and research for more than a decade.
"All my life I've been wanting to tell stories through my science," he says.
Now, with his team sequencing the molecular structure of each virus sample, he's helping to tell the story of the worst pandemic in a century. They have identified what he calls the virus' unique "barcode," and the way it has transformed over time and across different geographies.
"These mutations, in addition to providing us with a barcode, they may be giving us an indication of how the virus is changing," he says, "and potentially become more virulent" — that is, more infectious, or deadlier.
The former Harvard University neuroscience professor says one better case scenario is that this coronavirus mutates instead into "a seasonal phenomenon, like the influenza." He intends to publish some of his team's findings shortly, for counterparts around the world to learn more about the virus, while Iceland continues its own efforts to follow the World Health Organization's suggested strategy of "test, test, test."
"I'm not going to be proud until this is over," Moeller, the health director, a former intensive care specialist, says. "There is no best way to do this. But we are using science and the best evidence there is — every moment."