LONDON — A photo of a woman facing down a protester from a far-right, anti-Islam group in England has been shared thousands of times on social media.
A photographer with the U.K.'s Press Association captured the image of 25-year-old Saffiyah Khan face-to-face with the demonstrator from the English Defence League (EDL) during a demonstration on Saturday in Birmingham, a central England city with an ethnically diverse population.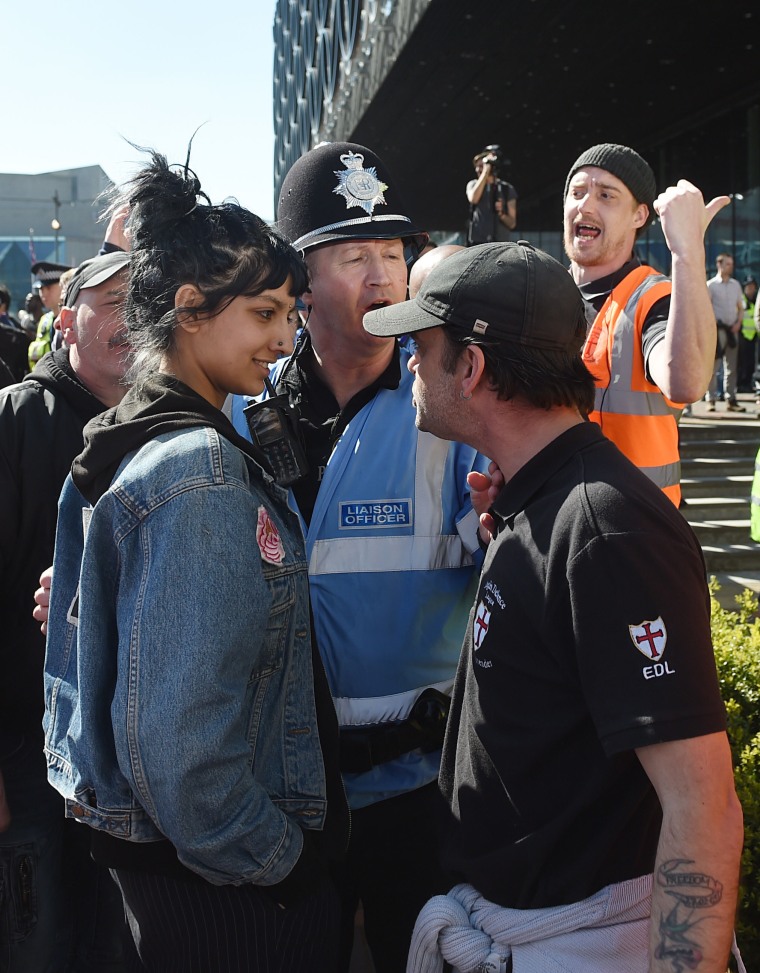 Khan told the BBC that she stepped forward to protect another woman wearing a Muslim headscarf who had shouted "Islamophobe" at the group. Khan said more than two dozen EDL supporters surrounded the other woman.
"I don't like seeing people getting ganged up on in my town," said Khan, who was born in Britain and is half-Pakistani, half-Bosnian.
"He put his finger in my face. It was very aggressive," she told the BBC. "A police officer was there and the man took his finger out of my face. I wouldn't have responded violently."
Local lawmaker Jess Phillips was among several prominent figures to tweet the image.
The EDL is a street movement involved in what it calls "the struggle against global Islamification."
It said Saturday's demonstration, which reportedly attracted around 100 people, was a response to the attacks in London and Stockholm over the past three weeks.
It said Khan had shouted out during a moment of silence its members were holding for the victims of the attacks.
EDL events have previously ended in violence and routinely require a police presence.