Donald Trump has suggested that Americans should be punished for unpatriotic behavior. In India, this vision is already a reality.
Twelve people were arrested Monday for failing to stand during the Indian national anthem while it was being played at an international film festival, according to The Associated Press and local media.
The incident in the southern city of Thiruvananthapuram came after the country's supreme court ruled last month that the anthem must be played before every public film screening.
According to the court, the Indian flag must also be shown on the screen — and the audience must stand up.
The president-elect suggested last month that people who burn the American flag should be stripped of their citizenship and jailed.
In September, Trump also criticized San Francisco 49ers quarterback Colin Kaepernick for refusing to stand during the national anthem, even suggesting Kaepernick should leave the country.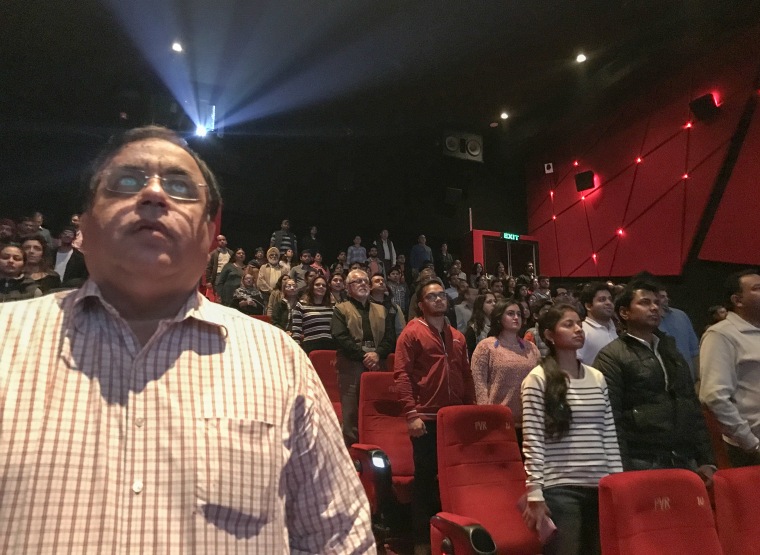 Vineesh Kumar, one of those arrested at the International Film Festival of Kerala on Monday, told The Indian Express that there was a scramble for seats and he was worried if he stood up he would lose his place.
The group was later released, the newspaper said, as the event did not want to follow up on the complaint.
Others have been less fortunate. Eight people were beaten by right-wing vigilantes Sunday after failing to stand at a cinema in Chennai, according to the AP. After they were beaten, the news agency said, they had complaints registered against them by police.
In October, Salil Chaturvedi, a disability activist who uses a wheelchair, was assaulted for not standing during the national anthem in Goa.
The assaults come after a rise in right-wing nationalism in India — one of several country's where Trump has business interests. Following its election in 2014, the ruling Bharatiya Janata Party has been criticized for conflating Indian nationalism with Hindu nationalism — accused of leaving the country's 200 million Muslims out in the cold.
Amnesty International has censured Indian authorities for clamping down on civil society groups that are critical of government policies.
"Religious tensions intensified, and gender and caste-based discrimination and violence remained pervasive," the rights monitor said. "Censorship and attacks on freedom of expression by hardline Hindu groups grew."
According to Charu Lata Hogg, an associate fellow at London's Chatham House think tank, this "unhealthy sense of nationalism that's been growing in India" is a cautionary tale for the U.S. if Trump plans to crack down on unpatriotic behavior.
"At the moment, the difference is that in the States the desecration of the flag is legal," she said. "In India, refusal to stand while the anthem is being played is a crime."
She added that "what we are seeing in both the U.S. and India fits into a global trend where an idea of nationalism is touted and legislated by a select few."
Dr Gareth Price, a senior research fellow at Chatham House, said that the rise of vigilantism in India was particularly worrying.
"While there's nothing wrong with being proud of your country, once you've unleashed these forces then they are very hard to control," he said.