LONDON — India chose an "untouchable" as its next president Thursday after the first contest in which both candidates were from the lowest tier of the country's caste system.
Ram Nath Kovind, nominated by the ruling BJP party, had been clear favorite for the largely ceremonial post, which is decided by 4,800 lawmakers across the country.
Under India's constitution, the prime minister and his ministers wield executive power but the president sometimes plays a role such as deciding which party should form a government if a general election is inconclusive.
Kovind, 72, is not the first president to be "Dalit," a term that means "oppressed" in Sanskrit and refers to members of the lowest caste. Kocheril Raman Narayanan took office in 1997 more than half a century after Gandhi pledged to end the country's ancient system of discrimination.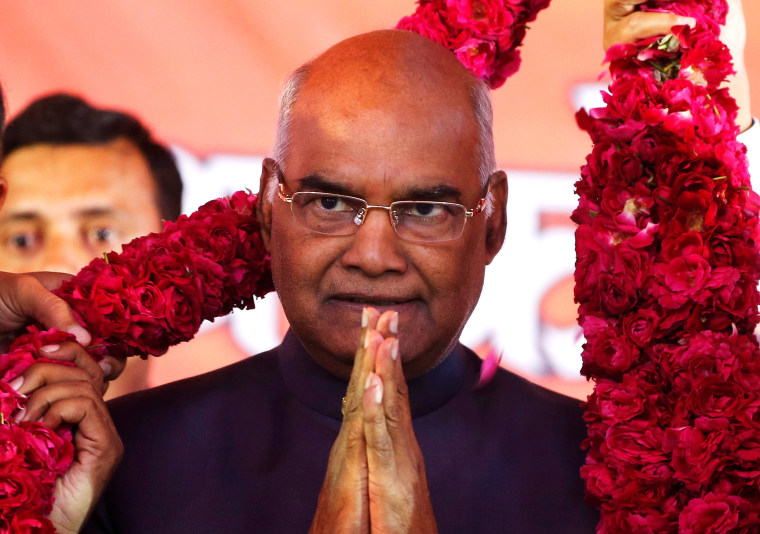 It is, however, the first time since India gained independence from Britain in 1947 that both the final candidates were Dalit — former diplomat Meira Kumar was also low-caste — and it is also the first time that the upper-caste dominated BJP has nominated a Dalit for the job.
One-fifth of all parliamentary candidates must be Dalit under decades-long affirmative-action laws introduced to improve representation and outlaw discrimination. Dalits are also guaranteed a proportion of college places and government jobs.
But while social mobility has improved, particularly in India's fast-growing cities, rural areas still often witness members of lower castes forced to live in separate areas or prevented from using communal facilities such as water fountains.
Caste campaigner Behan Mayawati called Thursday's result "a huge victory."
James Chiriyankandath, a senior research fellow at the University of London's Institute of Commonwealth Studies, said the real significance was not about caste but rather the expanding influence of the BJP, led by Prime Minister Narendra Modi, and its brand of Hindu nationalism.
Related: Why Cow Urine Can Be as Valuable as Milk in India
"Caste still plays an important role in electoral mobilization but the religious divide between Hindus and non-Hindus, particularly Muslims, has become one of the main fissures in Indian politics," he told NBC News.
"It is the most explosive division in India today. Tensions could be built up with the pursuit of policies such as bans on the slaughter of cows."
He said BJP lawmakers in northern areas of India has "ratcheted up the tension on these religious lines."
One-sixth of India's population — about 200 million out of a total 1.35 billion — is Muslim, Chiriyankandath said. Much smaller minorities include Christians, Sikhs and Buddhists.
India will next month elect a vice-president. Another victory for the BJP would give it unprecedented influence in parliament — and potentially a role in deciding the outcome of the 2019 general election if the result is inconclusive.
"These elections are important in terms of consolidation of BJP's grip on power," Chiriyankandath said.
Since the rise of the BJP, India has seen a rise in Hindu nationalism, including the emergence of "cow vigilante" attacks on people accused of eating beef or slaughtering cows, which are sacred to Hindus.
Modi last month called on India's states to quell the attacks, following the follow the stabbing to death in June of a 16-year-old boy accused of possessing beef on a train.
India's Supreme Court on July 11 overturned a government decree on the trade of cattle for slaughter, an order that threatened the country's multi-billion dollar meat and leather industry dominated by Muslims, Reuters reported.
Kovind previously said he was committed to India's status as a secular democratic republic.
"I respect the Indian constitution and no political interest can be above the rule enshrined in the rule book," he told Reuters earlier this month.