NEW DELHI — A massive manhunt in India for a Sikh separatist leader has failed to find its target for more than a week. But authorities' no-holds-barred search — including the deployment of thousands of paramilitary soldiers, a statewide internet blackout and a high-speed chase — has captured the attention of the nation and the world.
Police accuse Amritpal Singh, a 30-year-old self-styled preacher who seeks a sovereign Sikh homeland, of disrupting communal harmony, among other mounting charges. Officials say they are worried he could stir violence in his home state of Punjab, where thousands of people were killed in the 1980s as the Indian government battled a bloody insurgency for an independent Sikh state known as Khalistan.
The crackdown has unnerved the public, said Sukanya Singh, a university student in Amritsar, Punjab's second-biggest city. 
"There is panic buying because we don't know how long it will go," the 20-year-old, whose last name is common among Sikhs and who is unrelated to Amritpal Singh, told NBC News last week. "Half of my dormitory is empty; everybody just wanted to reach a safe space."
As the search for the preacher began March 18, authorities blocked mobile internet and SMS services, restricting communication for Punjab's 27 million residents — almost the population of Texas. Service was gradually restored over several days, though it is still out in some parts of the state. 
"There seems to be no sense of control of the situation," Sukanya Singh said of the government's actions.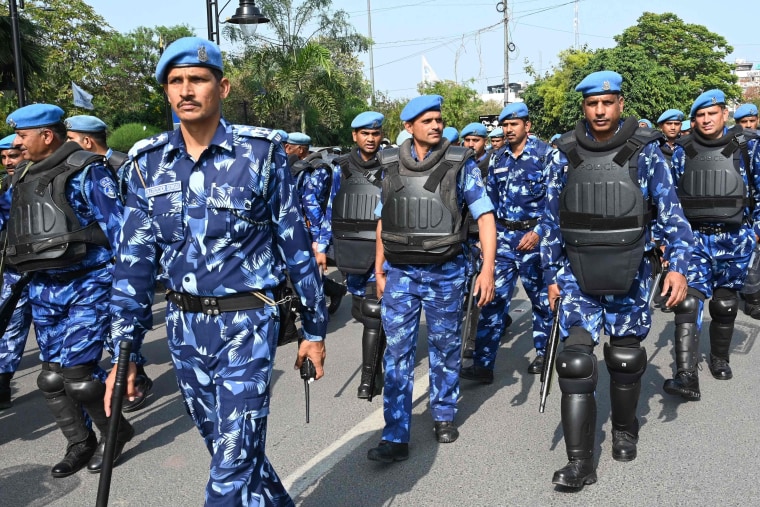 In their effort to apprehend Singh, Indian authorities have arrested more than 200 people and enforced heightened security measures in Punjab, a state in northwestern India that borders Pakistan.
Journalists and activists who have been commenting on the situation in Punjab, including prominent Sikh figures abroad, say their Twitter accounts have been blocked in India at the government's request. The Twitter account for the Punjabi-language version of BBC News was also blocked in India on Tuesday. 
India's Ministry of Electronics and Information Technology did not immediately reply to a request for comment. Twitter, which previously reported that India had made more requests to take down journalists' tweets than any other country, also did not immediately reply to a request for comment.
The search for Singh has reverberated internationally, with Sikh activists protesting outside Indian embassies and consulates in the U.S., Britain, Canada and Australia. Beyond the disruptions caused by the manhunt, protesters say they are calling attention to broader human rights issues in Hindu-majority India, the world's largest democracy, and the treatment of religious minorities by Prime Minister Narendra Modi and his Hindu nationalist government. Sikhs make up about 1.7% of India's population of 1.4 billion.
In Britain, where Sikhs are the fourth-largest religious group, a security review is underway after protesters pulled down the Indian flag and smashed a window at India's High Commission in London on March 19.
India summoned Britain's most senior diplomat over the incident and has since removed some temporary security barricades outside the British High Commission in New Delhi.
Not much is known about Singh, who spent years living in the United Arab Emirates and did not come to prominence until recently. Upon his return to India last year, he abandoned his clean-shaven look and began wearing the traditional robes of his avowed hero, Jarnail Singh Bhindranwale, a Sikh separatist leader who was killed by the Indian army in 1984. 
Since then, Singh has been at the forefront of the Khalistan movement, using social media to spread his message and garner support. His speeches and videos have gone viral on platforms such as YouTube, Facebook and Instagram, not just in India but also among the large Sikh diaspora in the U.S. and elsewhere, where the movement still has whispers of support.
In February, Singh and hundreds of his supporters, some of them armed, stormed a police station in Punjab demanding the release of one of his aides. Afterward, India's governing Bharatiya Janata Party demanded Singh's arrest. 
The search for Singh has had a severe impact on businesses, schools and tourism, with many people canceling visits to Punjab. While police say the internet blackout was an attempt to prevent unrest and curb "fake news," rights groups criticized it as a violation of fundamental rights. 
"Indian authorities must stop using overbroad reasons like those of 'public safety' to impose internet shutdowns over millions of people," Amnesty India said in a statement last week. 
India orders more internet shutdowns than any other country — including 84 last year, or almost half the global total, according to Access Now, an advocacy group based in New York.
Tanmay Singh, senior litigation counsel at the Internet Freedom Foundation, said the internet blackout in Punjab was "disproportionate and prima facie illegal" and a tactic used too often by the Indian government.
"This internet suspension order followed a fill-in-the-blanks method on the same template because there is no application of mind," he said.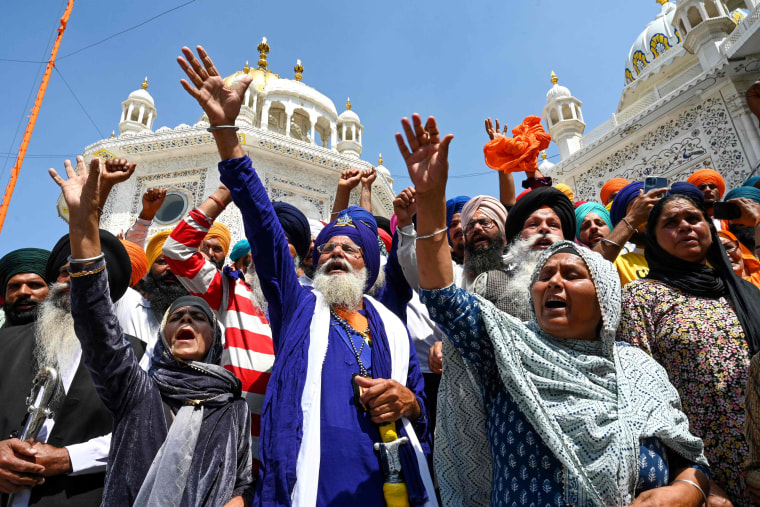 The closest police appear to have come to apprehending Singh was on March 18, when they intercepted his convoy at a checkpoint outside a village in rural Punjab. The Mercedes carrying him managed to speed away, India's Tribune News Service reported, citing a police affidavit. Livestreams and videos of the ensuing police chase were uploaded to Facebook and Twitter by Singh's associates until internet service was disrupted.
Singh was later seen on CCTV footage having changed clothes before escaping on a motorcycle, Punjab Inspector General Sukhchain Singh Gill said at a news conference last week. Authorities have arrested multiple people accused of helping Singh elude police.
After the violence and extremism of the 1980s, "there is no popular support in Punjab for the Khalistan movement," said Ronki Ram, a professor of history at Panjab University in Chandigarh, India, who specializes in identity politics. But Singh's ideas resonate with young Sikhs who are struggling economically and feel marginalized by the government, he said.
Ram said Singh had filled a "huge political vacuum" in Punjab, whose challenges include drug addiction and a growing water shortage. Singh is also the head of Waris Punjab De, or Punjab's Heirs, a group that participated in mass protests by Indian farmers — who are disproportionately Sikhs from Punjab — against proposed agricultural reforms that were withdrawn by the Modi government in 2021.
The "spectacle" created by the manhunt has divided the public and left Punjab's problems unsolved, Ram said.
"There needs to be constructive dialogue with the people," he said, "not a crackdown."