India's Harnaaz Sandhu was crowned the 70th Miss Universe Sunday after a pageant filled with beads, sequins and swimsuits that was also touched by the pandemic and politics.
Sandhu, an actress who is studying for a master's degree in public administration, received the bejeweled crown from last year's winner, Andrea Meza of Mexico, as she wiped away tears on stage.
Sandhu said she was feeling "overwhelmed because it's been 21 years since India got the Miss Universe crown and it's happening right now."
The pageant was held in the middle of the night in Eilat, Israel so it could accommodate the primetime schedule in the U.S., where it aired on FOX late Sunday.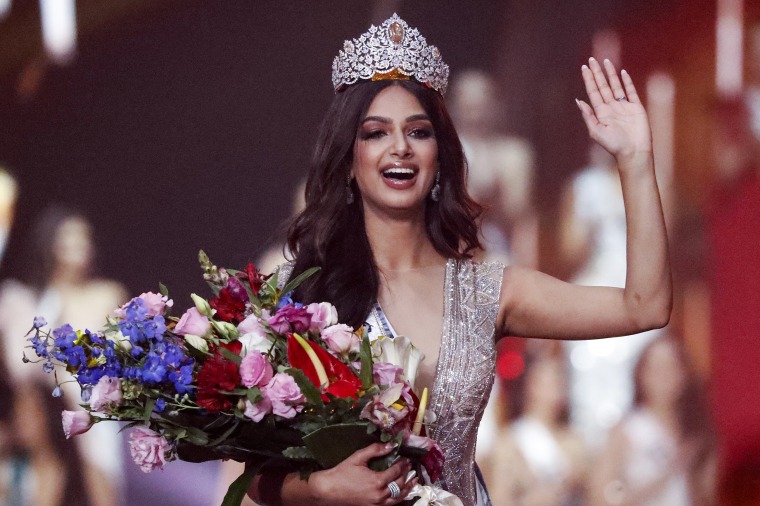 In addition to the usual beauty pageant displays, contestants representing 80 countries also answered questions about vaccine mandates and whether a person's social media history should be held against them years later.
Harnaaz, who will move to New York City in the new year, will use her time as Miss Universe to advocate for menstrual equity, according to the pageant organization.
While the pageant itself seemed to go off without a hitch, the leadup was not quite as smooth.
A grassroots Palestinian boycott organization urged countries not to take part in the event in protest at the host country's treatment of Palestinians.
And South Africa's government, which has traditionally supported the Palestinian cause, withdrew its support for Miss South Africa because of her participation in the pageant in Israel's Red Sea resort.
But others spoke out against politicizing the contest, which was hosted by U.S. TV personality Steve Harvey.
South Africa's pageant organizer said in November that the competition was not a political event and that Lalela Mswane, who is also a model and dancer, was fulfilling her childhood dream by taking part.
"In some weird way I was driven by the pressure and every time I saw a negative comment, it gave me so much fuel and intensified that desire to place in the top three," Mswane, who came in third in the pageant, told NBC News Monday.
"The emotional trauma was a lot."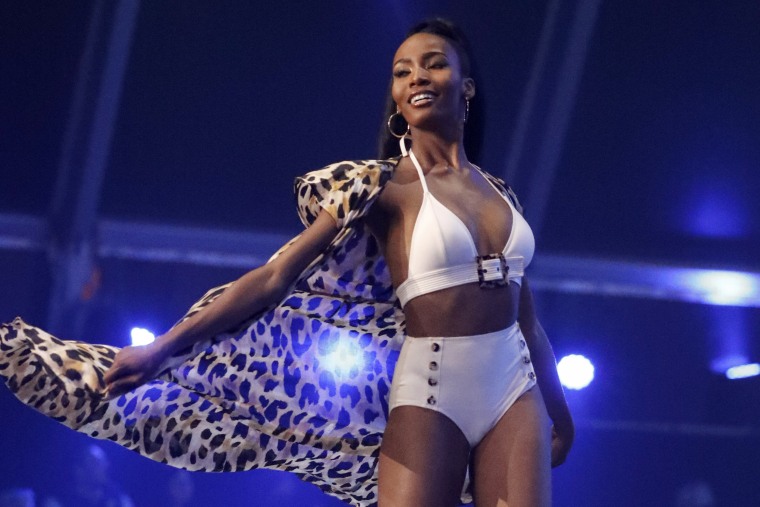 Meza urged contestants to leave such issues out of the pageant, saying last month that the event was meant to bring together women from different backgrounds. "When you are in there you forget about politics, about your religion," she told The Associated Press.
In the end, only Malaysia, a predominantly Muslim country with close ties to the Palestinians, did not send a representative, citing the global Covid-19 situation.
Israel was approached by the Miss Universe organization in May to host the pageant in Eilat because of its high vaccination rate and low levels of Covid-19, according to Sara Salansky a spokesperson with Israel's Ministry of Tourism. Yet, just as the contestants began to arrive, Israel introduced new travel restrictions because of the omicron variant.
"We understood this is not normal times," said Salansky. "We supported accommodation and travel in Israel for candidates from 80 different countries. And now after they saw the country — not only Eilat, they visited Tel Aviv, Jerusalem, the north, Nazareth, Acre and of course the Dead Sea — we have 80 new ambassadors for Israel."
This year's competition also featured two other contestants from the region, Miss United Arab Emirates and Miss Morocco. It was the first time that the United Arab Emirates took part in the pageant and the first time in 40 years that Morocco participated.
Despite the health safeguards in place, France's contestant, Clemence Botino, tested positive for Covid-19 shortly after arriving in Israel. After 10 days in quarantine, she was declared virus free last week and allowed to rejoin the competition.
Miss USA Elle Smith placed in the top 10 but didn't make it to the top five.