The death toll from an earthquake that struck the Indonesian resort islands of Lombok and Bali rose to 98 on Monday as new information came in from areas where thousands of buildings collapsed or were badly damaged, authorities said.
Rescue workers found chaos and destruction across Lombok on Monday and the quake prompted an exodus of tourists rattled by the second powerful temblor in a week. The tremor was so strong it was felt on neighboring Bali, where two people died.
The damage was "massive" in northern Lombok, National Disaster Mitigation Agency spokesman Sutopo Purwo Nugroho told a news conference. In several districts, more than half the homes were destroyed or severely damaged.
Around 230 people were seriously injured and 20,000 people were in temporary shelters, Nugroho added.
Rescuers dug through the rubble of a collapsed mosque looking for victims after a lack of heavy equipment delayed rescue efforts, a disaster agency official said. Power and communications were cut in some areas.
More than 120 aftershocks were recorded after Sunday night's quake, which was revised down in magnitude to 6.9 from an original 7.0 by U.S. Geological Survey, the Indonesian Agency for Meteorology, Climatology and Geophysics said.
The Indonesian Red Cross sent out an urgent call for blood donors to help the victims and planned to fly in 2,000 tarpaulins, mattresses and blankets. It helped a woman give birth after the quake at a health post. One of the names she gave the baby boy was "Gempa," which means earthquake.
Indonesia sits on the geologically active Pacific Ring of Fire and is regularly hit by earthquakes. A 6.4-magnitude tremor hit Lombok on July 29, killing 17 people, injuring hundreds and briefly stranding several hundred trekkers on the slopes of a volcano.
In 2004, the Indian Ocean tsunami killed 226,000 people in 13 countries, including more than 120,000 in Indonesia.
A tsunami warning in Lombok Sunday sent locals and visitors scrambling to higher ground.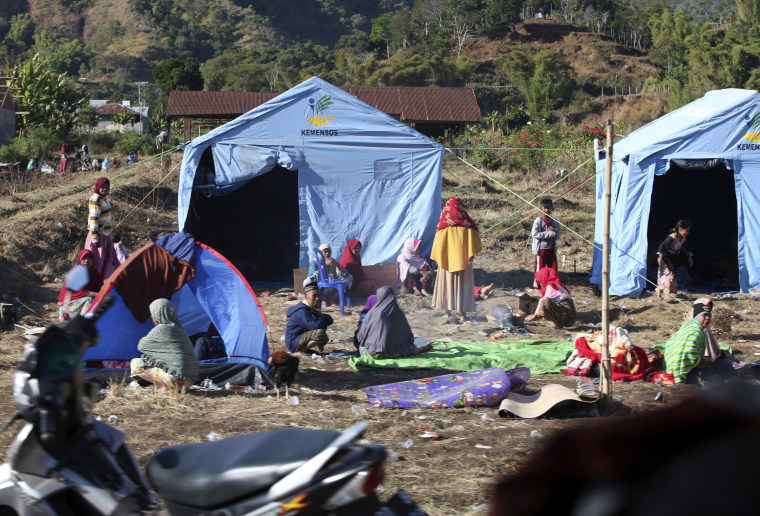 After the quake hit, British tourist Alex Britton ran to an open area in Kuta, on the island's south coast. It was there that he heard the locals shouting to move away from the coast.
"There was a clear sense of panic in the air from locals and tourists alike," he wrote in an email to NBC News. "The roads instantly came to life with swarms of scooters and cars moving to high ground. We ran to the closest hill and waited it out for an hour before heading back down."
Long lines formed at the airport of Lombok's main town, Mataram, as foreign visitors cut their vacations short. Other visitors were told to stay put in their hotel to keep the roads free for first responders.
Jen Montgomery-Lay was visiting the island with her husband, son and daughter, who has brain and spine cancer, when the quake hit. Their hotel lost power and the four were quickly told to leave the building.
"We spent most of the night outside and frantic. It was incredibly terrifying," Montgomery-Lay, who lives in Vancouver, told NBC News.
"When you're traveling with someone with a life-threatening illness you're already living on the edge. You don't expect that you'll go off on a bucket-list trip and face another possibility of death."
All transport off the island was booked until Wednesday at the earliest, she said. However, local airlines said that they were adding extra flights to help tourists leave.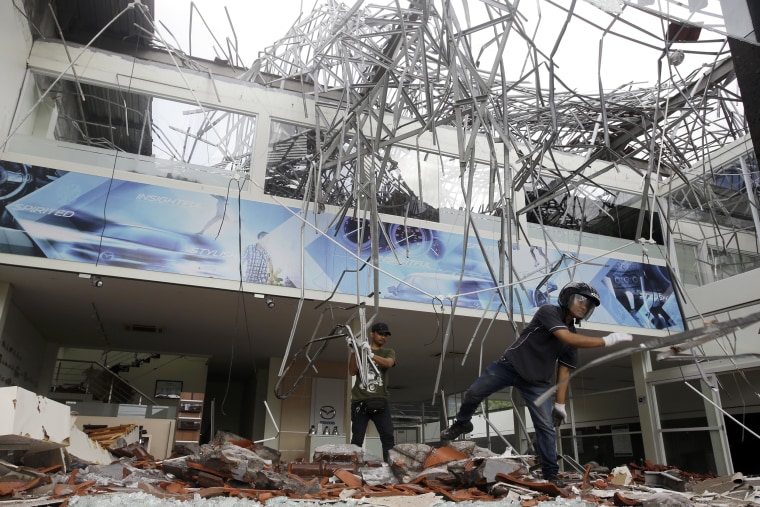 To avoid getting hurt in the aftershocks, Australian tourist Renata Cranage slept in an open field Sunday night on an island off the coast of Lombok. She waited for seven hours on Monday with hundreds of other people for a ferry to Lombok, where her sister was able to book her a seat on a flight to Bali.
"There is so much destruction everywhere," she said, while waiting at the airport. "In the area close to the port in Lombok there were houses that are on the ground, completely flattened. In some parts you can see entire villages where the houses are all damaged."
She also described scenes of chaos as locals and tourists begged passing cars for rides from the port to the airport. At the airport, hundreds of locals and tourists gathered for flights out, with many sleeping on the floor.
Dutch tourist Marc Ganbuwalba injured his knee as a stampede of diners rushed from a restaurant after the quake.
"We are cutting short our holiday because I can't walk and we're just not in the mood anymore, more in the mood to see our loved ones," said the 26-year-old. "We are just thankful to God and also to the hotel staff who really helped us. Some of them said their own houses had been destroyed but they were still helping us."