More than 110 people were killed after a military plane crashed into a densely-populated neighborhood in Indonesia on Tuesday, a senior official told NBC News.
Air Marshal Agus Supriatna said the C-130B Hercules aircraft was carrying 12 crew and 101 passengers, many of them military family members who were travelling on the Indonesian air force planes. It crashed into a hotel and homes in the northern Sumatran city of Medan.
No one on board the plane survived, according Supriatna, although he said officials were still unsure about the number of victims on the ground.
The doomed aircraft was built in 1964 and had just taken off from a nearby air force base. It was on its way to Tanjung Pinang, a city in the in Riau Islands off Sumatra, when it ran into trouble.
Witnesses told Reuters the aircraft appeared to explode shortly before it crashed. The pilot had asked to return to base "so there must have been a problem," Supriatna said.
PHOTO GALLERY: Military Plane Crashes in Indonesia Neighborhood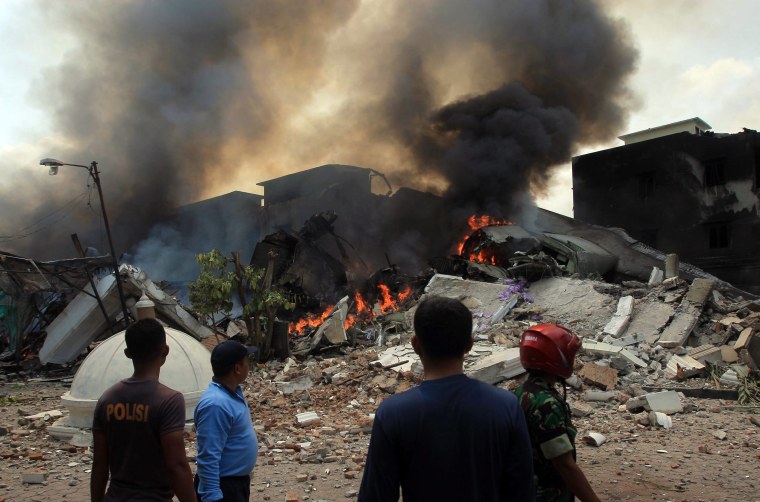 At least 50 bodies had been recovered from the crash site, Indonesian Red Cross spokeswoman Aulia Arriani told NBC News.
According Reuters, citing the Aviation Safety Network, there have been 10 fatal crashes involving Indonesian military or police aircraft over the last decade.