DÜSSELDORF, Germany — Zubair Nazeri's traveling companion crushed a pill in her hands, dissolved it in water and fed it to her 2-year-old daughter.
The sedative made the baby sleep for more than a day, Nazeri recalled. It was a requirement of the smugglers who were trying to guide the group from Serbia across the border with Croatia and then into Slovenia, opening up the possibility of traveling without passport checks within 26 countries on the European mainland.
More than 90 percent of undocumented immigrants who enter the European Union illegally use people smugglers at one stage of their journey, according to the law enforcement agency Europol.
When NBC News met Nazeri in Serbia in May 2017, he was part way through what would become a two-and-a-half-year journey from Afghanistan to Western Europe.
Nazeri says he came in contact with dozens of smugglers while traversing 12 countries. One led him through a minefield, and another across the treacherous waters of the Mediterranean Sea — a route that has claimed 27,000 lives since 1993.
Here is an inside look into the networks operating in an illegal industry that is estimated to be worth billions of dollars each year.
Code words
"'The game will begin in one hour, the game is on, the game is canceled,'" Nazeri said, rattling off the types of messages he received from smugglers.
"Game" is one of the code words used to communicate with migrants in an effort to avoid detection. When authorities get wise, the term is changed.
"I must have used the word 'game' more than 1,000 times in the last two years," the 25-year-old Nazeri said.
The smugglers also have code words for the police.
When Nazeri dealt with Afghan smugglers at the beginning of his trip, they would refer to officers as "saag," the Farsi word for dogs. Later, they were referred to by a made-up word pronounced "ma-ma-gan."
A deadly industry
All entrepreneurs aim to drive down costs, keep their financial exposure to a minimum and build up capacity. When it comes to people smugglers, however, they often take significant physical risks that endanger the lives of their clients — migrants often fleeing danger at home.
Nazeri said children under the age of 4 were systematically spoon-fed sedatives to keep them from crying or making a noise. Smugglers, he said, would refuse to take young families who wouldn't administer them.
Nazeri explained how parents dissolved the sedatives in milk or water, often drugging their babies for days in a row. "The baby would sleep for 24 hours — sometimes more," he said.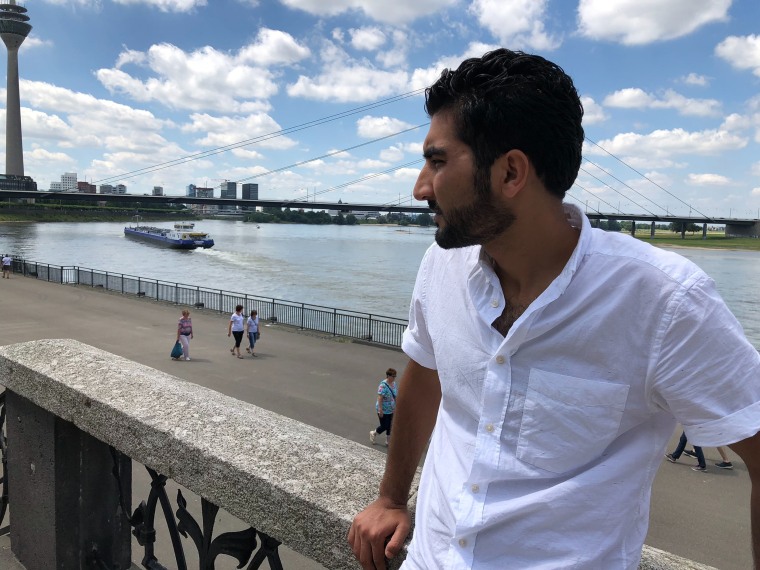 The stakes were high. Had a child cried and revealed the group's presence in the woods, the "game" would be up and the family might have to pay a fee to the smuggler for the failed crossing, Nazeri explained.
Two Turkish smugglers in balaclavas who were helping to transport migrants across the Mediterranean Sea to Greece ordered Nazeri and his fellow travelers not to take their luggage and life jackets on the boat, to leave them ashore.
"He said there was no need because it was safe and the boat may become too heavy," recalled Nazeri.
At another point, Nazeri said he spent four hours crammed in a car with 17 other people.
The dangerous practice of packing migrants into vehicles is nothing new. At the height of Europe's migration crisis in 2015, 71 people were found dead in an abandoned refrigerated truck in Austria.
Nazeri also found himself walking across the border from Bosnia-Herzegovina into Croatia in an area known to contain landmines left over from the 1992-95 war.
"You can't trust them to keep you safe," said Nazeri, referring to the smugglers. "They played with our lives."
Securing the cash
At the heart of Nazeri's journey is a shopping mall in downtown Kabul, where the basement of the Golbahar Center features many travel agents and currency exchange firms.
It is through one of these small offices that Nazeri transferred at least $8,000 in a series of payments to smugglers. "We can trust them and the smuggler can trust them," he said of the offices.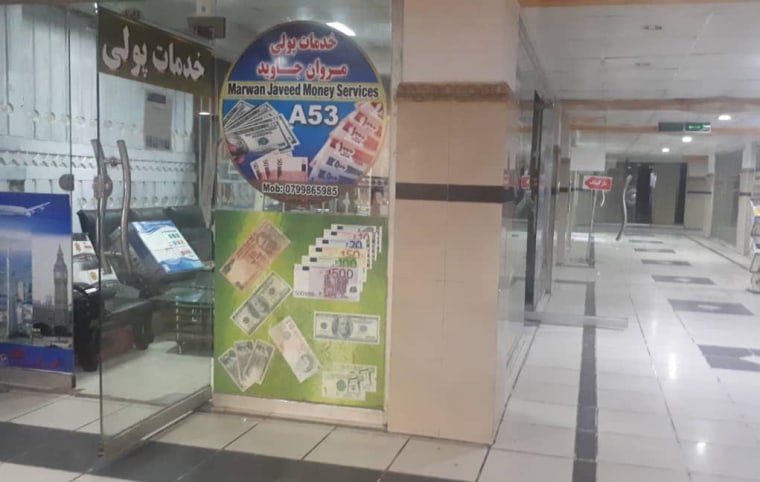 The mechanism is simple. Before any potential border crossing, Nazeri's brothers would send money to the exchange office with the instructions that the funds be held in escrow until the agent is given the go-ahead.
His family paid a fee of 50 euros ($59) to block the money each time, only releasing the funds after Nazeri called to inform them he had safely arrived. The smuggler also has to pay 50 euros to unblock his cash, giving the agent a cut of 100 euros ($118) for each transaction.
During one of the later legs of his journey — which took Nazeri from Afghanistan through Iran, Turkey, Greece, Macedonia, Serbia, Bosnia-Herzegovina, Croatia, Slovenia, Italy, France and finally to Germany — the smuggler did not take him as far as had been agreed. Nazeri told his brothers not to release the money.
"I didn't pay the money because he lied to me," he recalled.
Tuesday Reitano, deputy director of the Geneva-based Global Initiative Against Transnational Organized Crime think tank and policy institute, said that people from other countries used different informal finance mechanisms. Syrians, for example, tend to leave the money with restaurant or hostel owners, she said.
'It's like a travel agency service'
Nazeri said finding people smugglers was straightforward.
He met them either through recommendations from former smugglers, friends or at notorious hot spots such as Victoria Square in Athens.
In countries such as Afghanistan, where migration has become a cultural phenomenon, most people will have easy access to a people smuggler, according to Reitano's group.
"For a lot of the world, smuggling isn't a criminal business, it's like a travel agency service. It isn't heavily stigmatized and it isn't unsafe," Reitano added.
Many European countries have strict requirements for Afghans hoping to travel. The German Embassy in Kabul, for example, does not accept visa applications, instead requiring would-be visitors to go to Pakistan, Dubai, India or Turkey for an appointment with an official.
A friend introduced Nazeri to his first smuggler in a bar in Kabul. On reaching the Iranian capital of Tehran, he recommended another contact, who picked up Nazeri at the bus station and took him to his apartment.
The smugglers would often provide Nazaeri with shelter and food while they waited for an opportunity to cross the border. Nazeri sometimes paid rent, but on other occasions that was included in the overall price.
The recruiters or agents used by migrants outside of their home country tend to be of the same nationality, according to experts. Many are also former migrants.
"They have knowledge of the culture and language and act as a kind of a bridge of trust for the people who are coming," said Rados Djurovic, director of the Asylum Protection Support League in Serbia.
Nazeri said he knew migrants who had started working as recruiters after running out of money. "They try and try to cross many times, then they decide to become smugglers," he said.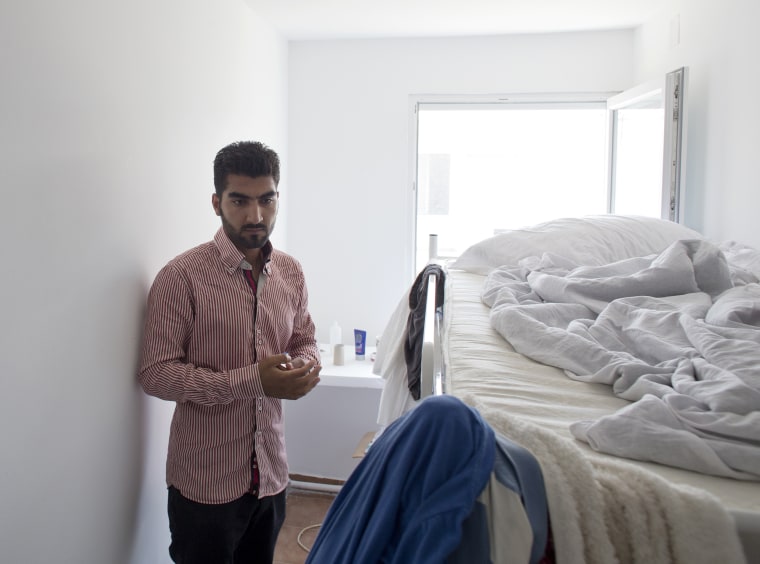 Djurovic said that in Serbia — where Nazeri spent a year and a half — agents often met members of criminal networks in prison or through the black market to help smuggle migrants.
Nazeri said the drivers and guides who helped him cross borders tended to be local residents and were often teenagers. He said he believed the smugglers used underage people because they might face lighter punishment if arrested.
Criminal syndicates
By the time Nazeri reached Greece, he had exhausted his list of recommended smugglers. As his journey progressed, he was forced to pick at random from the recruiters living among their potential customers in camps for asylum-seekers.
Nazeri's pace also slowed. It took him six attempts to traverse the Macedonian border and he was later trapped in Serbia for more than a year and a half, failing to cross the border into Croatia — and the European Union — 10 times.
Arezo Malakooti, a researcher on migration to Europe and an expert in Afghanistan who also works for the Global Initiative Against Transnational Organized Crime, said if a migrant has enough to pay one smuggler for the entire trip, the journey can usually be completed in a matter of days.
But if a migrant pays different smugglers for each leg, it can take a lot longer, she added.
Criminal organizations are shifting their business models toward people smuggling because it is seen as low risk and highly profitable, said a Europol spokesman, Jan Op Gen Oorth.
Beyond border crossings, the migrant-smuggling industry covers a broad range of criminal activities including document forgery, under-the-table money transfers and laundering.
It also often intersects with drug smuggling or the transportation of other illegal cargo, with some 46 percent of smuggling groups also active in a variety of criminal areas, according to Europol. (Nazeri says he has never smuggled drugs to pay for his passage.)
Making the case
Nazeri was arrested after entering Slovenia. He later escaped a camp with the help of a smuggler, who then drove him west to Italy. (The Schengen Agreement of 1995 allows borderless travel within its member states.)
From Milan, Nazeri made his way through France and into Germany using public transportation. He is currently being held in a camp for migrants outside Dortmund. His asylum case hinges on his claim that his life would be in danger if he is forced to return to Afghanistan because he fell in love with a government official's wife.
Experts say his experience is largely typical of many who use smugglers to get to the E.U. While Nazeri is aware that telling his story may affect his asylum process, he said he wanted to shed light on the criminal activities of the smugglers.
Europe's migration crisis peaked in 2015 with the arrival of more than 1 million asylum-seekers, but the flow has since stemmed, with such claims falling to the tens of thousands so far this year. And less than 50 percent of asylum-seekers from Afghanistan had their claims approved and were given status in Germany last year, according to the European Asylum Support Office.
Nazeri arrived in Germany last month at a politically volatile time, with immigration threatening the future of Chancellor Angela Merkel and the fragile coalition government she heads.
Nazeri now wonders whether his journey to the West was worth it.
"I lost my mind, my energy, my money," he said. "In my dreams I see the forest, the police, the smugglers, I cannot sleep. I would not risk it all again."
Vladimir Banic reported from Serbia, Croatia, Bosnia-Herzegovina, Slovenia and Germany. Saphora Smith reported from Düsseldorf, and Ahmed Mengli from Kabul, Afghanistan.