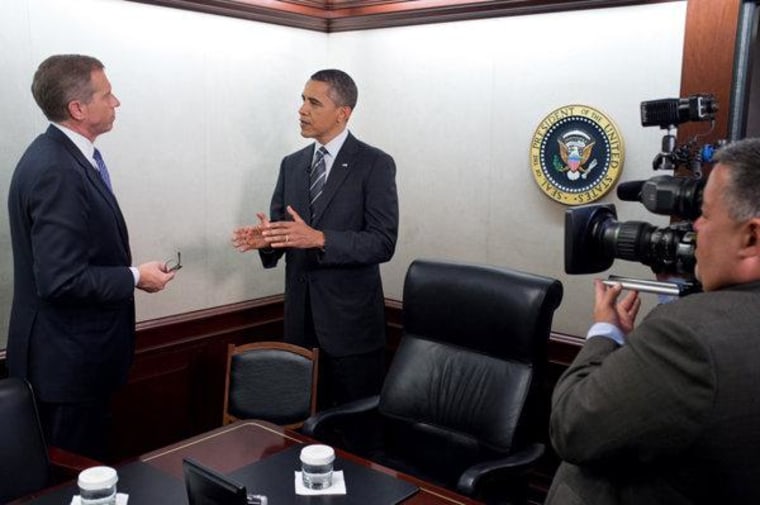 Rock Center with Brian Williams has been given unprecedented access to the White House Situation Room and learned new details about the events leading up to the raid targeting Osama bin Laden.
As the one year anniversary of the death of bin Laden approaches, President Barack Obama spoke exclusively to Rock Center Anchor and Managing Editor Brian Williams from the Situation Room, the most secure and secret part of the White House.  The interview, a first for network television, will air during an hour-long Rock Center special, "Inside the Situation Room," on Wednesday, May 2 at 9pm/8c.
The iconic photograph taken inside the Situation Room offered the world the first glimpse of Pres. Obama's national security team at work during the Special Operations mission. Many of the people present in the room on the day bin Laden was killed are speaking to Rock Center about that historic night.
In addition to the president, Brian Williams interviewed Vice President Joseph Biden, Secretary of State Hillary Rodham Clinton, former Chairman of the Joint Chiefs of Staff, Adm. Mike Mullen, National Security Advisor Tom Donilon, Deputy National Security Advisor Denis McDonough and John Brennan, assistant to the president for Homeland Security and Counterterrorism.
Editor's Note: NBC's Rock Center with Brian Williams, "Inside the Situation Room," will air on Wednesday, May 2 at 9pm/8c on NBC.