Crowds angered by the alleged rape of a suspect by a Paris police officer set fire to vehicles and damaged businesses overnight after a peaceful demonstration turned violent.
Authorities responded with tear gas after small groups threw projectiles amid unrest in Bobigny, a district in the northeastern suburbs of Paris that is home to a large immigrant community.
"Several vehicles, including a media truck, were set on fire and police officers had to intervene to rescue a young child trapped in a burning vehicle," a statement from the Paris police prefecture said.
Four cops are under investigation over the case of a 22-year-old man — identified only by his first name, Theo — who was arrested Feb. 2 in the neighboring district of Aulnay-Sous-Bois by officers checking ID documents.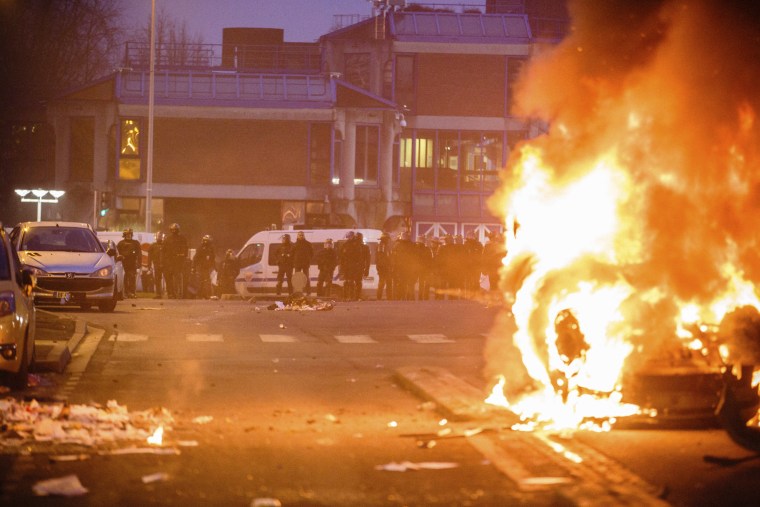 During his arrest, part of which was captured on video, the man alleged that one of the officers sodomized him with a police baton. In a Feb. 5 statement, the French Interior Ministry said one police officer has been placed under formal investigation for suspected rape and three others for unnecessary violence.
Theo's case has prompted a week of demonstrations in the impoverished district. Cars and refuse bins were torched in a night of violence on Feb. 7 and disturbances resumed on Saturday, and again in the early hours of Sunday.
In a bid to ease tensions, French President Francois Hollande visited Theo at his hospital bed on Thursday.
Anger over the incident shows no sign of abating, after police investigating the incident reportedly announced Thursday that they believed the alleged rape was unintentional.
It's unacceptable that the police say it was an accident
Unverified video of the arrest was posted on social media, but it could not be verified by NBC News.
A police source told news channel France 24 that it showed a policeman "applying a truncheon blow horizontally across the buttocks with a truncheon" and Theo's clothes "slipped down on their own."
However, a Bobigny resident identified only as Kahina, told Reuters at the scene of the demonstration: "It's unacceptable that the police [inquiry] say it was an accident."
She added: "It's just simply abnormal and so I think these clashes are nothing compared to what people should do."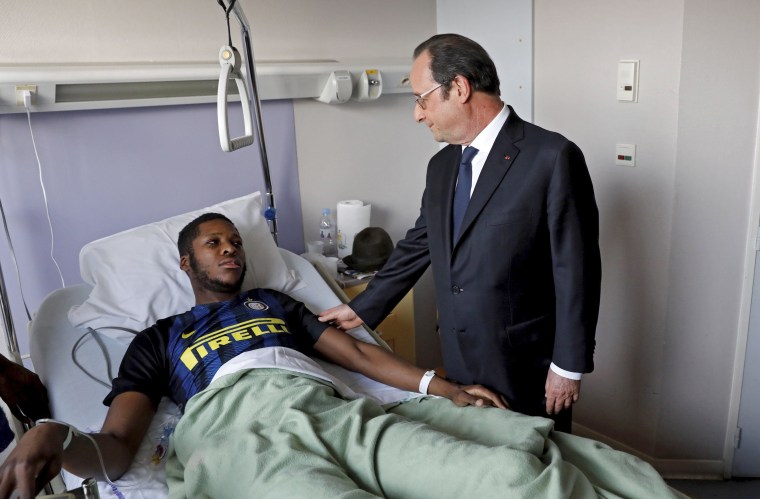 As well as damaging cars, protesters also destroyed store fronts and produce. This is my life here, everything is lost." said Mezine, the owner of a looted supermarket. "They broke everything, they all ran away. The shop is 200,000 euros, at least. Everything, my whole investment is gone."
The area is one of the Paris districts that saw large-scale rioting erupt in 2005 when two local youths were electrocuted after they hid inside a power station while attempting to evade arrest.
In addition to the recent unrest in Paris, four people were arrested in the Mediterranean port city of Marseilles on the sidelines of a march in support for Theo, a police source told Reuters.
Editor's note: An earlier version of this story said the Interior Ministry statement was released Sunday; it was released Feb. 5.