As millions of Iranians vote in their country's semi-democratic presidential election Friday, a progressive opposition leader from the past still looms large over the ballot.
Mir Hossein Mousavi has been under house arrest for the past eight years but his name is still chanted at rallies and he remains an icon for the country's modernizers.
So who is he and why is he still important?
Mousavi served as Iran's prime minister for most of the 1980s and came out of political retirement in 2009 to run for president on a moderate platform.
Related: Some Women Fear Rights Rollback as Iran Votes
His opponent was the then president, Mahmoud Ahmadinejad, a firebrand hardliner who was looking to secure his second term in office.
Officials declared Ahmadinejad the winner in a landslide, but Mousavi also claimed victory and suggested there had been irregularities and voter fraud.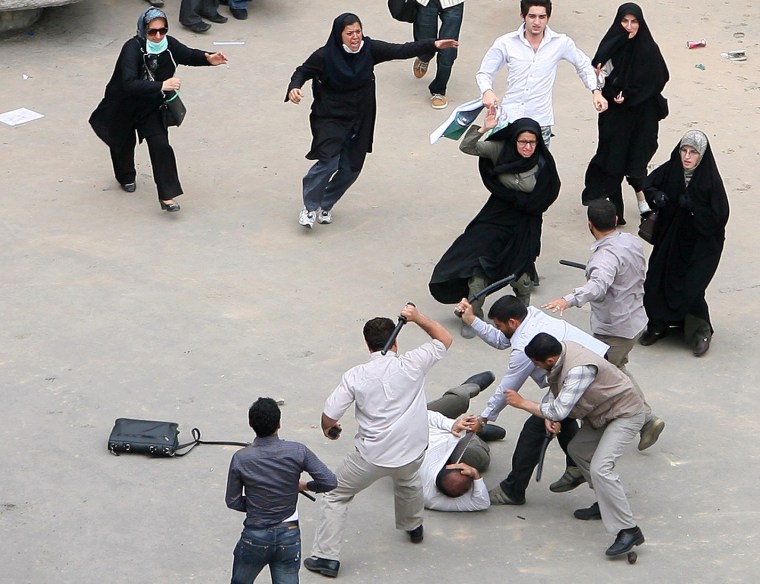 His campaign sparked the Green Movement — green was the symbol of his campaign — in which tens of thousands of protesters clashed with police and dozens were killed.
Before the vote, the campaign itself was fractious, with large-scale street demonstrations and fierce TV debates. But in the aftermath this boiled over into the biggest public protests since the 1979 Iranian Revolution that paved the way for the Islamic republic.
Under the motto "Where's My Vote?" demonstrators filled the streets of Tehran and elsewhere and became involved in increasingly violent exchanges with authorities.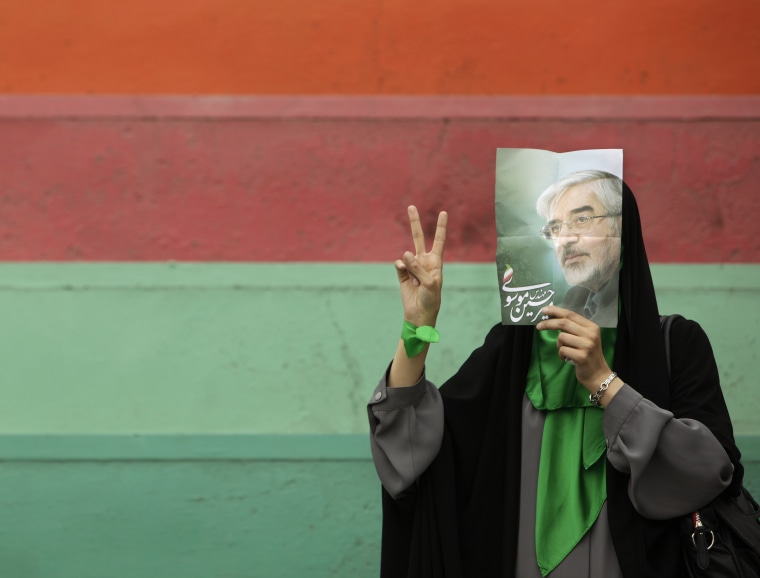 Amid a crackdown by police, the protests ultimately came to naught. But two years later, opposition lodestar Mousavi was placed under house arrest after calling for protests in solidarity with the pro-democracy Arab Spring in Egypt and Tunisia.
Mehdi Karroubi, another reformist who ran in 2005 and 2009 and also challenged the outcome, was also detained, along with their families.
Little has been seen or heard of Mousavi since, save from a photograph of him lying in a hospital bed in 2014 following reports he was suffering from a heart condition.
But he lives large in the minds of many of Iran's young people, its moderates and reformers.
Iran's current president, the centrist Hassan Rouhani, told his supporters this week that he would "kiss the supreme leader's hands 10 times if necessary in order to free political prisoners."
He was referring to Mousavi.
The detainee's name has also been invoked by Rouhani's supporters, who have chanted "Ya Hossein, Ya Hossein" in support of Mousavi. Their cheers could also be seen as defiance of the supreme leader and Iran's powerful Revolutionary Guard, who are said to back Rouhani's conservative opponent, Ebrahim Raisi.
At one Rouhani rally last week, where the crowd was mostly young and cosmopolitan, many said they were there to take a stand.
Layla Daryafarghi, a 19-year-old journalism student, was 11 during the 2009 crackdown. She said she came to the Rouhani rally because she wanted to speak out for freedom, to support Mousavi, and also to support Mohammad Khatami, the reformer who was president of Iran from 1997 to 2005.
"We all want to show that we want to have freedom. We want to say to all the world, we love our country and we want it to be free," said Daryafarghi. "For me it's for Mr. Khatami and for Mr. Mousavi, but I think that all of [us] think [Rouhani] is going to do something different."
She added that she wanted the current centrist to govern for another term.
"Four years was not enough for the things he said he wanted to do," she said. "He wants more time to show us he can do anything."