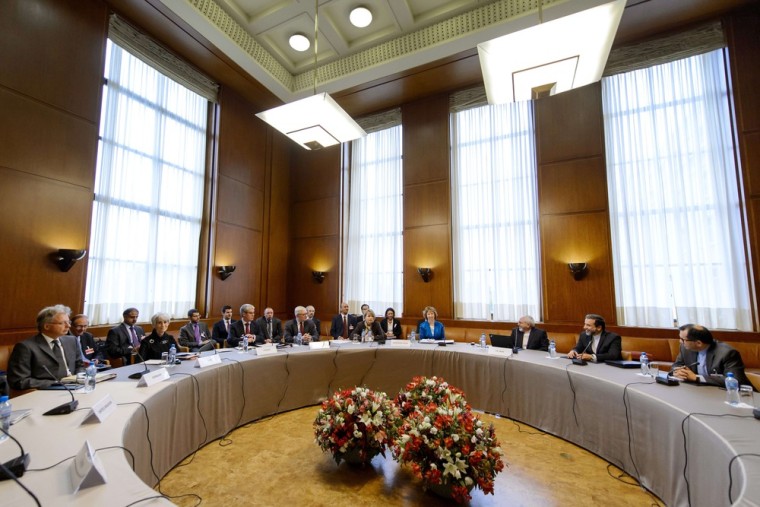 GENEVA, Switzerland - There was a "good and constructive" atmosphere at the start of nuclear talks between Iran and six other countries including the United States, Tehran's deputy foreign minister said Tuesday.
"We want to reach a political solution and are hopeful that we will," Abbas Araghchi told Iranian media gathered in Geneva for the summit, which aims to address concerns that Iran is bent on developing an atomic bomb.
Iran's chief negotiator, foreign minister Mohammad Javad Zarif, put forward a proposal to his international counterparts in a PowerPoint presentation,  Michael Mann, spokesman for EU foreign policy chief Catherine Ashton, told reporters.
The talks were continuing but Iran "certainly made some proposals this morning," Mann said, adding that other powers were looking for concrete, constructive ideas from the Iranian side.
There is an air of cautious optimism about the talks, which are due to continue through Wednesday, but a rapid agreement isn't necessarily a lock, despite what is perceived to be a possible major thaw in tensions between the United States and Iran.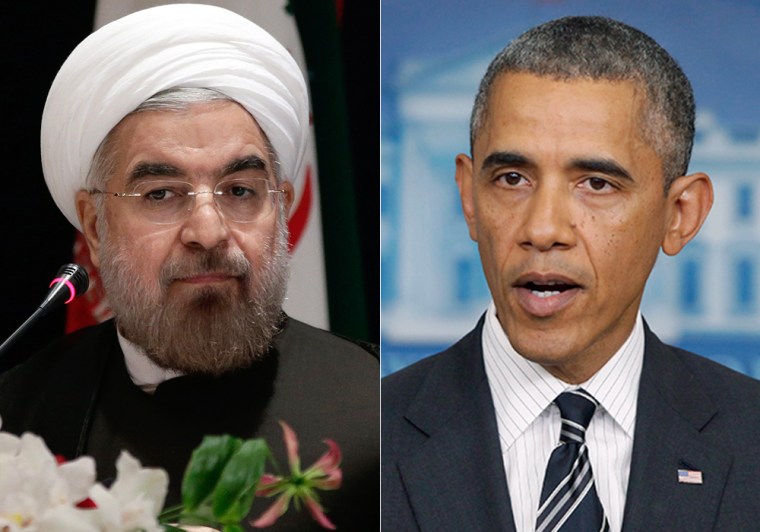 "No one should expect a breakthrough overnight," the senior U.S. administration official told reporters on Monday, although sanctions relief could be in the offing if Tehran moves quickly to dispel fears about its nuclear ambitions.
The U.S. official, who spoke anonymously, said that any such sanction relief would be "targeted, proportional to what Iran puts on the table."
For their part, the six world powers -- the United States, Russia, China, Britain, France and Germany -- seek a verifiable end to what they claim -- though Iran denies -- is a program to develop nuclear weapons.
Crippling U.N. and international economic sanctions have been in place against Tehran for more than 30 years. But only recently has Iran indicated it is ready agree to terms on its nuclear program in exchange for an easing of restrictions on such crucial economic engines as oil exports and international financial transactions.
Abbas Milani, director of the Iranian studies program at Stanford University, said the regime in Tehran has been forced to come to the negotiating table because of increasing turmoil at home, including a major economic tailspin that dropped the value of the country's currency, the rial, by 60 percent in just the past five months.
'Disgruntled' society'
"It's  a society that is depressed, is disgruntled and is at the end of its wits," Milani told NBC News. "There's only so much these people will take. The regime knows that it can't fix that problem unless they fix the nuclear issue and they can't fix the nuclear issue unless they have some contacts with the United States."
David Cortright a nuclear policy and sanctions expert at Notre Dame told NBC News via email, that, "If Iranian officials offer concessions on their nuclear program, the United States and its European partners should be prepared to provide immediate sanctions relief." He said even a partial suspension of non-military financial sanctions could induce Iran to concede even more limits on its nuclear program.
In Geneva, the Iranians, who have long insisted they don't have designs on a nuclear arsenal, are expected to want recognition that they have a right to peaceful nuclear activities, such as for electrical power and medical treatment, experts say.
This round of talks, which have been going on in some form for more than a decade, carries greater significance than usual, coming just weeks after President Barack Obama placed a call to newly elected Iranian President Hassan Rouhani on Sept. 27. It was the first direct conversations between leaders of the two countries since 1979, the year Iranian revolutionaries stormed the U.S. Embassy in Tehran and held 52 Americans hostage and the year Supreme Leader Ayatollah Ruhollah Khomeini came to power in Iran.
At the United Nations General Assembly in New York last month, Rouhani, indicated an interest in a deal on his country's nuclear program during what was widely perceived as a public relations blitz. He also reiterated that the nuclear program was purely for peaceful purposes.
Obama directed Secretary of State John Kerry to work with allies, Russia and China to pursue a deal with Iran, which Obama said could set out a "long road toward a different relationship."
And on the sidelines of the UN meeting in New York, diplomats reported a positive tone in prelimary talks about such a deal on Iran's nuclear program.
Still, U.S. officials are cautious.  Obama, who has said Iran is a year or more away from nuclear weapons capability has said no options, including use of military force, are off the table to keep nuclear weapons from Tehran.
"I think we're waiting for the fullness of the Iranian difference in their approach now," Kerry said last week, "but we're encouraged by the statements that were made in New York and we're encouraged by the outreach."  
While hoping for new Iranian flexibility, some U.S. lawmakers are cautioning the Obama administration against showing the same. A bipartisan group of senators on the Foreign Relations Committee wrote to Obama last week ahead of the talks to stress the importance of a hard line.
"We support your efforts to explore a diplomatic opening, but we believe that the true test of Iranian sincerity is a willingness to match rhetoric with actions," said the letter, which was obtained by NBC News.
Still, looming large is ardent U.S. ally Israel, whose Prime Minister Benjamin Netanyahu has called Rouhani a "wolf in sheep's clothing" and insists Iran remains committed to Israel's destruction.
Netanyahu, who had suggested tighter sanctions ahead of the talks, has said the "ultimate test" is whether Iran actually does dismantle what he insists is a military nuclear program.
While observing an Israeli Defense Forces exercise in the Golan Heights on Tuesday evening, Netanyahu made comments reflecting on the lessons learned 40 years since the Yom Kippur War. "The first lesson is not to deride the enemy. The second is not to give up in advance on a pre-emptive strike against an immediate and tangible threat. The third lesson is the importance of buffer zones."
Regarding the start of the talks in Geneva, he said: "I think that it would be an historic mistake to give Iran discounts and ease up on it without it having to dismantle the nuclear capability that it is building. Iran is now on the ropes and it is possible to use the sanctions at full strength in order to achieve the desired result. I hope that the international community does this and I call upon it to do so."
As the talks begin, here is a look at the players, background and stances of what could be could be game-changing discussions in Geneva.
The players
The negotiations are being convened by Lady Catherine Ashton, the European Union's top diplomat, who on Sunday met with Kerry on the tenor of the talks.
Representing the United States, Russia, China, Britain, France and Germany – commonly called the P5+1 group because it includes the five permanent members of the U.N. Security Council, plus Germany – are officials who answer directly to the nation's foreign ministers. The European Union prefers the term E3+3 when referring to the group.
Background
The P5+1 is looking to force the Iranians to curtail or completely halt all nuclear activities that can be used to make nuclear bombs.
The most pressing concern is Iran's uranium enrichment program, which Tehran contends is only for use in the reactors at power plants and for research.
However, uranium enriched to a high level can also produce the core material of nuclear arms.
Though Iran has yet to produce weapons-grade uranium it is agreed they have produced some material that could be quickly re-enriched to that level.
The Iranian government also controls tons of lower-level enriched uranium that could be re-enriched over a longer time frame into a weapons grade.
Experts say Iran is also working on a reactor that, when completed, could produce enough plutonium for one or two nuclear weapons a year.
Tehran says that reactor is needed to produce isotopes for medical treatment.
That plutonium would have to be converted for use in nuclear weapons, and the U.N.'s atomic energy agency has said it has seen no evidence that Iran is working on a conversion facility. 
Iranian stance
Iran is seeking an easing of international sanctions in exchange for concession on its nuclear program.
The sanctions first imposed in 1979 and strengthened numerous times since, notably include lucrative oil exports as well as financial transactions that Iran has argued hurt a broad swath of Iranian society moreso than the government.
Ahead of the talks, Iranian officials, The Associated Press reported, suggested that Tehran may be prepared to stop enriching to 20 percent, a level only a technical step away from producing weapons grade uranium. They have also indicated readiness to give U.N. experts more overview of Tehran's nuclear program. 
World powers' stance
P5+1 is seeking sweeping restrictions on all of Iran's enrichment activities. That includes limiting the number and type of centrifuges used to enriched uranium. Iran currently is estimated to possess more than 10,000 such centrifuges.
The group also wants Iran reduce its stockpile of lower grade enriched uranium not needed for peaceful activities by shipping it out of the country, something Tehran said it will not do.
According to the AP, P5+1 also wants Iran to shut down Fordo, the smaller of its two known enrichment facilities, because it is so well fortified that it would be difficult to destroy if Tehran decided to use it for making weapons-grade uranium. 
Further down the negotiating road, the P5+1 wants a stop to the construction of the reactor that would produce plutonium.
Jeff Black reported from Redmond, Wash.  Andrea Mitchell and Eric McClam of NBC News as well as The Associated Press and Reuters contributed to this report.
Related: