Iran has strongly denied that a Ukraine International Airlines jetliner that crashed shortly after takeoff from Tehran earlier this week, killing 176 people, was downed by an Iranian missile launched by mistake.
"What is obvious for us, and what we can say with certainty, is that no missile hit the plane," Ali Abedzadeh, head of Iran's Civil Aviation Organization, said Friday.
Iranian government spokesman Ali Rabiei, also speaking Friday according to Iran's Press TV, accused the United States of "adding insult to the injury of the bereaved families" by publicly stating that the plane was brought down by an Iranian missile.
"No one will assume responsibility for such a big lie once it is known that the claim is fraudulent," he said.
Multiple officials told NBC News on Thursday that U.S. intelligence officials have evidence suggesting that the jetliner was brought down by an Iranian missile fired in error.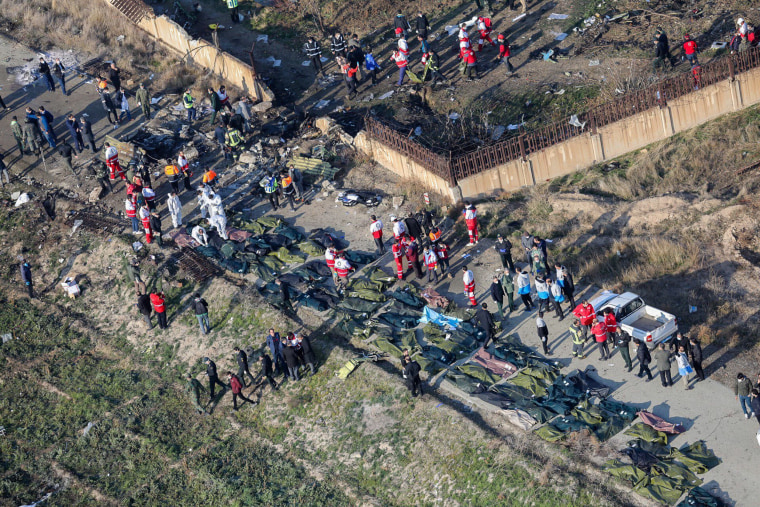 Meanwhile, British Foreign Secretary Dominic Raab said Friday there was a "body of evidence" that an Iranian surface-to-air missile strike was to blame.
But Abedzadeh said in a press conference in Tehran that if the plane had been hit by a missile, the crash site would have been more like that of Malaysia Airlines Flight 17 that was shot down over Ukraine in 2014, leaving debris strewn over a huge area.
"If they are really sure, they should come and show their findings to the world in accordance with international standards," he said.
Ukrainian President Volodymyr Zelenskiy has also called for the U.S. and Canada to release any evidence they have. He said in a statement on Facebook that the possibility that a missile was responsible for the crash "cannot be ruled out but cannot currently be confirmed."
Hassan Rezaeifar, the head of the Iranian investigation team, told the same press conference in Tehran that recovering data from the black box flight recorders could take more than a month and that the entire investigation could take as long as two years.
He also said Iran may request help from international experts if it is not able to extract the flight recordings.
Earlier, Iran's state-run IRNA news agency quoted a foreign ministry spokesman, Abbas Mousavi, as saying Iran "has invited both Ukraine and the Boeing company to participate in the investigations."
Mousavi said it will also welcome experts from other countries' whose citizens died in the crash.
A preliminary Iranian report into the crash released Thursday cited an unspecified "sudden emergency" for bringing the plane down. It said the pilot made no call for emergency assistance but had begun to turn back to the airport before the crash.
The crash came just a few hours after Iran launched a ballistic attack against Iraqi military bases housing U.S. troops in its confrontation with Washington over the U.S. drone strike that killed Iranian Gen. Qassem Soleimani, head of the Quds Force. The airliner could have been mistaken for a threat, U.S. officials have said.
Canadian Prime Minister Justin Trudeau, whose country lost at least 63 citizens in the downing, said in Ottawa: "We have intelligence from multiple sources, including our allies and our own intelligence. The evidence indicates that the plane was shot down by an Iranian surface-to-air missile."
British Prime Minister Boris Johnson and Australian Prime Minister Scott Morrison offered similar statements. Morrison also said it appeared to be a mistake. "All of the intelligence as presented to us today does not suggest an intentional act," he said.
Iranian officials have consistently ruled out a missile strike, saying the plane appears to have crashed because of technical difficulties.