LONDON — Iran's new naval commander has vowed to send warships to America's backyard.
Rear Adm. Hossein Khanzadi said plans were being drawn up for vessels to be deployed to the Gulf of Mexico and Atlantic Ocean "in the near future." They would also visit South American countries, he added.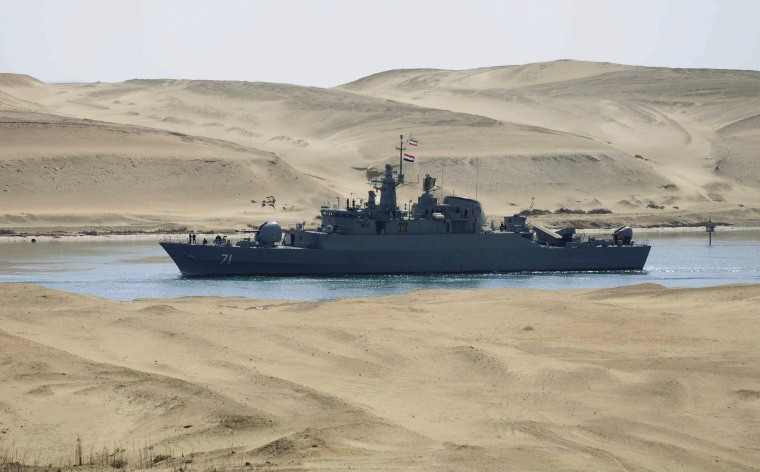 Tehran has long complained about U.S. ships being based in the Persian Gulf.
Speaking at his first press conference since being appointed, Khanzadi promised his navy would "wave the flag of our country in the Gulf of Mexico."
He pointed out that "the appearance of our vessels in the Mediterranean and Suez Canal shocked the world and the U.S. also made comments on it."
It isn't the first time Iran's military has pledged its ships would enter the Gulf of Mexico.
Khanzadi's predecessor Rear Adm. Habibollah Sayyari said in 2014 that Iran planned to send vessels close to American maritime borders as a counter to the U.S. Navy's presence in the Persian Gulf.
Sayyari later said the manoeuvers had been canceled "due to a change in schedule."
Thousands of American troops are in Iraq and Afghanistan, both of which border Iran.
The U.S. Navy's 5th Fleet is based across the Persian Gulf in Bahrain, while neighboring Qatar is home to 10,000 American troops.
President Donald Trump has branded Iran's government a "murderous regime" and warned of its "sinister vision for the future." He also has accused the Islamic republic of spreading "death, destruction and chaos around the globe."
In August, the Pentagon said there had been 14 "unsafe" and/or "unprofessional" encounters between the U.S. and Iranian militaries during 2017.
In July, a U.S. Navy patrol boat fired two warning shots toward an Iranian craft that approached it at high speed during what American officials said were routine exercises in the Persian Gulf.