TEHRAN — Iran's supreme leader, Ayatollah Ali Khamenei, used a rare public speech Tuesday to dismiss U.S. President Donald Trump's "threats" on missile tests, saying the president "showed the real face of America."
"No enemy can paralyze Iran," he told an audience of military commanders, according to a report posted on his official website.
Khamenei also called on citizens to show their feelings about Trump on Friday's anniversary of the 1979 revolution that deposed the U.S.-backed shah.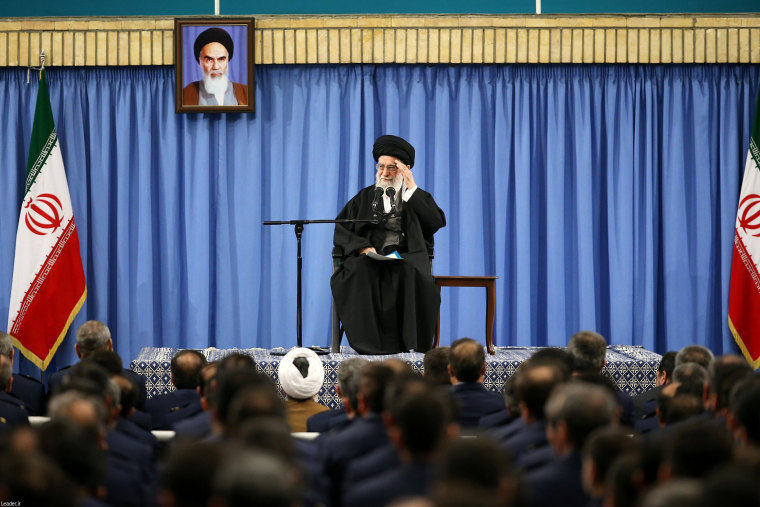 The White House last week imposed a new round of sanctions on Iranian individuals and entities in response to a recent missile test. Trump's controversial travel executive order also temporarily bans Iranian citizens from entering the United States.
Trump himself put Iran "on notice" via Twitter, saying Tehran is "playing with fire — they don't appreciate how 'kind' President Obama was to them. Not me!"
Khamenei seized on that, asking: "He says we should be grateful to Obama? We should be thankful because he brought war and bloodshed to Syria and Iraq and he supported the 2009 demonstrations here, that's what we should be thankful of?
Related: View From Tehran: Defiance in Face of 'Political Novice' Trump
"We are thankful to Trump for making our life easy, as he showed the real face of America," he said. "During his election campaign and after that, he confirmed what we have been saying for more than 30 years about the political, economic, moral and social corruption in the U.S. ruling system.
"Trump has said we should be scared and frightened of him. ... We will show on the anniversary of our revolution how we respond to his threats," Khamenei told his audience, adding: "No enemy can paralyze Iran."
Khamenei also seemed to take a swipe at the airport chaos caused by the travel ban, saying Trump has "shown his human rights by handcuffing a 5-year-old child" — an apparent reference to the case of Artiman Jalali, a dual U.S.-Iranian citizen who was detained for several hours at Washington Dulles International Airport as he returned home with his mother.
An image circulated on social media purported to show Artiman handcuffed, although the picture was actually of a different boy in 2015.
Tuesday's comments are the latest salvo in an escalating war of words between Washington and Tehran.
On Thursday, Ali Akbar Velayati, one of the supreme leader's top aides, called the Trump administration "inexperienced" and vowed that his country would continue testing ballistic missiles.
"Iran is the strongest power in the region and has a lot of political, economic and military power. ... America should be careful about making empty threats to Iran," he said.
Those comments followed a surprise statement by National Security Adviser Michael Flynn, who put Tehran "on notice" — comments later reiterated by Trump himself.