MUNICH, Germany — Iran's Foreign Minister Javad Zarif dismissed the possibility of renegotiating the nuclear deal, telling NBC News there's little appetite for opening "Pandora's box."
His remarks Sunday on the sidelines of the Munich Security Conference come amid a recent escalation in hostilities between the Trump administration and Tehran.
"I believe the nuclear deal is going to last," the foreign minister said firmly.
The White House recently said it was putting Iran "on notice" over a ballistic missile test and then imposed new sanctions on Iranian companies and individuals.
But Zarif warned that Iran doesn't "respond well" to such language and dismissed sanctions as ineffective.
"Threats do not work against Iran," Zarif told NBC News. "It would work much better if they decided to use the language of respect, the language of mutual interest."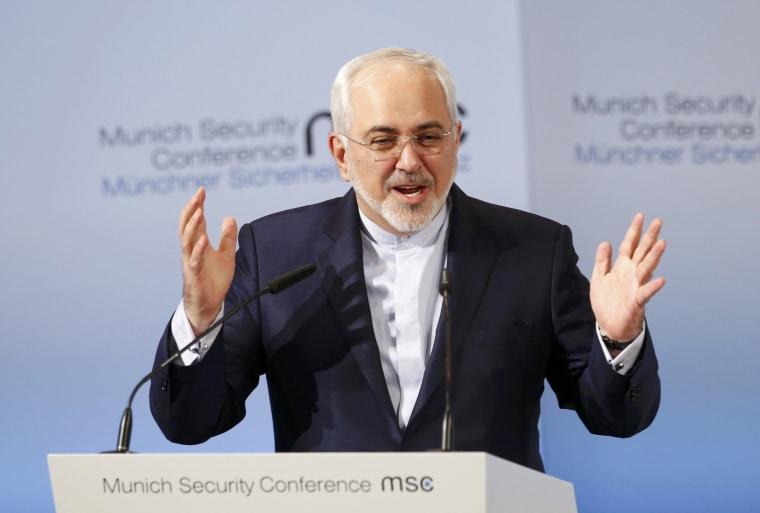 President Donald Trump has repeatedly criticized the 2015 nuclear agreement between Iran, the U.S. and five other world powers. Zarif on Sunday criticized American implementation of the nuclear deal as "lackluster" and "slow" but stressed the importance of the deal and it's mechanisms.
"It's a multilateral deal and multilateral deals cannot be reopened for negotiations because it would open a Pandora's box," he told NBC News.
Still, he said "Iran has many options" on the table if the U.S. opted to unilaterally withdraw and said he hasn't and won't rule out a meeting with Secretary of State Rex Tillerson if the need arises for discussions about the nuclear deal.
"The possibility has not arisen, no request has been made," he added. "If a need arises to deal with the nuclear issue we have, we have mechanisms within the nuclear agreement for meetings of the ministers."
Zarif did not provide further details — but did weigh in on Trump's controversial executive order temporarily banning Iranian citizens from entering the U.S.
"It shows the hostility is towards all Iranians — even Iranian members of Parliament in Europe, because there are ministers, members of parliament in Europe who were born in Iran and they cannot enter the United States. This is absurd. What is the message that the United States Government is trying to send?"
However, Zarif was cautious when asked about a potential escalation of hostilities under the Trump administration.
"Iran is not interested in conflict," he said. "I believe at the end of the day reason and rationality will prevail... There is no cause to be served and great cost to be paid."