Iranian President Hassan Rouhani is in Europe as he tries to drum up trade and investment with European businesses after years of sanctions and economic and diplomatic isolation.
In his first visit to Europe since his 2013 election, Rouhani and his 120-strong entourage of business leaders and ministers began their continental tour Monday in Rome and are due to head to France Wednesday. Already deals worth up to $18.4 billion have been signed, according to Italian officials quoted by Reuters.
Among the deals struck Monday were a pipeline contract worth between $4 billion and $5 billion for oil services group Saipem, up to 5.7 billion euros in contracts for Italian steel firm Danieli and up to 4 billion euros of business for infrastructure firm Condotte d'Acqua, Reuters added.
Italian Prime Minister Matteo Renzi and Rouhani had held "held friendly and constructive talks geared towards enhancing bilateral cooperation and deepening consultation on the main regional and international issues," the Italian government statement said Monday.
Post-sanctions era
Ahead of the trip, the Iranian government stated on its website that Rouhani's aim was to "develop relations with European Union countries and the trip to Italy and France is aimed at growth and development, as well as job creation for the country."
"This trip is happening during a very important historic point and post-JCPOA (the "joint comprehensive plan of action" commonly known as the Iran deal on its nuclear program) and post-sanctions era and, therefore, it is significantly important," Rouhani told reporters as he left for Europe. The Iranian leader also tweeted that he was looking forward to exploring opportunities in Italy.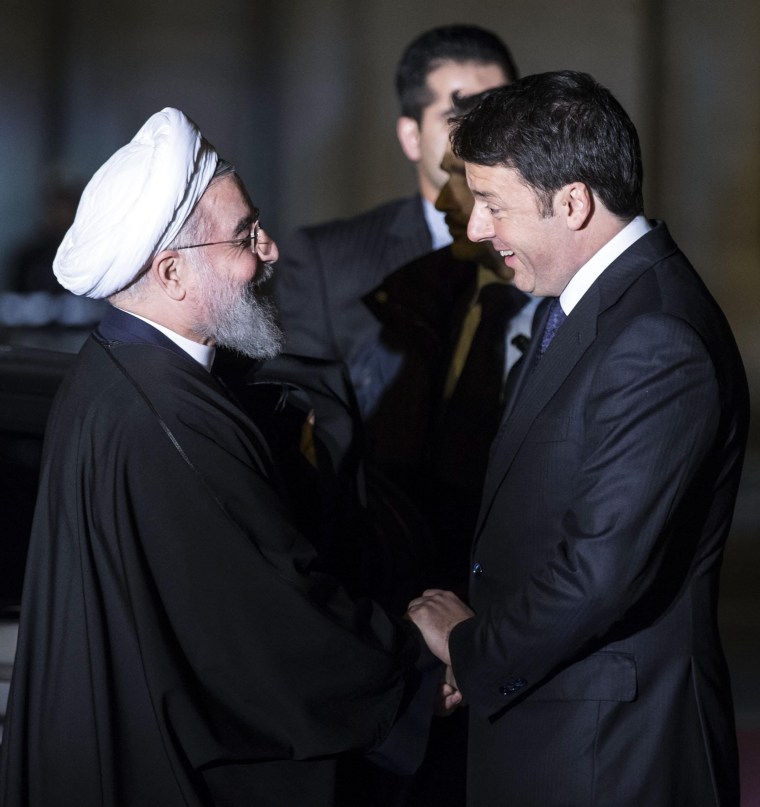 Rouhani addressed an Iran-Italy business forum Tuesday before meeting Pope Franci, where human rights issues and ongoing conflict in the Middle East, including Syria, were among the topics expected to be discussed. The trip comes as Iran itself tries mend relations with the West after almost economic sanctions on the country were expanded in 2006 over its nuclear program.
That isolation came to an end after trade restrictions were lifted earlier in January after Iran was deemed to have complied with international obligations to curb its nuclear ambitions. Iran has certainly wasted no time in signing deals in an attempt to get its economy back on a global stage.
On Sunday, Reuters reported that Iran planned to buy 114 aircraft from European plane maker Airbus as soon as March. The republic could need as many as 500 new planes over the next three years, lawmaker Mahdi Hashemi, the chairman of the parliament's Development Commission, said.
Paris on the menu
More announcements could be on the way Wednesday as Rouhani heads to Paris. He is expected to be received at the Elysee Palace Thursday but there will be no state dinner for Rouhani and his ministers after France refused an Iranian request for no wine to be served at such an event. Italy was reportedly far more compliant by agreeing to the request from the strict Islamic republic.
There was some scepticism from analysts over the trade deals. Wolfango Piccoli, co-president of Teneo Intelligence, said they should be scrutinized.
"Trailing along with him will be an entourage of businesspeople, bankers and ministers. It will be important to ignore the numbers that will be bandied around concerning the various accords that are being signed and instead pick through any more concrete trade agreements and deals as this will be the area in which the first real commercial exchanges will take place," Piccoli said in a note on Monday.
"Investment agreements will take far longer to negotiate and much of the information that is released about such putative deals this week will be largely hyperbole."