TEL AVIV — Israel and Iran may not be on speaking terms but some of their citizens are breaking out in song together.
Israeli rock star Aviv Geffen and his Iranian counterpart Shahin Najafi performed two pieces at a concert on Thursday night — alternating between Hebrew and Persian.
The crowd of some 6,000 packed into the Tel Aviv Fairgrounds clapped and cheered — and not just at the music.
Fans erupted when Najafi stopped to read a message to Israel's Prime Minister Benjamin Netanyahu and President Donald Trump, who have both escalated anti-Iran rhetoric in recent months.
"Stop the violence between people before it's too late. Let's stop dividing people," Najafi said.
So the two have some things in common, aside from music.
Geffen has often protested about Netanyahu's right-wing government. Najafi, meanwhile, frequently speaks about life in Iran and getting on the wrong side of the Islamic republic's leaders.
The pair met while touring Europe and Geffen invited Najafi to perform in Israel — an offer that was taken up.
"For me it's a miracle to bring Shahin to Tel Aviv because of the history between Israel and Iran," 43-year-old Geffen said, referring to decades tensions between the two countries.
"I think Shahin is one of the bravest artists I have ever met," he told NBC News before Thursday night's concert.
While Najafi left Iran for Germany in 2005, a fatwa was reportedly issued against him by clerics in the country of his birth following the release of 2012 song, "Ay Naghi."
"This is a great opportunity to show the world that Iran and Israel can stand together on the same stage and respect each other"
The song caused uproar among religious conservatives in Iran because of how it represented an important 10th century Shiite Muslim religious leader.
Soon, an Iranian website offered a $100,000 bounty to anyone who killed Najafi in 2012.
But relaxing in a Tel Aviv studio as he rehearsed ahead of the show, Najafi didn't act like a man with a price on his head.
He spoke of the controversy surrounding his music and why he is compelled to take on the topics he does.
"I believe in what I do and I'm fighting for what I believe in: For democracy, for freedom and for peace and I'm ready to die for it," Najafi said.
The 36-year-old also opened up on his visit to Israel.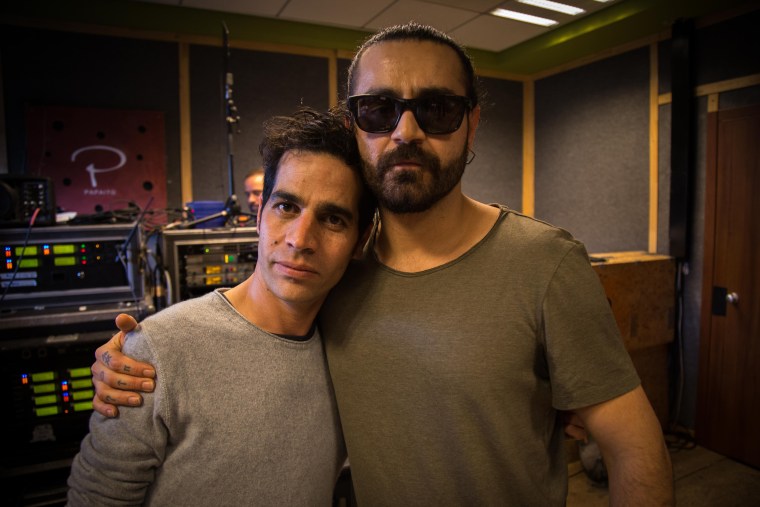 Israel and Iran have long been at loggerheads. Netanyahu recently spoke to Fox News of a "grand mission" with the U.S. to confront Iran. Meanwhile, Reuters reported that Iran's supreme leader Ayatollah Ali Khamenei referred to Israel's government as a "cancerous tumor" earlier this month.
The two countries do not even have diplomatic relations.
"Israel is considered a taboo in Iran and I'm very pleased to break this taboo," Najafi said. "I do this in the name of art, freedom and democracy."
Then they practice performing Geffen's hit, "Hope."
Najafi follows the cues from his host as they sing together: "Let's march to our dream, no race or nationality, let's try until things get better."
It's a message both hope will be heard in Israel and Iran.
"This is a great opportunity to show the world that Iran and Israel can stand together on the same stage and respect each other," Geffen said.