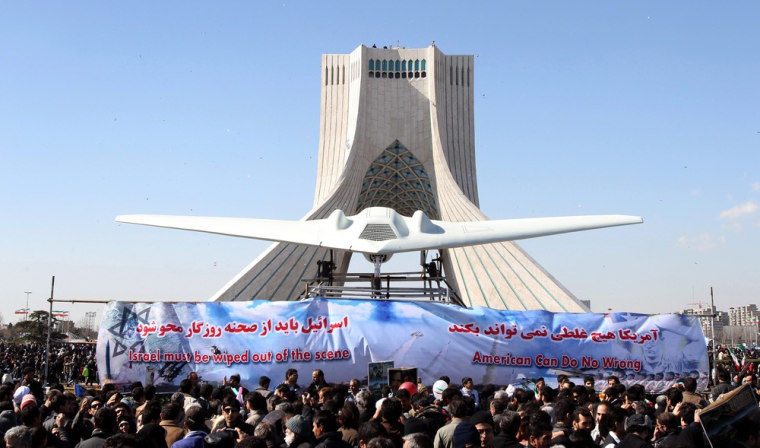 A top Iranian official claimed on Sunday that his government was copying the top-secret American spy drone captured by Iran's armed forced last year.
Gen. Amir Ali Hajizadeh, who is chief of the aerospace division of the powerful Revolutionary Guards, was quoted by a semi-official news agency as saying that Iranian experts are recovering information from the RQ-170 Sentinel captured in December in eastern Iran, al Arabiya News reported.
"There is almost no part hidden to us in this aircraft. We recovered part of the data that had been erased. There were many codes and characters. But we deciphered them by the grace of God," Hajizadeh said. 
Drone that crashed in Iran risks secret U.S. technology
He said all operations carried out by the drone had been recorded in the memory of the aircraft, including maintenance and testing.
Expertsextracted data showing that the aircraft had spied on the compound where Osama bin Laden lived and was eventually killed, Hajizadeh reportedly said.
"In October 2010, the aircraft was sent to California for some technicalissues, where it was repaired and after flight tests, it was taken to Kandahar (in Afghanistan) in November 2010, when a series of technical problems still prevailed," he said, according to al Arabiya.
U.S. Sen. Joe Lieberman, a member of the Armed Services Committee, voiced doubts about the claim.

"There's a history here of Iranian bluster, particularly now when they're on the defensive because of our economic sanctions against them," Lieberman said in a television interview.  
Iran flaunted the capture of the Sentinel, a surveillance drone with stealth technology, as a victory for Iran and a defeat for the United States in a complicated intelligence and technological battle. 
While American officials acknowledged Iran's capture of the drone, they have said that Tehran would find it hard to exploit data and technology aboard.
Iran said the unmanned aircraft was shot down, but Washington disputes that and says the security systems mean Iran is unlikely to get valuable information from the Lockheed Martin Corp. drone.

The Associated Press and Reuters contributed to this report. 
More world news from msnbc.com and NBC News:
Follow us on Twitter: @msnbc_world