Flames and smoke poured out of Saudi Arabia's embassy in Iran on Sunday amid a mounting backlash to the kingdom's execution of a prominent Shiite cleric.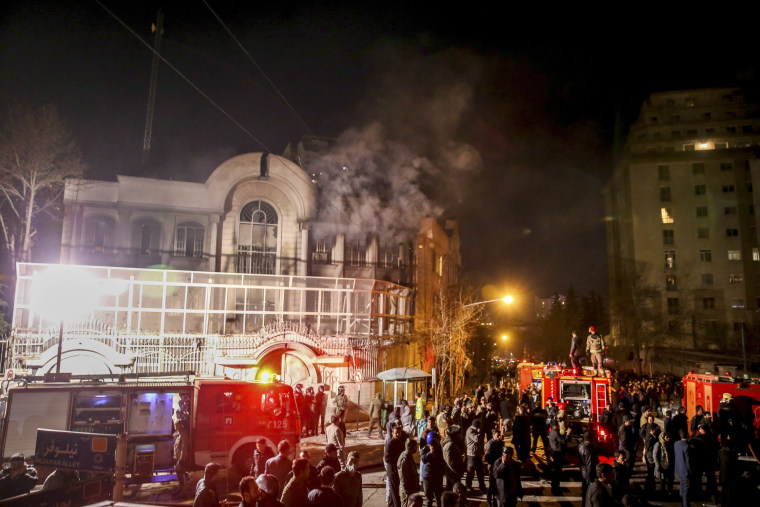 Saudi Arabia announced Saturday that 47 prisoners had been executed — including prominent Shiite opposition cleric Sheikh Nimr al-Nimr. The news sparked fears of sectarian violence and deepening tensions between two bitter rivals: Sunni Saudi Arabia and Shiite powerhouse Iran.
Iran's leadership responded with fury to the execution. Iran's Supreme Leader Ayatollah Ali Khamenei said Saudi Arabia will face "divine revenge" for al-Nimr's execution, calling it a "huge crime" and "a wrong deed."
Khamenei's remarks came shortly after Iranian protesters chanted "Death to Al Saud" in Tehran and attacked Saudi Arabia's embassy there, throwing stones and Molotov cocktails which set off a fire. There were no immediate reports of deaths or injuries as a result of the demonstration.
Iran's President Hassan Rouhani said al-Nimr's execution violates human rights and Islamic values but that the damage to the Saudi embassy was "by no means justifiable."
Rouhani said in a statement that he had ordered Iran's interior minister to identify the attackers and "bring them to justice, in order to put an end to these kinds of abomination and guarantee the full safety of countries' diplomatic missions."
Forty people have been arrested as a result of the protests, according to the Iranian Students News Agency.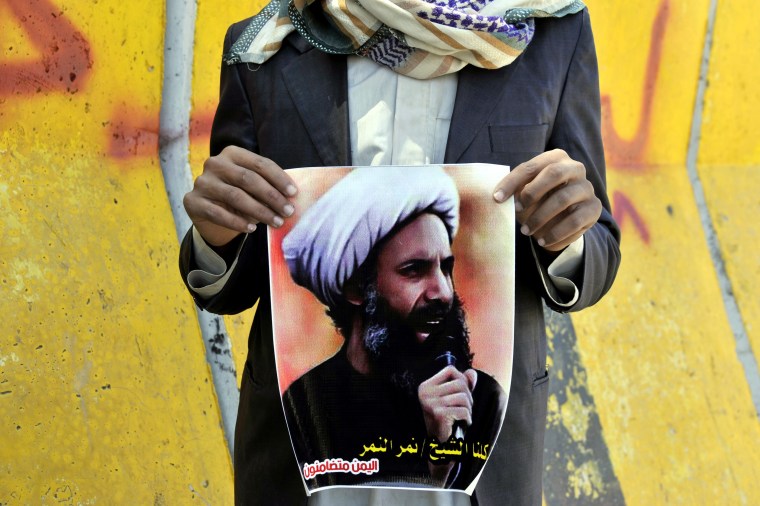 Meanwhile, U.N. Secretary General Ban Ki-moon issued a statement calling for "calm and restraint," saying he was "deeply dismayed" over al-Nimr's execution but "deplores" the violence perpetrated against the Saudi embassy in Tehran.
The French foreign ministry said it "deplores" the Saudi executions while urging regional leaders to take all measures to avoid an escalation in sectarian tensions.
With the Tehran embassy incident drawing condemnation, peaceful protests against al-Nimr's execution were taking place elsewhere with rallies in Lebanon, Iraq, Pakistan and Turkey.
Iran and Saudi Arabia support opposing sides in Syria and Yemen. They also have accused each other of supporting terrorism.
Saudi Arabia's Foreign Ministry said it had summoned Iran's ambassador to register a strongly-worded protest to Tehran's "aggressive" statements about the execution and called on Tehran to insure the security of its embassy.
It added that Iran's condemnation of the execution revealed the "true face" of supporting terrorism.