LONDON — The crackle of gunfire has ceased, but questions swirl around who carried out an attack on a military parade in southern Iran that left at least 25 people dead.
Militants disguised as soldiers opened fire at the procession of Iran's powerful Revolutionary Guard while they marched through the city of Ahvaz on Saturday.
Arab separatists and the Islamic State group have both claimed responsibility for the bloodshed, while Iranian leaders implicated Gulf countries and the United States — promising a "devastating" response.
All have offered scant evidence for their accusations and claims.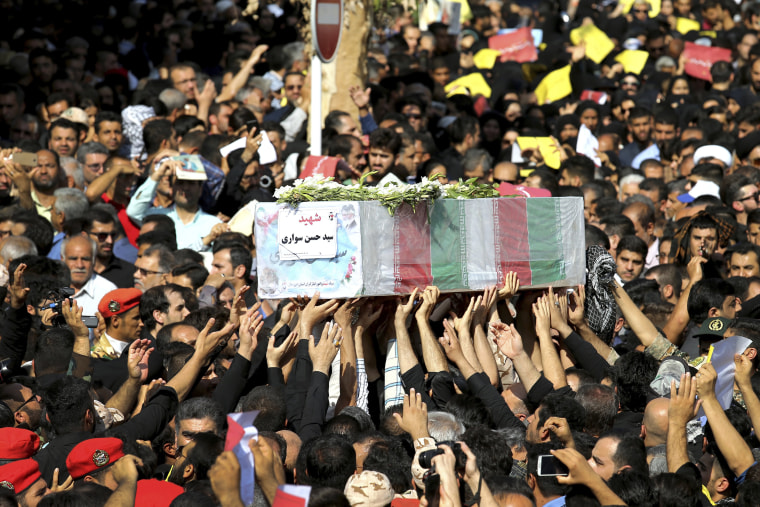 What the attack does show, however, is that Iranian opponents of various stripes see this as a "unique opportunity" to further their cause, according to Sanam Vakil, an adjunct professor at Johns Hopkins School of International Studies Europe.
"More people are recognizing that Iran is coming under increasing pressure," she said.
This pressure comes from a multitude of sources both abroad and at home.
President Donald Trump has taken a much harder line on the Islamic republic, pulling out of the Iran nuclear deal signed under the Obama administration.
In July, Reuters reported that Trump wants to club together with Gulf states, including Saudi Arabia, to create an "Arab NATO" to contain Iran.
Iran is already locked in a series of proxy conflicts with Saudi Arabia. The two regional powers — Iran is largely Shiite Muslim, while Saudi Arabia is predominantly Sunni Muslim — are vying for military and political influence in Syria, Iraq, Yemen and Lebanon.
Some of these conflicts have involved Iranian-backed forces fighting against ISIS, something that has resulted in a certain amount of "blowback" at home, Vakil said.
Last June, for example, ISIS claimed responsibility for twin attacks on Iran's parliament and the mausoleum of Islamic republic's founder, Ayatollah Ruhollah Khomeini. The extremist group also said it was behind Saturday's attack in Ahvaz.
Add to this pressure cooker a population that has been taking to the streets in defiance of their regime's strict control of political freedoms.
All of these destabilizing forces have created a perfect storm for opponents to exploit, according to Vakil, who is also a senior consulting research fellow at London's Chatham House think tank.
"This is a unique opportunity in Iran for people to try to take advantage of perceived Iranian weakness," she said.
Another opposition movement that claimed responsibility for Saturday's attack was an Arab separatist group called the Ahvaz National Resistance.
This movement seeks a separate state in Khuzestan, the oil-rich region where most of Iran's Arab minority live. Ahvaz, where Saturday's attack took place, is the regional capital.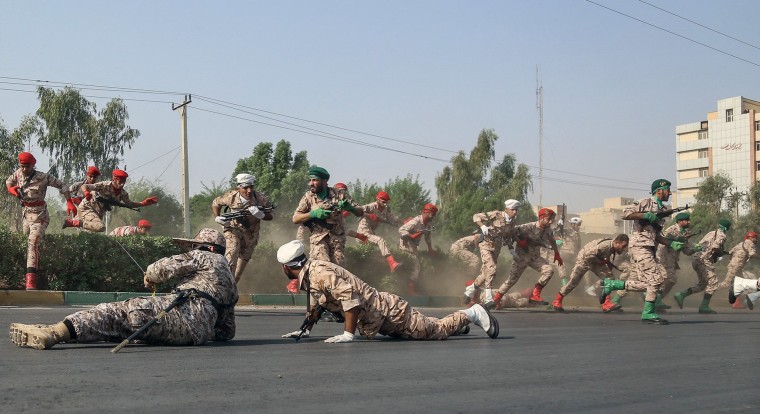 This community has long felt neglected by the Persian-dominated central government in Tehran. They have been hit particularly hard by Iran's economic and unemployment problems, and they have suffered drought and electricity shortages.
Armed opposition groups have played on this discontent to attempt to drum up support for their actions which have included attacks on oil pipelines in the region.
"Grievances caused by internal mismanagement and short-sightedness could be exploited by regional actors and exacerbated by global powers," said Ali Vaez, Iran project director at the International Crisis Group.
If militant groups are willing and able to carry out attacks it could be a sign that Iran is losing what has traditionally been an iron grip on domestic security.
The country is half democracy, half theocracy. Iran is classed as "authoritarian" and ranked 154th out of 167 countries in a global democracy index compiled by the Economist Intelligence Unit. It has largely been immune to the types of militant attacks that have torn through other countries in the region.
Saturday's incident and others like it might be a sign this is changing.
"The attack demonstrates Iran's vulnerability to the same pathologies that have torn the region apart," Vaez added. "Iran has been largely shielded from this plague so far. If that changes, regional turmoil will doubtless escalate further."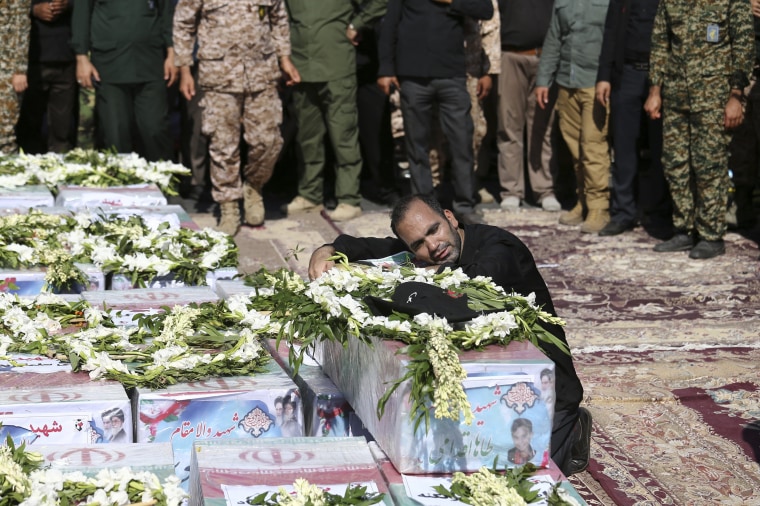 Another possible outcome is Iran shifting further from its relatively moderate reformists to religious hardline nationalists.
The current president is Hassan Rouhani, who represents the moderates and oversaw the Iran nuclear deal being signed in 2015.
Some analysts say that attacks like the one on Saturday boost support for the Revolutionary Guards. They had gained leverage after Trump pulled out of the nuclear deal, telling the Iranian public it was proof the U.S. could not be trusted.
On Monday, thousands packed the streets to mourn the victims of Saturday's assault, many chanting "Death to Israel and America." Twelve members of the elite Islamic Revolutionary Guard Corps, or IRGC, were among the 25 people killed.
Though he was vague, Iranian Supreme Leader Ayatollah Ali Khamenei implied the culprits were backed by the U.S. and other Gulf states.
"Based on reports, this cowardly act was done by people who the Americans come to help when they are trapped in Syria and Iraq, and are paid by Saudi Arabia and the UAE," Khamenei said on his official website.
Nikki Haley, the U.S. ambassador to the U.N., pushed back, saying Iran should "look in the mirror" for the causes of the attack.
In an interview with NBC News on Monday, Rouhani condemned Haley's comments.
"Yesterday, one of the American officials clearly and openly supported these terrorists, and said that in Ahvaz if something took place, Iran must not seek the roots of that terrorist attack in other countries," he said. "If this is indeed so, if this train of thought makes sense, how do we apply the same logic to the terrorist attacks of September 11?"
Although opponents of the regime might see opportunity in Iran's perceived weakness, that does not necessarily mean they will succeed.
"The majority of the IRGC are regular, often young, rank-and-file conscripts who most citizens will relate to and commiserate with," said Bilal Baloch, a non-resident fellow at the Foreign Policy Institute, Johns Hopkins University School of International Studies.
He said this might mean "you actually end up with a rally-around-the-flag effect domestically. So the Iranian people are not likely to turn against the regime."
Vaez agreed. "The Ahvaz attack ... could also play in the Iranian leaders' favor," he said. "Propagating a siege mentality could help change the subject domestically, from complaints over mounting economic troubles to a nationalistic rallying around the flag."