TEHRAN, Iran — Iran test-fired a new missile that it said could carry several warheads, state media reported late Friday, in a move that looked set to ratchet up tensions with Washington.
State-run IRIB released video of a rocket being launched just before midnight local time on Friday (just before 4:30 p.m. ET Friday). It did not report the location.
"Iran successfully tested the long-range Khorramshahr ballistic missile," IRIB reported, adding that this was the country's third test of a missile with a range of around 1,240 miles.
American officials were not immediately available for comment on the reports. NBC News was not able to verify the details of the test or if it had even taken place.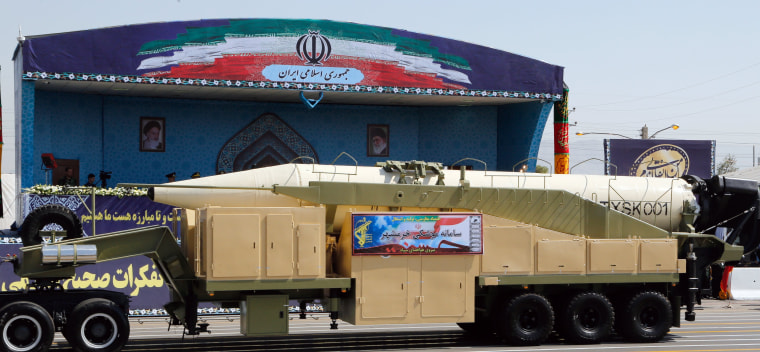 Iran unveiled the Khorramshahr missile during a military parade earlier on Friday. State-run Press TV reported that the test was conducted within hours of the parade.
The Khorramshahr is capable of carrying multiple warheads, according to Brig. Gen. Amir Ali Hajizadeh, a senior commander of the Islamic Revolutionary Guards Corps (I RGC) Aerospace Division.
On Tuesday, President Donald Trump accused Iran at the U.N. General Assembly of building "dangerous" missiles and exporting violence to Yemen, Syria and other parts of the Middle East.
Trump used his U.N. speech to dismiss the landmark 2015 nuclear agreement with Iran, calling it an "embarrassment" and "one of the worst and most one-sided transactions the United States has ever entered into."
International experts are almost unanimous in their opinion that Iran is abiding by the pact that saw Tehran agree to limit its nuclear program, which the West believed was aimed at developing weapons, in exchange for the easing of international economic sanctions.
Tasnim news agency reported that the missile "adds to Israel's misery and it will be their nightmare as it can accurately target the occupied lands completely even their gas fields in the west of Israel." Iran casts itself as a leading advocate for the rights of Palestinians.
Khorramshahr is a port city in Iran that was captured by the Iraqis during the Iran Iraq war. The Iranians took heavy loss but fought back at any cost to recapture the city, which they did. The "liberation" of Khorramshahr is celebrated annually in Iran.
Friday's reported missile test is the latest in a series of launches.
On January 29, Iran test-launched a medium-range ballistic missile from a site near Semnan, east of Tehran, shortly after Trump took office. U.S. defense officials said the test seemed to be a failure because the missile crashed or exploded after flying more than 500 miles. Following the test, the U.S. called for an emergency U.N. Security Council meeting, which was held on Jan. 31, to discuss the matter.
On Feb. 1, then-National Security Advisor Michael Flynn officially put the Islamic Republic "on notice." Trump echoed Flynn's remarks in tweets.
In early March, Iran tested a pair of Fateh-110 short-range ballistic missiles. On July 27, it announced the launch of a rocket that can deliver satellites weighing 550 lbs into space from the Imam Khomeini National Space Station. Iran claimed it was a successful test. The United States, the United Kingdom, France and Germany, issued a joint statement condemning the Simorgh launch.
Iran asserted that it was within its rights to conduct missile tests.
Ali Arouzi reported from Tehran. F. Brinley Bruton reported from Tehran.