MUNICH, Germany — Iran's foreign minister told NBC News that the recent shooting down of an Israeli fighter jet had destroyed the "myth of invincibility" that surrounded Israel's military for decades.
After "30 years the Syrians were able to down one of its planes," Foreign Minister Mohammad Javad Zarif told NBC News in an exclusive interview on the sidelines of the Munich Security Conference on Sunday. "And so the myth of invincibility of Israel, of the Israeli military, has crumbled."
Syria "was able to use its own means to bring down one of their planes," he said, referring to last weekend's clashes involving an Iranian drone launched from Syria, a downed Israeli jet and retaliatory airstrikes. "The answer is: Don't violate their airspace."
Last weekend's showdown began with Israel shooting down an Iranian reconnaissance drone that Israel claimed had entered its airspace. Israel retaliated for the incursion by striking the Iranian base in Syria — Iran is one of the regime's main backers — from which the drone was operated. A Syrian anti-aircraft missile hit one of the attacking Israeli F-16 jets, which crashed on Israeli soil after the two pilots ejected.
Zarif on Sunday responded to earlier comments from Israeli Prime Minister Benjamin Netanyahu, who said Israel would act against Iran and reiterating his country's position that Tehran was the world's greatest threat.
"We will act if necessary not just against Iran's proxies but against Iran itself," Netanyahu said.
The Israeli prime minister theatrically held a piece of what he said was the Iranian drone that entered Israeli airspace earlier this month, while telling the Munich Security Conference: "Israel will not allow the regime to put a noose of terror around our neck."
Zarif said Sunday, "Well, if they try to exercise that threat, they will see the response."
Israel and Syria have technically been at war since 1948, but signed a disengagement agreement in 1974. Since the start of the civil war some seven years ago, Israel has periodically bombed targets in Syria but the incident last weekend culminated in the largest set of Israeli airstrikes against Syrian air defenses since the 1982 Lebanon War. The strikes also hit several Iranian positions in Syria.
Zarif also reiterated that his country would not be the first renounce the landmark nuclear deal between between Iran and six world powers, including the United States, even if the U.S. does.
"I believe President Trump has tried to walk away from that deal from Day 1 of his presidency, and he has done everything in bad faith to prevent Iran from enjoying the deal already," he said.
On the presidential campaign, then-candidate Trump criticized the nuclear agreement, calling it "the worst deal ever," and promised to tear it up.
National Security Adviser H.R. McMaster at the Munich conference Saturday urged the international community not to do business with Iran because, he said, profits would go toward funding the Islamic Revolutionary Guard Corps, an elite branch of the Iranian military.
"We believe that a large percentage of the Iranian economy is controlled by the Revolutionary Guards," McMaster said. He also pressed action against the nation's "network of proxies."
"So the time is now, we think, to act against Iran," McMaster said.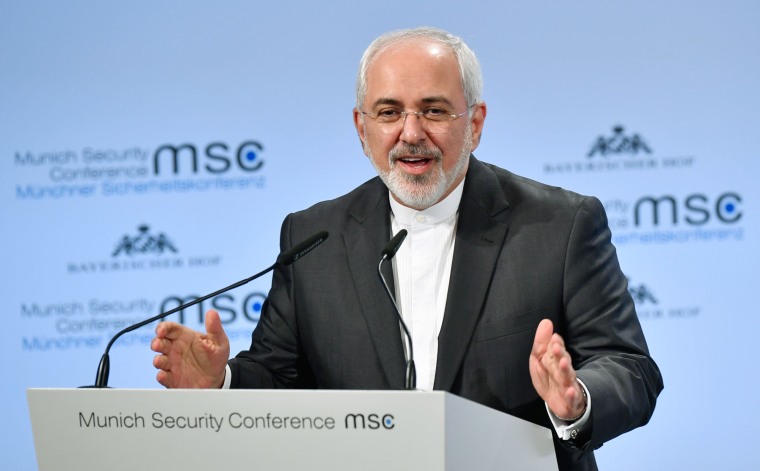 Zarif Sunday called the comments a "violation of the deal," adding "that doesn't mean the deal is broken. The deal is standing because the deal is supported by the international community...."
Since coming to power, the president has extended key waivers that were lifted under the agreement, while also continuing to oppose the deal. He has also said he would work with European allies to remove so-called "sunset clauses" that allow Iran to gradually resume advanced nuclear activities in the next decade.
In contrast to Trump, America's European allies support the agreement and say it is working.
Trump has also supported targeted sanctions for human rights abuses and ballistic missile development. The Treasury Department's action hits 14 Iranian officials and companies and businessmen from Iran, China and Malaysia, freezing any assets they have in the U.S. and banning Americans from doing business with them.
Israel is also sharply critical of the agreement, as is Saudi Arabia's government. Both see Iran as a major regional threat.
Meanwhile, the Munich Security Conference's head of policy and analysis said that he left the gathering "even more worried than before."
Tobias Bunde tweeted that "when people who don't spend much time with world politics ask whether it is as bad as the media say I now respond: No, it's actually worse."
Bill Neely reported from Munich, F. Brinley Bruton reported from London, and Brittany Elena Morris and Chloe Tsang reported from New York.