TEHRAN, Iran — Up to 55 million Iranians will vote Friday in a presidential election that pits moderates against religious conservatives and has economic fallout from the American-backed nuclear deal at its heart.
Iran is far from a complete democracy and the president is not the most powerful person in the country. That job falls to 77-year-old Supreme Leader Ayatollah Ali Khamenei, an unelected head of state seen as the guardian of the Islamic republic and God's emissary on Earth.
And not just anyone can become president. Candidates are being strictly vetted. More than 1,600 people put themselves forward, but Iran's unelected conservative Islamic Guardian Council whittled the list down to just six.
All of those who made the cut are Shiite Muslim men. No woman has ever been chosen.
Iran's hybrid system — half theocracy, half democracy — leaves it classed as "authoritarian" and ranked 154th out of 167 countries in a global democracy index compiled by the Economist Intelligence Unit.
"Iranian presidential elections are notable for being unfree, unfair, and unpredictable," Karim Sadjadpour, a senior fellow at the Carnegie Endowment for International Peace, wrote last week.
Hassan Rouhani, the incumbent president, is seeking to be returned to power. In the West, he's best known for delivering the 2015 nuclear deal.
But while the 68-year-old has been successful in slashing Iran's sky-high inflation and encouraging economic growth, his critics say the nuclear deal has not prompted better living standards for ordinary Iranians.
Unemployment has risen to 11 percent in the oil-rich country and is estimated to be far higher for under-25s, according to the Council on Foreign Relations.
The economy has been a point of contention between Rouhani and Supreme Leader Khamenei, who has criticized the president for relying on foreign investment.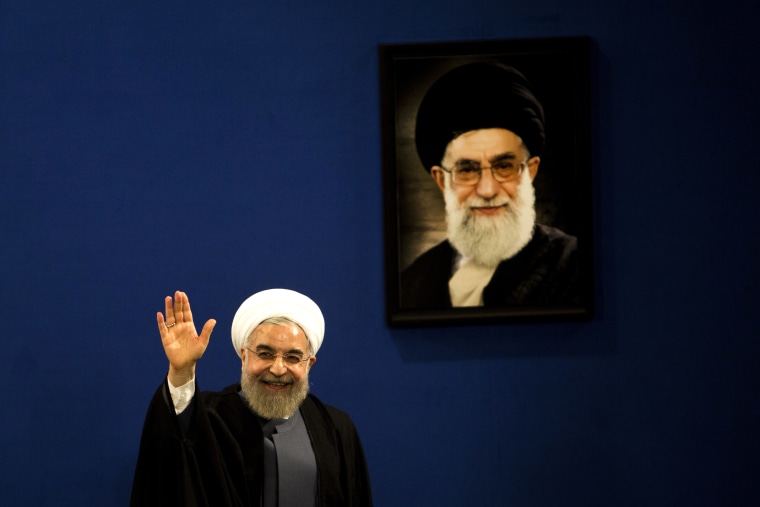 For many working-class Iranians, the initial hope of the nuclear deal has faded too. Overarching concepts such as gross domestic product and the price of the dollar against the Iranian rial mean little to them.
What they see as important is the price and availability of gas and food, as well as the monthly subsidies for the poor that Rouhani has been trying to scrap.
"It's an election about the economy and the economy is tied to the nuclear deal," Sanam Vakil, an associate fellow at London's Royal United Services Institute, told NBC News.
"These are two men who have been born and bred and nurtured within this regime with its own particular ideology"
A political moderate by Iranian standards, Rouhani was elected in a 2013 landslide on the promise of returning the country from international isolation.
The nuclear agreement, signed with the U.S., the U.K., France, China, Russia and Germany, curbed Iran's program in exchange for lifting some of the sanctions partly responsible for crippling the country's economy.
President Donald Trump was an outspoken critic during his campaign, calling it "the worst deal ever negotiated." His administration said last month that Iran was sticking to its side of the bargain but claimed they were not "living up to the spirit of the agreement."
In Iran, all of the main candidates have agreed to keep the nuclear deal in place.
Rouhani's most prominent challenger is 56-year-old conservative Ebrahim Raisi — a man whose mere candidacy has caused outrage among human rights organizations and anti-government opposition groups.
Although he is a newcomer to mainstream politics, Raisi is a former protegee of Supreme Leader Khamenei and heads up the Imam Reza Shrine, a religious foundation with estimated assets upward of $14 million.
He has the backing of Iran's hugely influential Islamic Revolutionary Guards Corps, according to Reuters, and some analysts have suggested his presidential bid could be a test-run to succeed the supreme leader once he dies.
In 1988, he was allegedly a member of Iran's so-called "death commission," a panel that sent thousands of political prisoners to be executed.
"A man who should be on trial for the most heinous crime in contemporary Iranian history is instead seeking the presidency," Hadi Ghaemi, the executive director of the U.S.-based Center for Human Rights in Iran, said in a statement.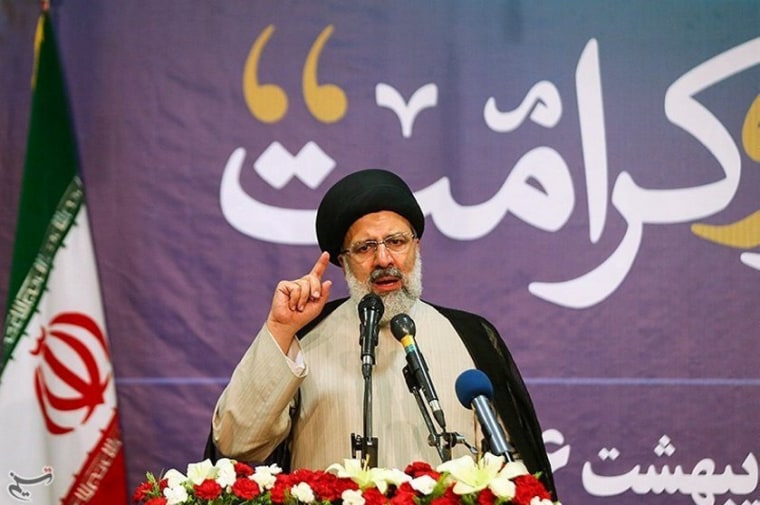 Under Rouhani, Iran has seen a loosening of social restrictions: fewer morality police patrolling the streets, fewer roadblocks and fewer raids on people's homes.
Were Raisi to be elected, "he would be more inclined to religious orthodoxy," according to Dan Plesch, director of the Centre for International Studies and Diplomacy at London's School of Oriental and African Studies.
Allegations of rigging and voter fraud tarnished the 2009 election of outspoken hardliner Mahmoud Ahmadinejad. The ensuing protests, known as the so-called "Green Movement," saw tens of thousands of demonstrators clash with police and dozens were killed.
Without official polls, it is hard to make predictions in Iranian elections. But based on information available via social media and state media, experts believe it will be a close race.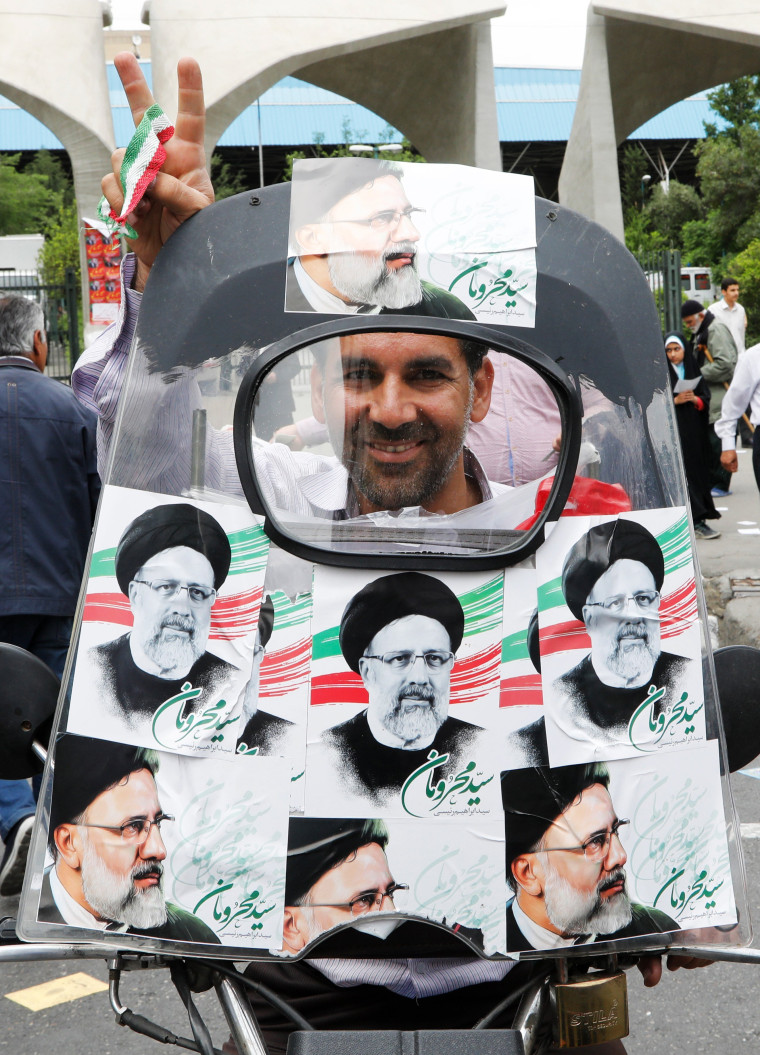 This has prompted the president to go on the offensive, attacking the country's hardliners for not giving enough social freedoms, for creating an atmosphere of fear and harsh laws, and for isolating Iran and pitting it against the international community by using fierce rhetoric.
It's that narrative that resonates with the young reform-minded voters. They know a president can change their day-to-day lives as far as social constraints are concerned, as well as influencing the economy and opening the doors to the outside world.
Rouhani's biggest opponent is voter apathy; if young people don't come out and vote then it can tip the scales in favor of the hardliners, Rouhani knows this and that's why he has spoken so harshly about his opponents.
All of this appeals to Iran's large and growing youth population, as well as the West-looking middle class who mostly live in big cities.
The nuclear deal didn't yield the results they expected but for the most part they don't blame Rouhani. Instead they hold Trump's America culpable for trying to undermine the process.
In this sense, this election is a battle fought across two Irans: young, secular modernizers; and religious conservatives who are suspicious of outside meddling.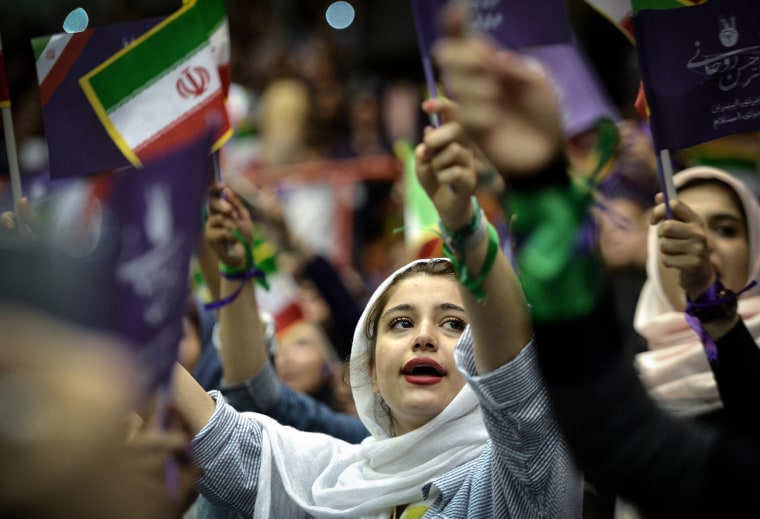 Whoever wins, don't expect Iran's political framework to be redrawn.
"These are two men who have been born and bred and nurtured within this regime with its own particular ideology," said Vakil at RUSI. "But it does matter because the president can set the tone and the president is in charge of the economy."
The victor would also shape Iran's involvement in military conflicts in Syria and Yemen, where it's backing forces opposed to American allies.
"The outcome of the elections matter because, whilst the supreme leader is in charge of all foreign and security affairs decisions, the presidency affects the posture of the country on specific dossiers," said Aniseh Bassiri Tabrizi, a research fellow at the Royal United Services Institute.
Ultimately, though, the supreme leader — and whoever succeeds him — will still hold sway.
Ali Arouzi reported from Tehran. Alexander Smith reported from London.