TEHRAN, Iran — Iranian women have made significant strides under moderate President Hassan Rouhani, but many fear that progress could stall if a hardline rival wins Friday's presidential election.
Supreme Leader Ayatollah Ali Khamenei, the most powerful man in Iran, symbolically cast the election's first vote and called on Iranians to turn out in huge numbers for the poll. More than 56 million people are eligible to vote at more than 63,000 polling places across the country.
"Elections are very important and the fate of the country is in the hands of all people," he said.
Since taking office in 2013, Rouhani's government has been slowly expanding social freedoms and job opportunities for women.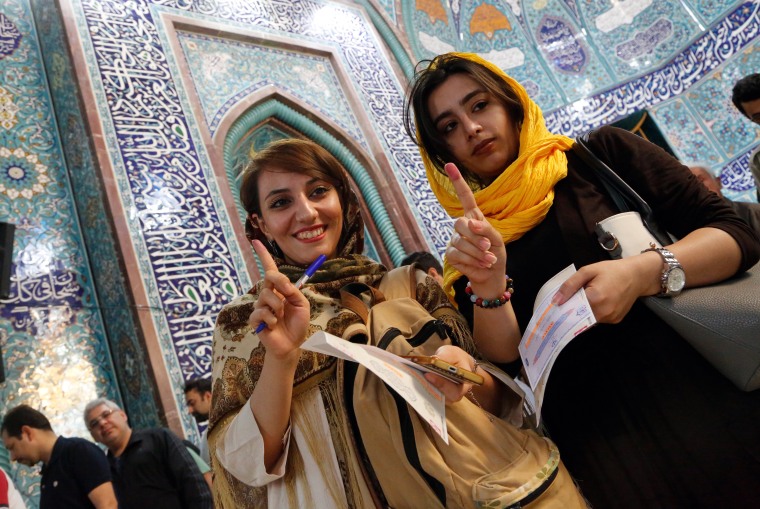 His administration was the Islamic republic's first to name women to roles including ambassador and foreign ministry spokesperson. Several female governors have also been appointed.
The government also lifted gender-based quotas for university admission in some subjects and at 51 percent, women actually slightly outnumber men at universities, according to the latest official statistics.
Rouhani's administration has also prepared a bill to further protect women against domestic violence at home, as well as in the workplace and the streets.
However, women still face tough restrictions — from how they are allowed to dress in public, to the subjects they can study at university, to the jobs they are allowed to do. And they remain hugely underrepresented in local government and the parliament.
Related: Detained Opposition Leader Looms Large Over Iran's Election
Rouhani's main opposition candidate Ebrahim Raisi is a former protege of the Supreme Leader Ayatollah Ali Khamenei. He is widely supported by religious conservatives who support a strict enforcement of Shariah law which puts women in an inferior position to men.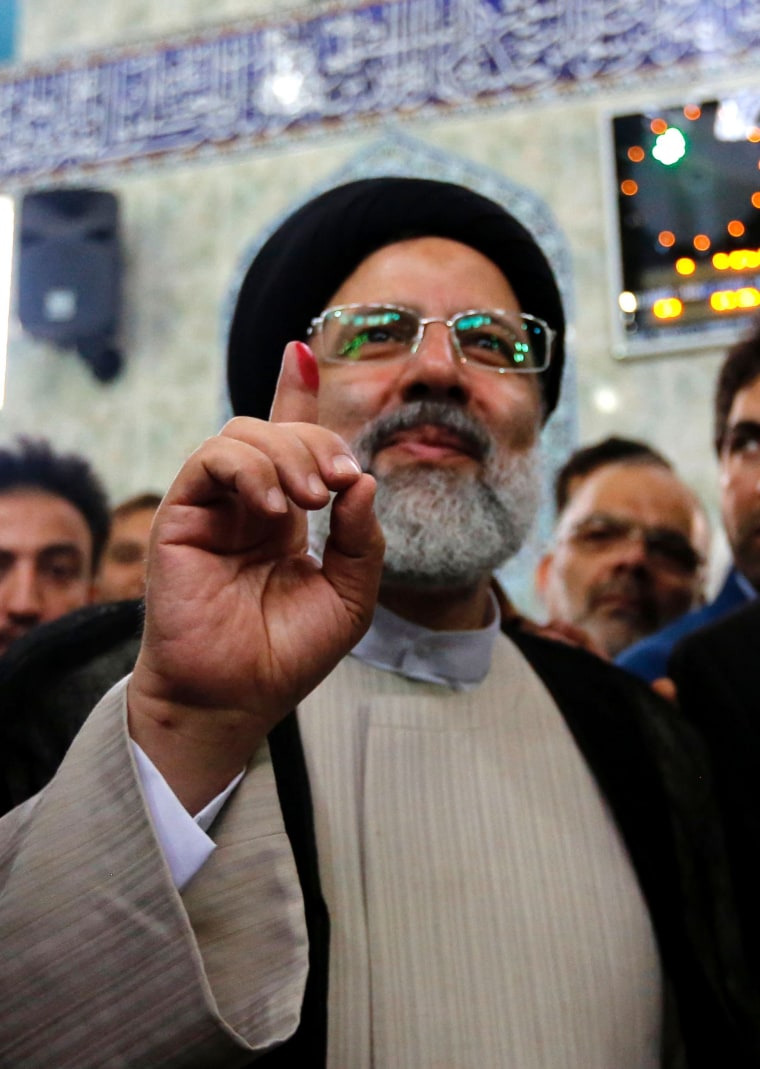 Some women worry the modest gains they have made in recent years will be lost — or rolled back — if Raisi defeats Rouhani.
Given the high stakes, numerous women at a recent Rouhani campaign rally in a packed stadium in Tehran said they felt their very freedom was at stake with the vote.
"I have to speak very free, things are not good for woman, you know that," Amsoul, a 60-year-old homemaker wearing a typical headscarf, told NBC News in shaky English.
Declining to give her last name, she added: "Rouhani is very perfect for me, because it is something I have — freedom. After Rouhani becomes president we are very happy, before ... we have no freedom."
Rouhani courted that support at the event that was more of a cross between a pop concert and a political rally with loud music blaring as some 7,000 people — mostly women — waved purple flags, the color of his campaign and chanted slogans.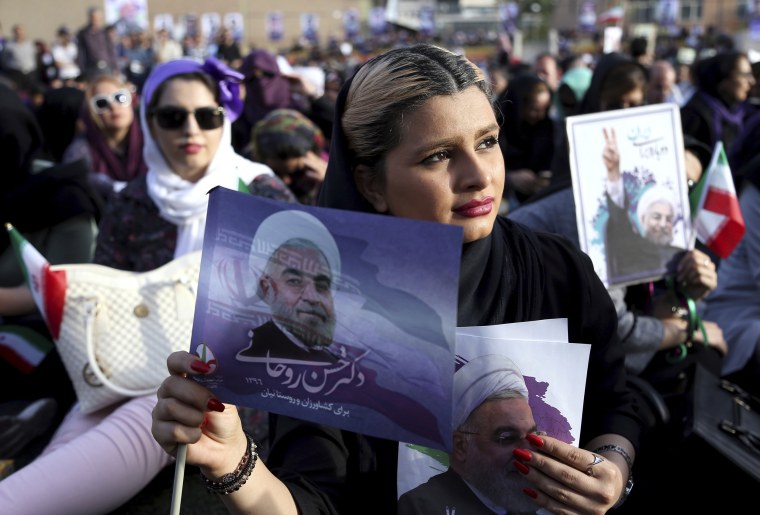 To the crowd's cheers, Rouhani declared: "We don't want gender discrimination. We don't want gender oppression."
That message resonated with Layla Daryafarghi, a 19-year-old journalism student dressed in casual Western clothes and wearing a loosely-tied headscarf.
She said had come to the rally in part to honor Mir Hossain Mousavi, the reformist candidate who lost the disputed 2009 elections. Allegations that the election was rigged in favor of then-president Mahmoud Ahmadinejad prompted protests that turned violent and led to a crackdown by the hardline government. Mousavi remains under house arrest and has been banned from politics.
Daryafarghi would have been only 11 years old at the time of the disputed election.
She said she came to the Rouhani rally because she wants to support Mousavi, and to support Mohammad Khatami, the reformer who was president of Iran from 1997 to 2005.
"We all want to show that we want to have freedom. We want to say to all the world, we love our country and we want it to be free," said Daryafarghi in between waving flags and shouting slogans passionately.
"For me it's for Mr. Khatami and for Mr. Mousavi, but I think that all of [us] think [Rouhani] is going to do something different," she added. "Four years was not enough for the things he said he wanted to do. He wants more time to show us he can do anything."
To Amsagi, a 27-year-old attending the rally who works at a trading company, it was vital that women have a show of force at the polls.
"It really matters when I vote, if I don't, everything might change," said Amsagi, who also declined to give her last name.
Related: 'It's the Economy, Stupid' Resonates as Iran Prepares to Vote
Rouhani has actively courted the support of young, urban female voters like Daryafarghi and Amsagi on social media.
Early in the campaign, the 68-year-old incumbent president posted a photo on Instagram showing himself out on a snowy hike, stopping to pose for a photo with two young women — both of whom had their hijabs, or headscarfs, pushed much further back then would be considered proper by hardliners.
The underlying message to young female voters: he was not a candidate who was bothered by the country's restrictive dress code.
But, the ultra-conservative Raisi has his female supporters, too.
At one of his campaign rallies last week, which lacked the pop concert atmosphere of the Rouhani rally, there was still a large crowd of women waving flags and cheering — albeit in a more austere way.
Kimiya Mosafari, a 24-year-old nurse dressed in the all-enveloping black chador told NBC News she supports Raisi for more practical reasons: the economy.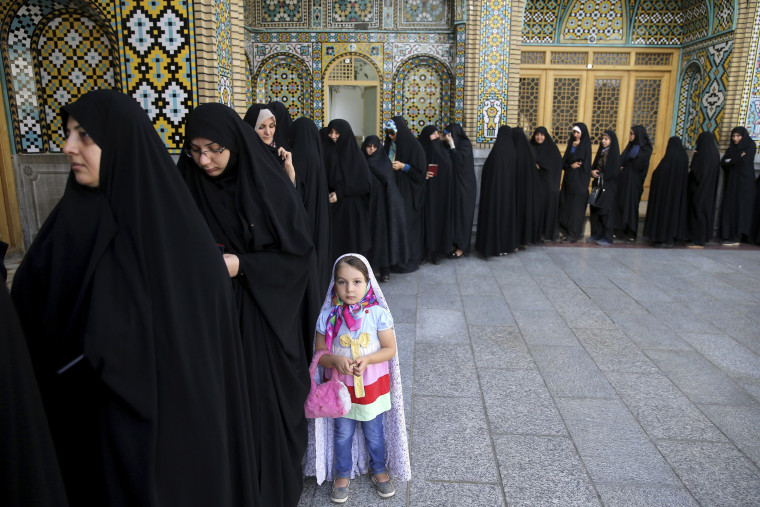 "Mr. Raisi is the only candidate who is thinking about saving the economy, the rest of the candidates are involved in political arguments," Mosafari said. "He is willing to sacrifice himself for the people, the downtrodden, for the people that have really lost their rights. He has shown this and is the best candidate to vote for."
Mosafari touched on what many see the election as: a referendum on Iran's struggling economy and whether or not the 2015 nuclear deal Rouhani's administration coordinated has done anything to help it.
Most Iranians have not seen the promised benefits of the nuclear deal which required Iran to limit its enrichment of uranium in exchange for the lifting of some economic sanctions.
Raisi has been campaigning on that, proposing cash payments for the poor that proved popular in the past under Ahmadinejad.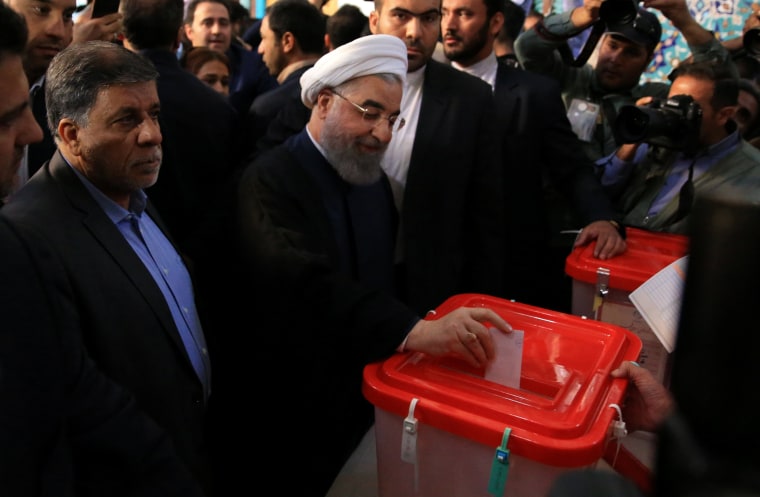 At the same rally Fatemeh Hazrati, a 53-year-old housewife and seamstress, said she felt that Rouhani had not delivered economically.
"I am tired of this government," Hazrati said. "[Rouhani] made so many promises that the economy would get better, but it has gotten worse. My husband works two jobs, I have had to take a job, as well as bringing up my four children."
She also took issue with Rouhani's more moderate religious stance. "Also I don't think he is following the line of the [supreme] leader — look how our young women dress today and act in society."
Petra Cahill reported from London.