TEHRAN – Hundreds of thousands of Iranians heeded the call of Supreme Leader Ayatollah Ali Khamenei to demonstrate Friday against U.S. "threats" — but some had words of support for Americans.
There was a notable absence of burning U.S. flags during the march along Revolutionary Road that leads to Tehran's Azadi (Freedom) Square – particularly given the fact that Friday marked the 38th anniversary of the 1979 Islamic Revolution.
At similar rallies in years past, it would be typical to see a U.S. flag burning every 10-15 yards, but none were seen Friday. And only one effigy of President Donald Trump was witnessed, as opposed to dozens of former President Barack Obama at the same event last year.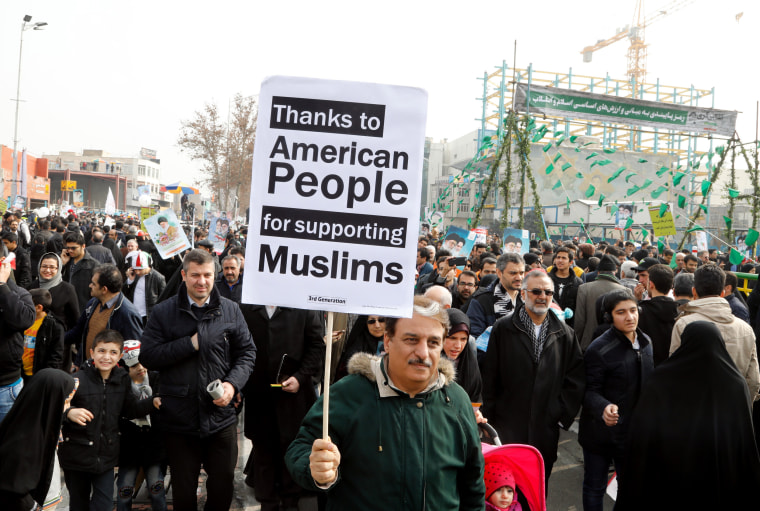 Despite Trump threatening Iran on Twitter last week that it was "on notice," and calls by Khamenei and President Hassan Rouhani to rally, a social media movement to tone down the protests appeared to have had some impact in cosmopolitan Tehran. In addition, very few placards handed out by official state organizers mentioned Trump or had anti-American slogans.
Iranians used the hashtag #LoveBeyondFlags to urge an end to the U.S. flag-burning typically seen at the annual anniversary rally.
During the rally in Tehran, some people carried placards in support of the U.S. and thanked ordinary Americans for opposing Trump's executive order banning entry to the United States to travelers from seven mainly Muslim countries, including Iran.
Both Twitter and Facebook are blocked in Iran by a wide-reaching government censor but they are still commonly used by millions of Iranians who use software to get around the restrictions. Iranian officials, including Khamenei, have Twitter and Facebook accounts.
Amir, a 17-year-old student, took part in the rally while holding a homemade placard saying "All people and countries are valuable."
"We want no war. And I want to thank American people for supporting us," said Amir, referring to the American public's opposition to Trump's travel ban. Like most people who spoke to NBC News at the rally, Amir gave only his first name.
But there were still plenty of other people at the rally who expressed their support for Iran in a more belligerent tone.
"This is the first time I am attending [the anniversary rally]," said Mohammed Parsa Rajavi, a 31-year-old actor. "I am here because Trump has been disrespectful to Iran, the Supreme Leader, and he deserves a slap in the mouth."
"Trump open your eyes and ears, don't threaten us," said Ahmad, an unemployed 52-year-old. "We will spill our last drop of blood for the leader for the country."
In his tweets last week, Trump said the Islamic Republic was "playing with fire" in response to a Jan. 29 Iranian missile test. He also imposed fresh sanctions on individuals and entities. Iran said it will not halt its missile program.
On Tuesday, the Supreme Leader Khamenei used a public speech to dismiss Trump's threats and encourage people to march Friday.
"We are thankful to Trump for making our life easy, as he showed the real face of America," said Khamenei. "During his election campaign and after that, he confirmed what we have been saying for more than 30 years about the political, economic, moral and social corruption in the U.S. ruling system.
"Trump has said we should be scared and frightened of him. ... We will show on the anniversary of our revolution how we respond to his threats," Khamenei told his audience, adding: "No enemy can paralyze Iran."
President Hassan Rouhani had called on Iranians to join the rally on Friday to "show their unbreakable ties with the Supreme Leader and the Islamic Republic".
"Some inexperienced figures in the region and America are threatening Iran ... They should know that the language of threats has never worked with Iran," Rouhani told the crowd at the Azadi Square Friday
"They should learn to respect Iran and Iranians ... We will strongly confront any warmongering policies."
State television said millions had turned out at rallies across the country.