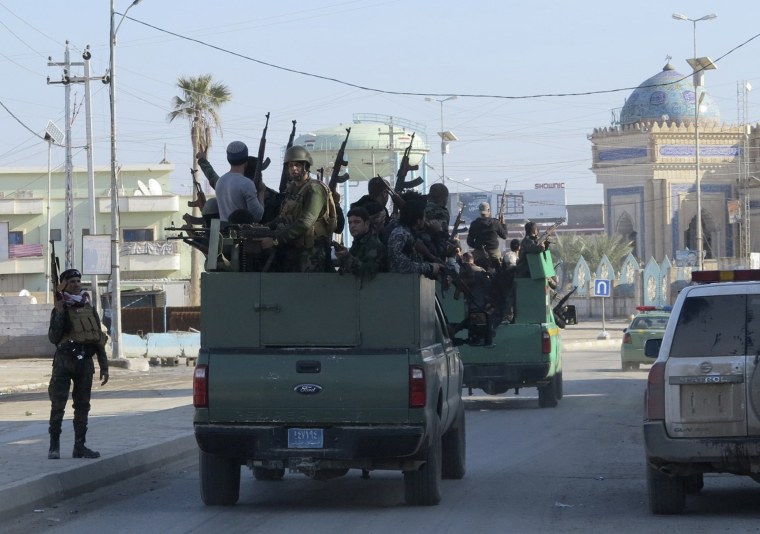 Fierce clashes raged in the Iraqi city of Ramadi on Sunday as government forces launched an all-out offensive to push back al Qaeda militants who have taken control, officials said.
Iraqi forces and allied tribal militias targeted militants who have seized parts the capital of the largely Sunni western province of Anbar since December.
The militants also control the center of the nearby city of Fallujah, along with other non-al Qaeda groups that also oppose the Shiite-led government.
Iraqi army Lt. Gen. Rasheed Fleih, who is heading the offensive, told The Associated Press that on Sunday his forces retook al-Bubali, a strategic village between the two cities.
Militants booby trapped houses before retreating and an official told The Associated Press that some 20 police officers and government allied tribesmen were killed or wounded in the fighting.
On Monday, one day after the push, seven bombs hit the capital Baghdad, killing at least 26 people and wounding 67, officials told Reuters. No group claimed responsibility.
The head of the al Qaeda group in Iraq, known as the Islamic State of Iraq and the Levant, urged Iraqi Sunni Muslims to join the militants in an audio message on Sunday.
"This is your chance, so do not miss it. Otherwise you will be finished," Abu Bakr al-Baghdadi said, according to the AP.
Elsewhere Sunday, gunmen opened fire on a checkpoint run by an anti-al Qaeda militia outside the city of Baqouba, killing the local leader and four assistants, officials said.
Iraq has just been through its worst 12 months of violence in five years, reaching levels not seen since it was emerging from its most turbulent post-invasion period and teetering on the brink of civil war.
The Associated Press and Reuters contributed to this report.
Related: