KIRKUK, Iraq — Iraqi Kurdish officials said early Monday that federal forces and state-backed militias have launched a "major, multi-pronged" attack aimed at retaking the disputed northern city of Kirkuk.
Kurdish forces known as the peshmerga were digging in at the edge of the international airport after withdrawing from their positions outside the city. Hundreds of armed Kurdish residents were taking up positions inside Kirkuk anticipating an attack.
Residents of the multi-ethnic city, which is home to some 1 million Arabs, Kurds, Turkmen and Christians, stayed inside and reported hearing sporadic booms they said sounded like shelling and rocket fire.
The Kurdistan Region Security Council said in a statement that Kurdish forces known as peshmerga have destroyed at least five U.S.-supplied Humvees being used by the state-sanctioned militias following the "unprovoked attack" south of the city.
Brig. Gen. Bahzad Ahmed, a spokesman for Kurdish forces, said federal forces have seized an oil and gas company and other industrial areas south of Kirkuk in fighting with Kurdish forces that caused "lots of casualties," without providing a specific figure.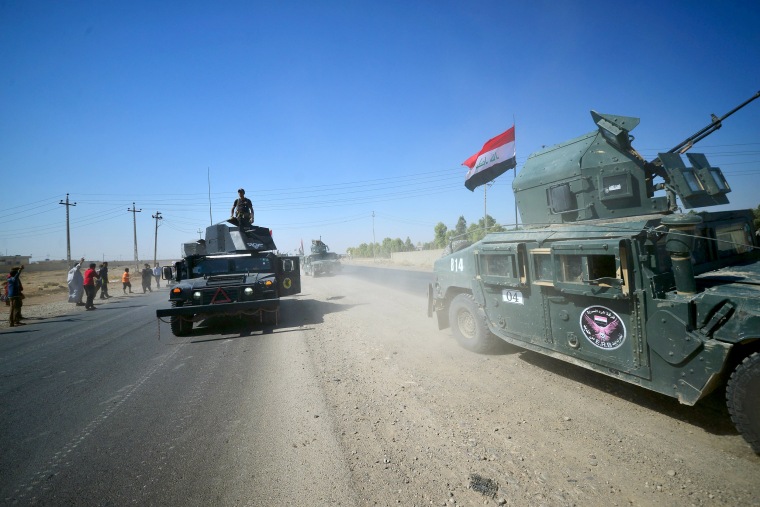 He said Iraqi forces have "burnt lots of houses and killed many people" in Toz Khormato and Daquq, south of the disputed city. He said Kurdish forces have "destroyed one or two of their tanks." His claims could not be independently verified.
Iraq's Interior Ministry said in a brief statement that federal forces have taken control of a power plant, a police station and industrial areas near Kirkuk. It provided no further details on the fighting or casualties in what it referred to as Operation Impose Security on Kirkuk.
Tensions have soared since the Kurds held a non-binding referendum last month in which they voted for independence from Iraq. The central government, along with neighboring Turkey and Iran, rejected the vote.
The United States has supplied and trained Iraqi federal forces and the peshmerga, both of which are fighting ISIS. The U.S. also opposed the referendum, and has urged both sides to remain focused on defeating the extremists.
U.S. Army Col. Ryan Dillon, a spokesman for the U.S.-led coalition, tweeted that it was "closely monitoring sit. near Kirkuk; urge all sides to avoid escalatory actions. Finish the fight vs. #ISIS, biggest threat to all."
The central government and the autonomous Kurdish region in the north have long been divided over oil revenues and the fate of disputed territories like Kirkuk that are controlled by Kurdish forces but are outside their self-ruled region.
The Kurds assumed control of Kirkuk, in the heart of a major oil-producing region, in the summer of 2014, when ISIS militants swept across northern Iraq and the country's armed forces crumbled. Baghdad has demanded the Kurds withdraw.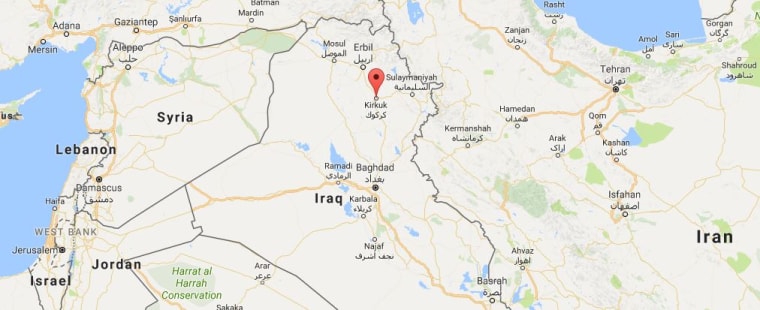 State-run Al-Iraqiya TV carried a statement from Prime Minister Haider al-Abadi's office saying he had ordered federal forces to "impose security in the city in cooperation with the inhabitants and the peshmerga," indicating he was willing to share administration.
Iraq's state-sanctioned militias, the mostly Shiite Arab Popular Mobilization Forces, were ordered to stay out of the city, according to al-Abadi's office, and instead keep positions in the countryside. They are viewed with deep suspicion by Kurdish residents, who see them as beholden to Iran rather than Iraq's central government. The predominantly Shiite militias are sponsored and guided by Tehran.
Baghdad has been turning the screws on the Kurdish region since the September referendum, pushing Kurd leaders to disavow the vote and accept shared administration over Kirkuk.