Jessica Lynch. Tommy Franks.  'Chemical Ali.' Tony Blair. Hans Blix. Ten years ago, as the war in Iraq began, these were names on front pages everywhere. Find out what has happened to them – and 10 other headliners associated with the conflict – since.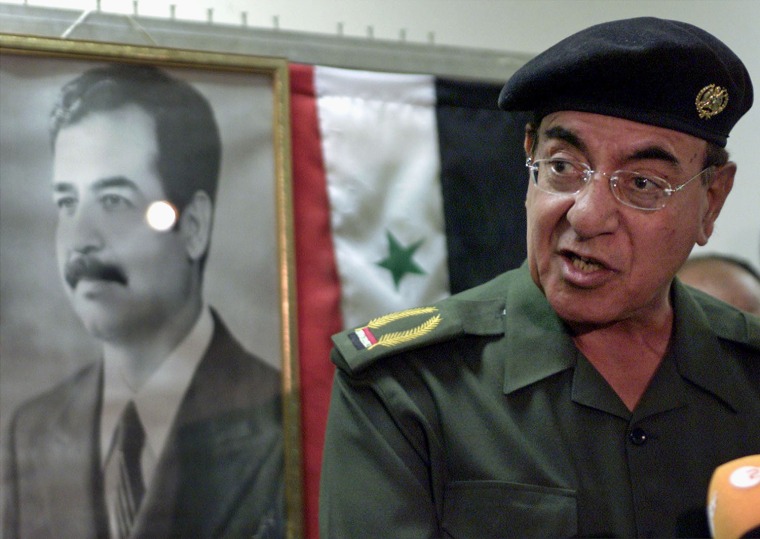 Mohammed Saeed Al-Sahaf ('Baghdad Bob')
THEN:
On the other side of the spokesmen's fence from the U.S.'s Brig. Gen. Vincent Brooks was a man with a much less stellar reputation, Iraqi information minister Mohammed Saeed al-Sahaf.
Al-Sahaf's daily press briefings in the lead-up to the war and in its first weeks led to him being nicknamed "Baghdad Bob" or "Comical Ali" (an allusion to "Chemical Ali," the nickname of former Iraqi defense minister Ali Hassan al-Majid.) He gained a considerable cult following, with several websites devoted to his outrageous claims.
In February 2007, al-Sahaf was back in the news when London's Guardian newspaper compared his wartime pronouncements to those of British Prime Minister Tony Blair.
"
Do not be hasty because your disappointment will be huge," al-Sahaf is quoted as saying in early 2003. "You will reap nothing from this aggressive war, which you launched on Iraq, except for disgrace and defeat." "We will embroil them, confuse them, and keep them in the quagmire," he said later, adding that "they cannot just enter a country of 26 million people and lay besiege to them! They are the ones who will find themselves under siege."
According to The Associated Press in January 2009, al-Sahaf's whereabouts are uncertain, but some reports have placed him in Qatar.For instance, as coalition troops stormed the capital, al-Sahaf declared, "The infidels are committing suicide by the hundreds on the gates of Baghdad."
He frequently unleashed harsh words against President Bush and other leaders, calling them "an international gang of criminal bastards," "blood-sucking bastards," and "ignorant imperialists, losers and fools."
A Shia Muslim, al-Sahaf was an outsider in the Sunni-dominated government in power from 1968 and was one of the few senior Iraqi officials not to come from the area around Saddam Hussein's hometown, Tikrit.
His last public appearance as information minister was on April 8, 2003, the day before the fall of Baghdad, when he said that the Americans "are going to surrender or be burned in their tanks. They will surrender, it is they who will surrender."