For the second time in as many days, the militants came, fought - and appear to have won.
Riding high on their stunning success in seizing Iraq's second-largest city of Mosul, the al Qaeda breakaway group that sent government forces fleeing took over Saddam Hussain's hometown of Tikrit – and appears to be pushing on, consolidating their territory and fighting their way towards Baghdad.
Sign up for breaking news alerts from NBC News
With Iraq's key cities falling like dominoes to militants under the black banner of the Islamic State of Iraq and the Levant (ISIL), experts say the group's success in the face of minimal resistance from government security forces is encouraging the group to expand its reach.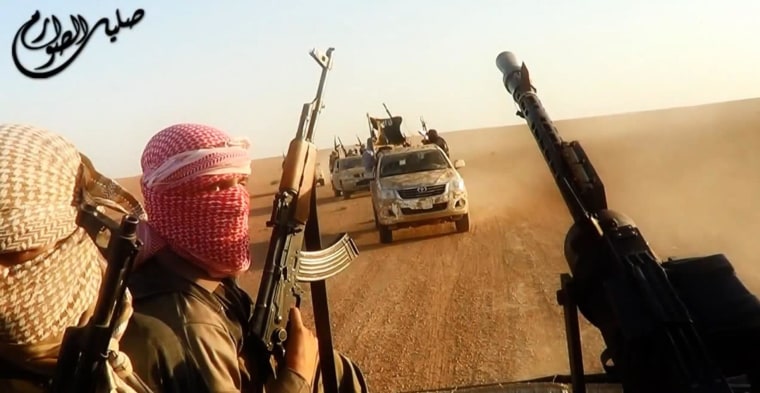 The Iraqi military's quick retreats have left vehicles, weapons, ammunition and even uniforms for ISIL's taking. While that will undoubtedly make the group more powerful, it also could force the U.S. to rethink its strategy of giving military hardware to Iraqi forces, according to Hayder al-Khoei, an Iraq analyst for London-based think tank Chatham House currently in Baghdad.
"They're seeing U.S. vehicles and U.S.-made rifles in the hands of the very people they're trying to fight," he explained. "There's going to have to be a shift in their tactics - you can't give guns and Humvees and then see them paraded around by ISIL."
ISIL's assault on Mosul marks "the start of a major push into the north and northwestern areas of Iraq," according to Matthew Henman, manager of IHS Janes Terrorism and Insurgency Center.
"It's very significant," Henman said. "They haven't just stopped at Mosul."
He said that's partly because ISIL is exploiting the momentum they've picked up thus far while meeting little resistance as they fight for control of more territory.
"At the moment, they're on a bit of a roll. But that's not going to last forever," Henman said. "Eventually the Iraqi security forces are going to regroup and there's going to be a counter push. The question really is, how far will ISIL be able to push into before that happens?"
"ISIL's ultimate vision is to create a state"
For months, the group has been fighting for control of the mostly Sunni areas of western Iraq, where Prime Minister Nouri al-Maliki's government has struggled to achieve stability.
ISIL group seized the city of Fallujah earlier this year and for a time held control of parts of Ramadi in the desert west of Baghdad.
The fall of the Mosul - capital of Ninevah province, which shares a long border with Syria - has dealt a heavy blow to Maliki's Shiite-led government: security forces fled their posts, leaving government buildings, police stations, the airport and even their weapons for the militants' taking.
It also marks a turning point of sorts for ISIL, which already controls a large chunk of territory across the Iraqi border in Syria.
"It widens even further the stretch of the long border between Syria and Iraq," Henman said. "The Iraqi government, now, really can't be said to have control over it."
ISIL has been mounting attacks for years, but gained strength as Syria exploded in civil war. The group seized the opportunity to spread across the border, gaining the ability to raise more money, recruit more fighters, establish training camps and hone battlefield skills.
"The war in Syria gave it a real booster, both psychologically and practically," explained Raffaello Pantucci, senior research fellow at London's Royal United Services Institute think tank.
By overtaking Mosul, the expanse of desert on the Syrian side of the border that was previously used as a staging ground of sorts now has become an even more important transit point.
Pantucci noted that it remains to be seen how ISIL will fare if it targets Shiite-dominated cities; thus far, the group has made gains in mostly Sunni-dominated areas where they could expect to enjoy more support given the population's overall discontent towards the Shiite-led government.
"ISIL's ultimate vision is to create a state that crosses that border," Pantucci said. "In the short term, they take what they can and clearly Sunni cities in Iraq are ripe for them to take over."
Prime Minister Nouri al-Maliki said the massive security failure in Sunni-dominated Ninevah province that allowed ISIL to seize Mosul was the result of a "conspiracy," and that those members of the security forces who fled the fighting rather than standing up to the militants should be punished, according to the Associated Press.
"One would hope that this Maliki government will learn from this and re-evaluate some of its strategy of winning over the Sunni population," Pantucci said.
In the meantime, experts say that ISIL is reaping the benefits of a security failure and Maliki's embarrassment.
As the Iraqi government scrambles to regain control, people in Baghdad are "in disbelief," according to Chatham House's al-Khoei.
"It's a really, really tense situation," he said, voicing an overall feeling of incredulity that jihadists numbering "in the hundreds or low thousands" could outgun Iraq's U.S.-trained army.
"It just speaks to how bold they are – that they can pull off something like this and force the army to retreat en masse," al-Khoei said. "The armed forces outnumber the jihadists by 10 to one."
"If they can take one or two more cities, they become almost unstoppable"
He said the image of the military is broken – and ISIL is capitalizing on that by pushing onward.
"To put it very bluntly: they already feel they have a state and that state stretches across Iraq and Syria," al-Khoei explained, saying that the fall of Mosul increases the scope of that state and consolidates ISIL's territory.
"Now, it's not just about consolidating what they already have but trying to expand their reach," he said. "There's a sense in the capital that the front lines are moving closer and closer... If they can take one or two more cities, they become almost unstoppable."